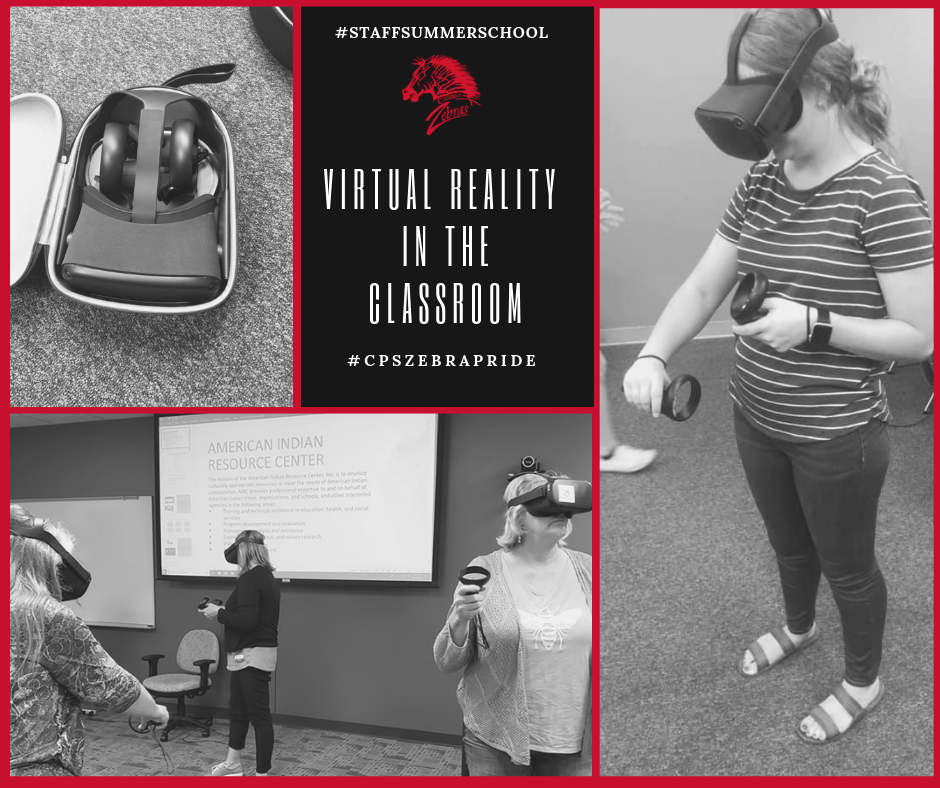 Virtual Reality changes how students experience math.
Jamie Brace
Tuesday, July 16, 2019
The "Bart" name has a long history of influencing students in the Claremore area. As 3rd generation teacher Kaylee Bart is one of the newest additions to the Roosa Elementary staff. Although she is fresh out of college, Miss Bart leaped right into #STAFFSUMMERSCHOOL by attending a three-day at Camp SevenStar in Park Hill attending a virtual reality training.
At this training, she was able to explore the integration of virtual reality into her lessons. "I was able to get into a VR headset and immerse myself in a variety of environments. The final day, we created a lesson plan using the VR headset and our state standards. I was amazed at all of the different ways I can teach math using virtual reality."
This tool has applications for several disciplines. Bart explained, "As a math teacher, I plan to use the app Tilt Brush to immerse my students in a 3D environment. While teaching about 3D shapes, students will be able to draw their shapes and walk around them to compare similarities and differences. This strategy can also be applied to lines, rays, and angles and finding the area of a shape. This immersive environment can be used in any content area. For example, in Geography, a teacher can use the National Geographic app and travel to Antarctica or other geographic regions. In science, there is a rollercoaster app that you can use to teach potential and kinetic energy."
Miss Bart shared her experience with her mom, a WRJH math teacher, who immediately began trying to figure out a way to utilize this tool in her classroom as well. "I want my students to be able to 'climb' into a quadrilateral when we start our geometry unit." Imagine the impact on learning this will have for our visual and kinesthetic learners. Engaging more than one learning style is imperative because every student processes information differently.
This training was part of an undergraduate scholarship program Miss Bart through NSU. NETSTAR Scholars is funded through the American Indian Resource Center. They purchased one headset for each scholar and provided the training.
#CPSZEBRAPRIDE