UPDATE 5.15.20 l 5:00 PM
Re: Graduation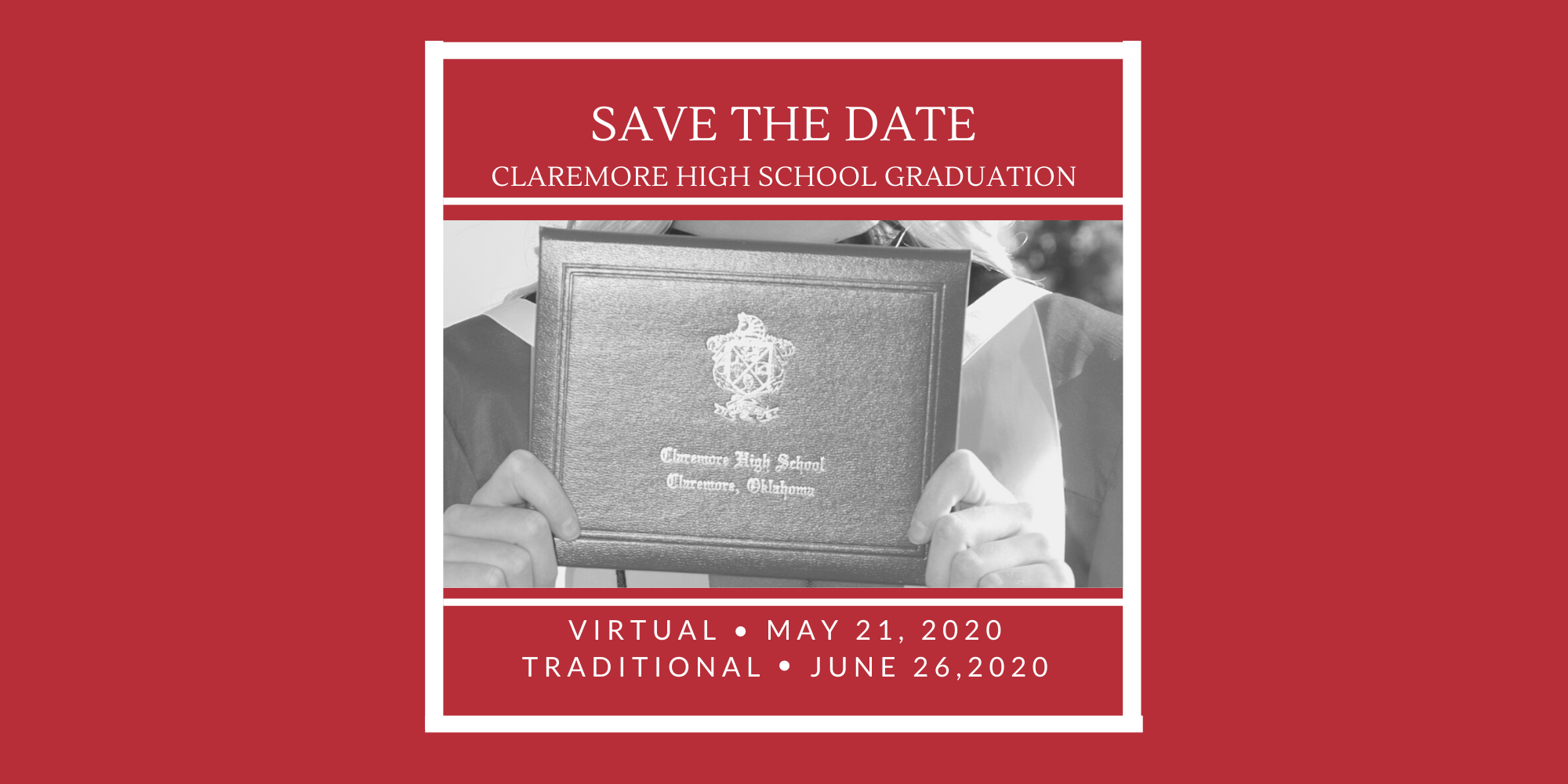 UPDATE 5.15.20 l 5:00 PM
Re: Graduation
Seniors and Parents,
Our desire to celebrate our seniors' achievements is universal, and we want nothing more than to make this happen for them. As we stated in the earlier quarantine stages, we are committed to providing a virtual graduation and planning a traditional graduation contingent Federal, State, and Local restrictions and orders.
Virtual Commencement
Join us as we honor the Class of 2020 with a virtual celebration at home together.
The event will premiere LIVE on the district's Website, Facebook page, and YouTube channel at 7:30 p.m. on Thursday, May 21, and will be available for viewing after this date on both channels.
The program will be preceded with Senior Shout-Outs at 7 p.m. and the Virtual Graduation will start promptly at 7:30 p.m. The program will feature speeches by Claremore Public School District Board of Education President Patrick Gotcher, Claremore High School Principal Kerri Garroutte, Senior Class President Barb Bacon, and our top Valedictorians Barb Bacon, Austin Haddock, Ella Northcutt, Blaine Phillippi, and Blake Phillippi. CHS Choir will also perform virtually. We have done our best to incorporate all of the pomp and circumstance you would expect from a traditional graduation ceremony.
We encourage ALL seniors to put on their cap and gown, take a selfie with your family during the program, and use our hashtag #CPSZEBRAPRIDE.
Traditional Commencement
A modified traditional ceremony is currently being planned for June 26, 2020, at Lantow Field and is contingent on the restrictions and orders set forth by the Federal, State, and Local authorities. Our students' and families' safety is our priority, and we believe we can safely conduct a ceremony for our seniors with a limited number of family members while maintaining social distancing protocols.
The district will continue to follow protocols provided by Federal, State and Local authorities' restrictions and orders. Since these protocols are ever-changing, some details will remain unknown until the date approaches, including but not limited to, the following:
the number of family members able to safely attend
whether a ticketing system will be utilized in the event, current guidelines suggest families may safely attend
the guidelines for appropriate social distancing among spectators and students
weather forecasts
Please know we are doing everything in our power to celebrate the Class of 2020's senior year in a way that honors your hard work. If for some unforeseen reason we can hold graduation on the June 26th date we will attempt to reschedule the event for July 17, 2020.
We genuinely believe there is no better place than our own turf to celebrate such an incredible group of students. So thank you, seniors and families. I've appreciated your patience, flexibility, and support as we've continued to navigate these uncharted waters together.
Sincerely,
Kerri Garroutte
Claremore High School Principal
---
UPDATE 5.13.20 l 6:30 PM
RE: Enrollment 20-21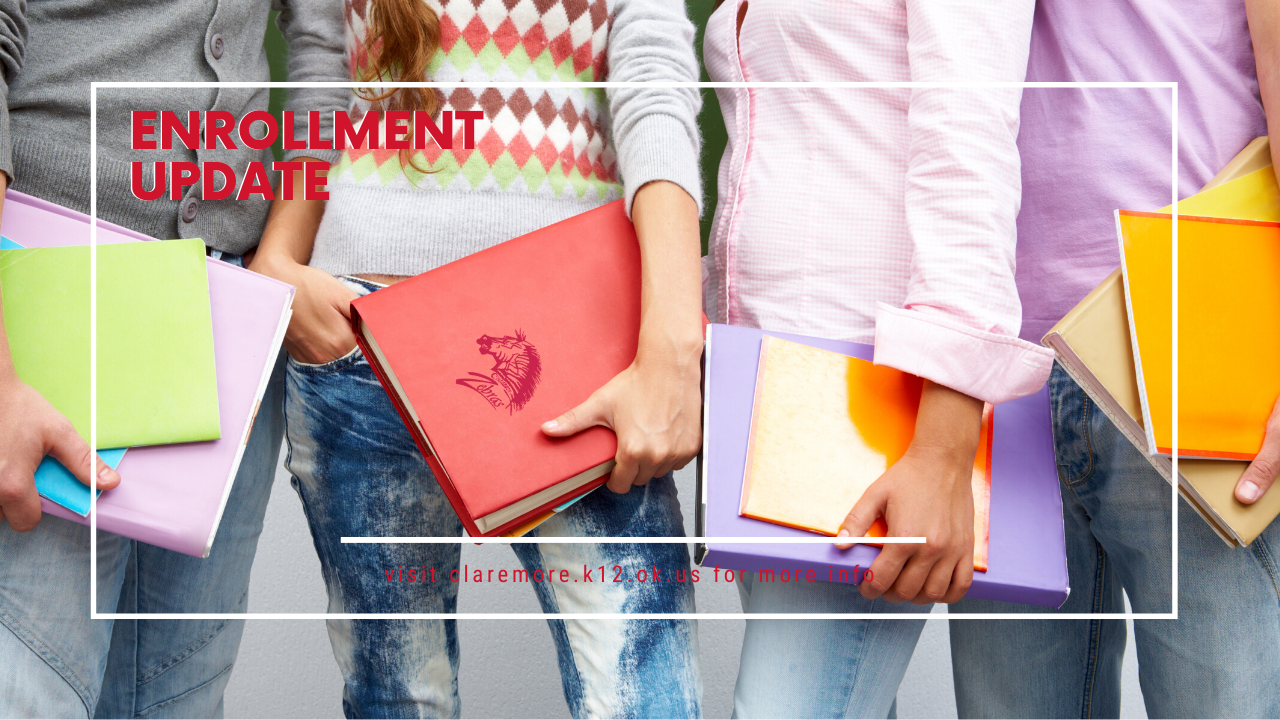 We are currently working on enrollment district-wide. At this time, you can download an enrollment packet on our website on the Enrollment Center page for all grades. Choose the grade you will be entering during the 20-21 school year. This process is for returning students only.
CHS distributed the forms during ZAP before spring break. If you still have those forms you can turn them in at CHS on:
Thurs. 5/14 from 4p - 7p
Fri. 5/15 from 10a - 1p
NEW Date - Thurs. 5/21 from 4p - 6p
If you do not have the forms, you can download them from the website here.

WRJH students can download the form from the website here. Please complete the entire packet and turn them in on:
Tues. 5/19 from 5 pm-7 pm
Thurs. 5/21 from 5 pm-7 pm
Please pull into the bus loop and remain in your car and a staff member will come to your vehicle.

Elementary (PreK - 5) who will be enrolling in K-5 for next year can download a form here. Please complete them and turn them in on:
Tues. 5/19 from 5 pm-7 pm.
Thurs. 5/21 from 5 pm-7 pm.
Each elementary site has specific drop off instructions. Please check the APP/Website for those instructions.
You may also scan the completed documents and email them to the registrar at the school site you will be attending in the fall.
All new to the district students and Pre-K must enroll at the Enrollment Center by appointment. 
For more information click here.
UPDATE: 5.5.20 I 9:00 AM
Re: Retrieval of Personal Items & Returning of School Property - May 11th - 15th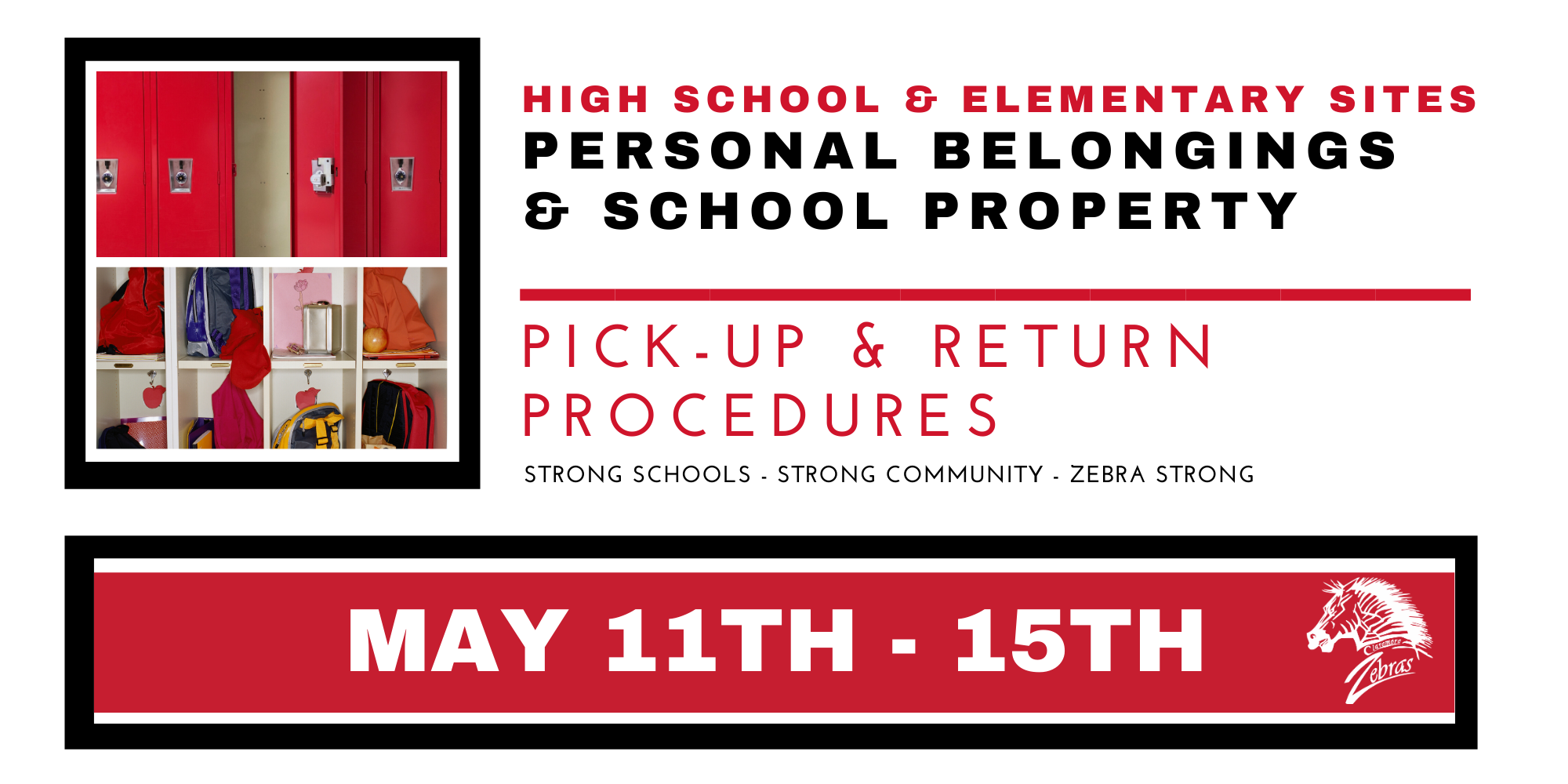 We are beginning the next phase of our personal item retrieval and school property return procedures.  
Please bring any library books, calculators, textbooks, and devices, etc. 
Each site will have an individual plan so please click the link below for specific directions.
UPDATE: 5.2.20  I  8:00 PM
RE: CHS BAND Picking Up & Returning Property Procedures - May 6th & 7th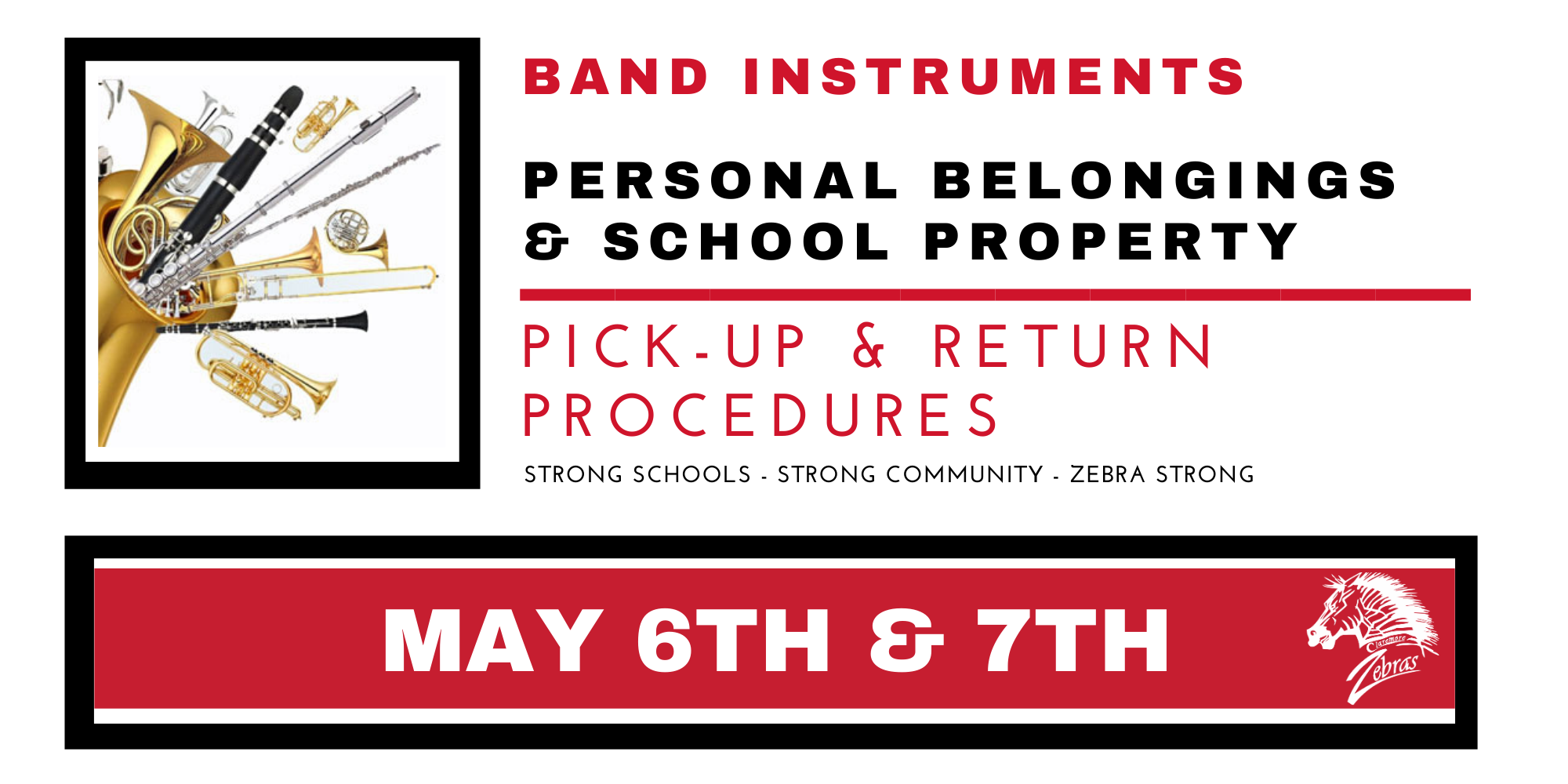 CHS BAND Picking Up & Returning Property Procedures - May 6th & 7th
5PM - 6PM
MAY 6 - JUNIORS AND SENIORS
MAY 7 - FRESHMEN AND SOPHOMORES
Our second phase of pick up and drop off will be for high school band members. You will return uniforms, instruments, and pick up personal belongings on May 6th & 7th between 5 PM & 6 PM.
Procedures for drop off and pick up:
We need to get everything out of the band room that belongs to you: shoes, shorts, instruments, backpacks, etc…
Fill out this form if you have anything in the band room that you need back:
https://forms.gle/2mduVcx9AfVSYtct7
Be sure to tell me exactly where your stuff is. "In the cubby room" is not a sufficient answer. It is a big room with lots of cubbies. Deadline is Monday, May 4th, Star Wars Day, Midnight
If it is left in the band room after this week, you may pick it up at Goodwill.
You will also bring back all sheet music, scale books, and chorale books these two days. Put these in a folder with your name on it to return.
You will also return any school-owned instruments and accessories such as ligatures and mouthpieces that you will not be playing next year. (Seniors) Put your name on the case with a piece of painters tape.
If you have any band uniforms or Colorguard parade uniforms, I need those back as well. Put your name on a piece of tape and attach it to the outside of the garment bag.
You will pull into the parking lot on the west side of the PAC, your car facing north. You will pull up to the door next to the drama room. You will stay in your car and a Band Staff Member will help you. You may not enter the PAC.
UPDATE: 4.29.20
RE: Athletics - Pick-Up & Returning Property Procedures - May 4th & 5th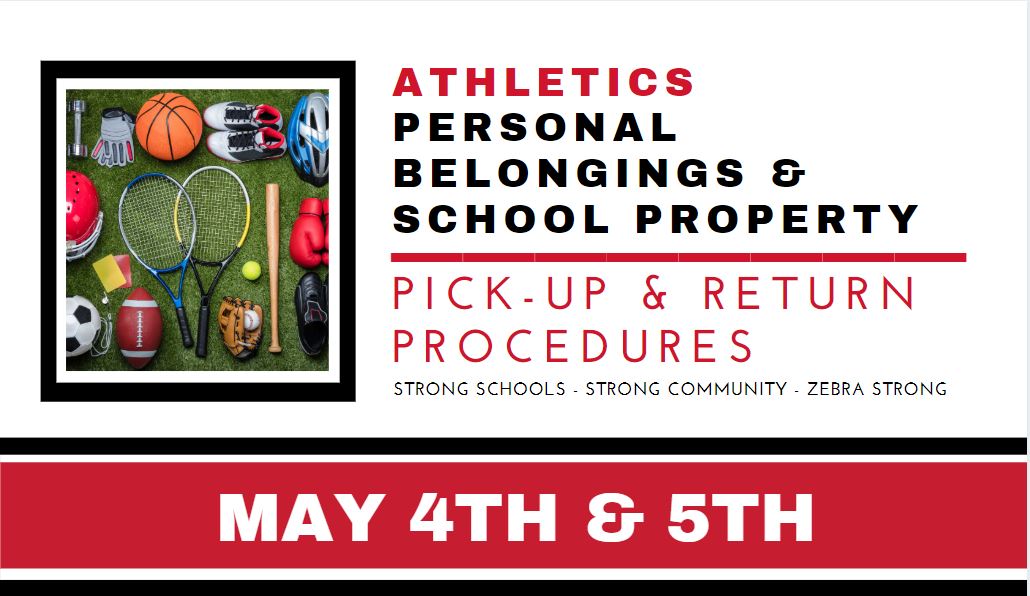 Our first phase of pick up and drop off will be for high school student-athletes. You will return uniforms, pick up
personal belongings, and player packs if you ordered them on May 4th & May 5th.
PROCEDURES FOR DROP OFF AND PICK UP
Student-athletes are not to get out of their cars, REMAIN IN CAR.
Have uniform washed and in a plastic bag for secure transfer to your coach.
If you have items to pick up, your coach will give them to you in a plastic bag.
PLEASE DO NOT CONGREGATE AT FACILITY!
SCHEDULED TIMES FOR ALL SPORTS
Juniors and Seniors from 5:00 pm to 5:30 pm for each sport
Freshmen and Sophomores from 5:30 pm to 6:00 pm for each sport
MAY 4TH - SPORTS & LOCATION
BASEBALL - Legion Field
GOLF - Northeast corner of Mobra Gym
SOCCER - Southeast corner of New Gym
MAY 5TH - SPORTS & LOCATION
TRACK - Rubber Gym
TENNIS - Northeast corner of New Gym
DANCE TEAM - Southeast corner of Mobra Gym
If you have questions, you can contact your coach directly or Duwayne King, Athletic Director, at 918-915-0756.
NOTE:  The next phase for all students at the high school and the elementary sites will be May 11th - 15th. Details will follow from site principals ASAP.