Have you ever heard your grandparents talk about walking to school when they were kids? Well if you haven't, let me tell you what they had to do to get to school. Your grandparents had to walk 5 miles in a foot of snow to get to school, and somehow it was also up hill to and from school. I tell you that so you will have a better understanding of what the golf team went through this weekend as the competed at the 5a state golf championship in Duncan, Oklahoma.
Tristan Starkey, Alex Countryman, Gage Hall, Tripp Jackson, and Jack Williams all arrived early Monday morning to start the first day of the two-day tournament. Day one consisted of carrying or pushing their bags across 18 holes that covered 7000 very hilly yards, TWICE. I looked it up and 7000 yards is 3.9 miles, and math is hard but I believe that is nearly 8 miles they walked on day one. The only thing missing from grandpa's story is the foot of snow. That was made up with the 94-degree weather.
The first round the nerves were running high for all the boys as they announced their names in front of a big crowd surrounding the first tee. Once they got going the boys found out just how difficult the golf course was playing. Huge elevation changes, native grass that swallowed golf balls, and greens that were fast and firm. It took them a while to settle in, but by the end I believe they were able to reach some of the goals they had set for themselves. Tristan was able to shave 20 strokes off of his score from the 1st round to his 3rd round. Alex showed a lot of grit and was also able to shave many strokes off from round to round as well. Gage shot a 95 in each of his first two rounds. The next morning, he told himself he was going to get into the 80's where he belonged. Well Gage was able to do so by shooting a final round 88. Sophomore, Tripp Jackson was the definition of consistency. His goal was to do better than he did at the previous year's state tournament. Tripp also accomplished his goal by shooting 85,86,86. These four golfers should be proud of what they were able to accomplish this season, but they know there is more work to be done.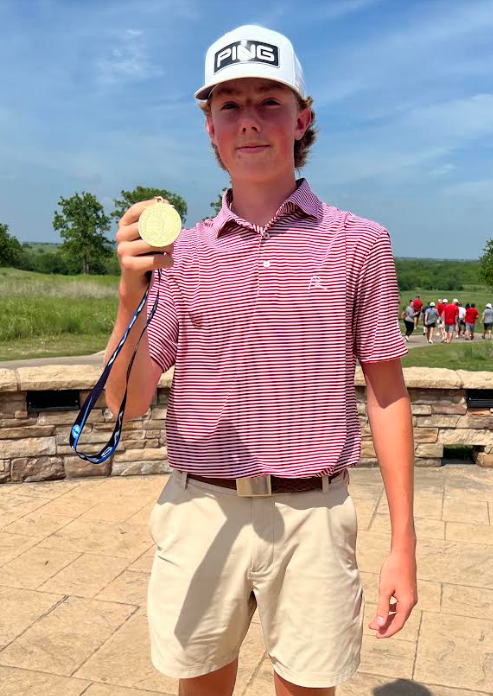 You are probably wondering about the fifth golfer on the team, freshman Jack Williams. Jack started his tournament exactly how you would think a 15-year-old playing in his first state tournament would start. Jack pushed his drive into the hazard and had to take a penalty stroke to score double bogey on the first hole. Not a great start, but that is why the saying "it is not how you start, it is how you finish" exists. Jack showed that even though he is only a freshman, he has the mindset of a veteran. He was able to stay calm when he hit good shots, and even calmer when he hit bad shots. This game is played one shot at a time and most golfers struggle with letting go and moving on to the next shot, but not Jack. Jack finished his 1st round with an 82, the first time all season not being in the 70's. It did not rattle him, he just ate his hotdog with a hard bun, and went back to the number 1 tee to start his next 18 holes. Jack found some rhythm in that round shooting a 77, but just couldn't get any putts to fall. The 77 positioned him in 12th place going into the 3rd round. Well the goal was to bring home some hardware, but he knew it was going to take a good round to pass a few kids and get into the top 10 and earn a state medal. Jack was up to the challenge, making 3 birdies and shooting a great round 75 on the final day. Now the waiting game, was it good enough or not. Turns out his great round was more than good enough as he caught, and passed 5 other players to take home a 6th place medal as a FRESHMAN. Yes, you read that right, freshman, 15 years old, baby faced stud with an unbelievable future ahead of him. Congrats Jack Williams on your great season.
One last shout out to all the boy golfers, who are all underclassmen and will be back at it next year, congratulations. The Zebra Golf Program has a bright future. One last thing for all the Claremore golfers, don't ever forget that "3 bad shots and 1 brilliant shot equals par."