Claremore Wrestling 100% Winners at State Tournament
Putting Claremore Wrestling back on the map!

Coach Chad Willard has been at CHS for eight years and made seven trips to the State Wrestling Tournament, but this year was like nothing he's ever experienced, taking 6 qualifiers and bringing home 6 winners.
This team battled Covid, layoffs, cancellations, and mother nature, and at the end of it all here they stand. Claremore sent 6 wrestlers to State and came back with 3 champs, 2 runner-ups, and a 4th place finish.
Kearanie Johnson was the first-ever women's State Champion and Outstanding Wrestler.
Kaden Stanley became a 3x placer winning the championship in the 138lb bracket.
BK Seago became a 2x placer winning the championship in the182lb bracket with a dramatic finish.
Aiden Boyd became a 2x placer with his runner-up finish at 120lbs.
Ashton Stevenson's first time to place at a State tournament, winning 2nd at 170lbs.
Kai Shultz became a 2x placer by battling back and taking 4th at 145lbs.
With these accomplishments, your Claremore Wrestling Zebras finished the team race in 2nd place!!!!
The team was also named BACK to BACK Academic State Champs by the OSSAA!
It's the return of the "CLove" tradition!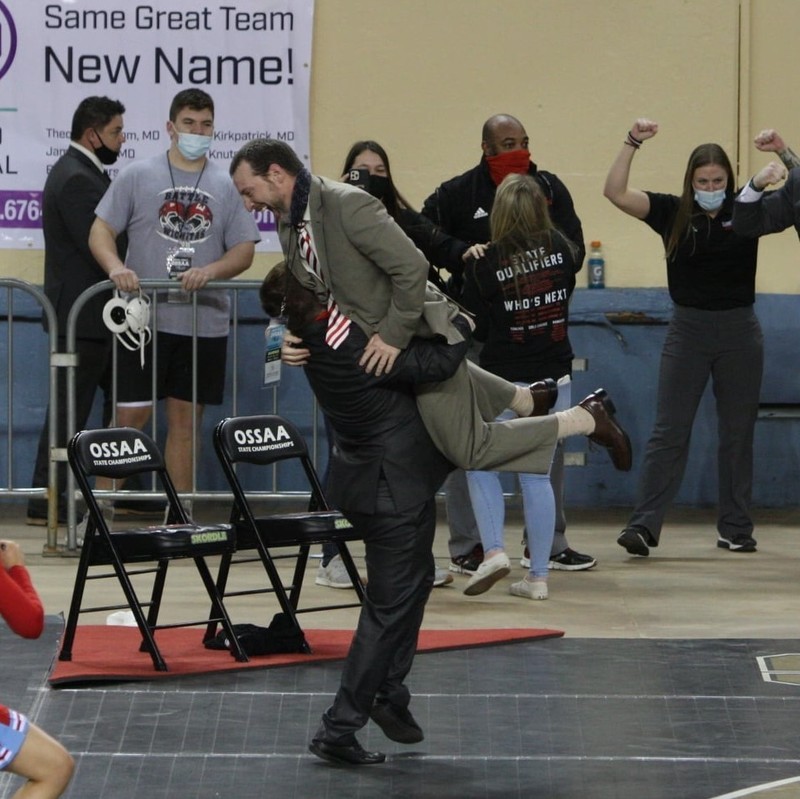 Coach Chad Willard summarized the experience with, "Well, I could not sleep last night and tried to calm down before I wrote a post. Going into the year, I knew these athletes had it in them to do something special, but knowing they can and are actually doing it are two different things. This team accomplishment created a memory for me that will be with me for the rest of my life. The first award was back-to-back academic state champs. This is a big deal and shows who this team is as a group and shows that they are more than athletes; they are student-athletes.
Next are the individual awards: two state champions, two runner-ups, and a fourth place. When it comes to team trophies, one individual win does not stand above the other; they all are equally important. It doesn't matter if you dominate in state finals like Kaden Stanley and win it, get a takedown with 2 seconds like BK Seago, make the finals and lose heartbreakers to finish second like Aidan Boyd and Ashton Stevenson, or have to start in the "wrestle in match", come from 5 points down to keep your tournament alive and get yourself on the podium for yourself and your team, like Kai Shultz. They all scored team points that lead us to the runner-up finish. If one of these five young men does not do what they did, we would not have accomplished this goal. I am so proud and humbled by what this group did. They accomplished this, Coach Jahn, Coach Weber, Coach Selmon, Coach Lugginbill, and I just had a front-row seat to their performance. They put their foot on the line, not us, and they got this done. All the praise goes to these young men, and we owe them a thank you for putting Claremore back on the map.
Not to be left out, Kearanie Johnson wrestled for our girls' team. She said, "Wait, wait, wait, don't forget about me." Kearanie was on the mat for less than two and half minutes in three matches on her way to her hardware. She was the champion at 127lbs and told me she would win outstanding wrestler before the tourney; she said it and did it.
There are many other individuals on the team that trained with these individuals. I want to thank them as well for pushing themselves as well as pushing these athletes. These awards are your awards as well."
Check out their FB page to see more photos.
#CPSZEBRAPRIDE