Claremore High School NJROTC Partners with OBI for Estabrook Memorial Blood Drive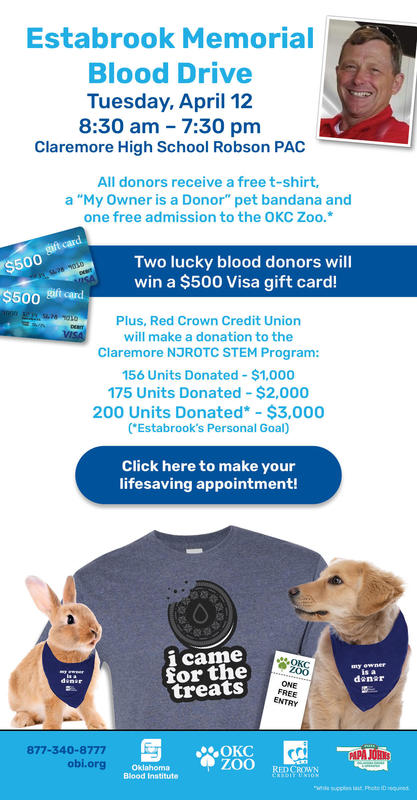 Tuesday, April 12, 2022 from 8:30a - 7:30p
Robson Performing Arts Center Lobby
Let's celebrate the life of long-time CHS blood drive coordinator and NJROTC Commander Murry Estabrook. This memorial drive will strive to reach Estabrook's dream goal of collecting 200 donations.
Lt. Commander Murry Estabrook spent more than 40 years helping support the Oklahoma Blood Institute - the last 18 the CHS NRJOTC. He started teaching NJROTC at Claremore High School in 2003. In 2004, Estabrook organized the school's first blood drive in partnership with the Oklahoma Blood Institute. Since starting the blood drive, students and the Claremore community have been able to donate more than 4,400 units of blood-- that's enough blood to impact nearly 12,000 lives.
In the last few years, he set each drive's goal at 200 units but it has never been reached. Let's reach that goal for Commander Estabrook this April.
Red Crown Credit Union has partnered with NJROTC and will make a donation, in Estabrook's honor, to their STEM initiatives as they reach the following goals.
156 Units - $1000
175 Units - $2,000
200 Units - $3,000
Two lucky donors will win a $500 Visa gift card. All donors will receive a t-shirt and vouchers for Whataburger, Papa John's, and the OKC Zoo.
Appointments are strongly encouraged but not required. Schedule your appointment here:
16 & 17 -year-olds require a parent-signed blood donation permission slip.
#CPSZEBRAPRIDE