GEAR UP FOR COLLEGE
UPDATE 6.1.20 l 6:30 pm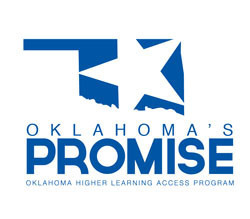 OKLAHOMA PROMISE SCHOLARSHIP ALERT for 10th-Grade Parents with Recent Income Loss
Click photo for application link.
If your student is or was in the 10th grade during the 2019-20 school year and you anticipate that your 2020 income may be under the $55,000 application limit for the Oklahoma's Promise scholarship due to recent reductions in your income, you may submit an application based on your 2020 estimated income. The application must be submitted prior to the June 30, 2020 deadline. You can find the online applicaton here.
You will be required to provide a copy of your 2020 federal tax return when completed to verify that your 2020 income was under $55,000. The application will be held as pending until the tax documentation is received. Please send any questions to okpromise@osrhe.edu.
Students may begin the application process as early as 8th grade.
COLLEGE VISITS: College visits may look different these days, but that doesn't mean students can't get a feel for college campuses from afar. Many Oklahoma colleges have provided opportunities for students to virtually tour their campus. Whether it's taking a look around the South Oval at the University of Oklahoma or checking out the dorms at Southwestern Oklahoma State University, virtual tours can give students a feel for life at school without leaving the house. Students can get started touring by visiting the GEAR UP website at: https://www.okgearup.org/college-visits.shtml.
COLLEGE PREPARATION: GEAR UP school specialists are offering Zoom webinars for students and/or their families. Topics include, but aren't limited to: FAFSA/financial aid, Oklahoma's Promise, college planning. Here is the registration link: https://form.jotform.com/KristiAllison/oklahoma-gear-up-zoom-meeting-reque
COLLEGE BRIDGE PROGRAMS for Class of 2020: GEAR UP will reimburse the cost of college orientation/bridge programs for students who graduate from one of our designated school districts and attend any Oklahoma college or university. Students must register at: http://www.okgearup.org/cbp.shtml. Registration closes Sept. 1, 2020.
Debra Keil
GEAR UP Education Coordinator
dkeil@osrhe.edu
918.633.7198
"When the winds of change blow, some people build walls and others build windmills." – Chinese proverb