Check out our 3rd graders!!!! Here's a snapshot of their Native American Museum along with artifacts from the five civilized tribes! Great work! #CPSZEBRAPRIDE

Claremont students, are there any aspiring chefs out there? If so, you can showcase your skills by participating in the upcoming Future Chefs culinary district competition. Ask for a form from the cafeteria or office and complete it with your recipe to "Reimagine Your Favorite School Lunch Meal," and you'll be in the running to compete in a live competition at Claremont Elementary on March 26. The winner of this event will have their recipe entered into a national competition with the chance to win even more great prizes! RECIPES DUE BY DECEMBER 20th.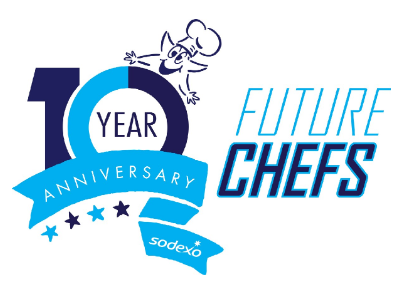 Today is no different from every day we for teachers. We are thankful for our students and their families, connections with our colleagues, for the leaders that encourage our growth, and the caring support from our own families. #CPSZEBRAPRIDE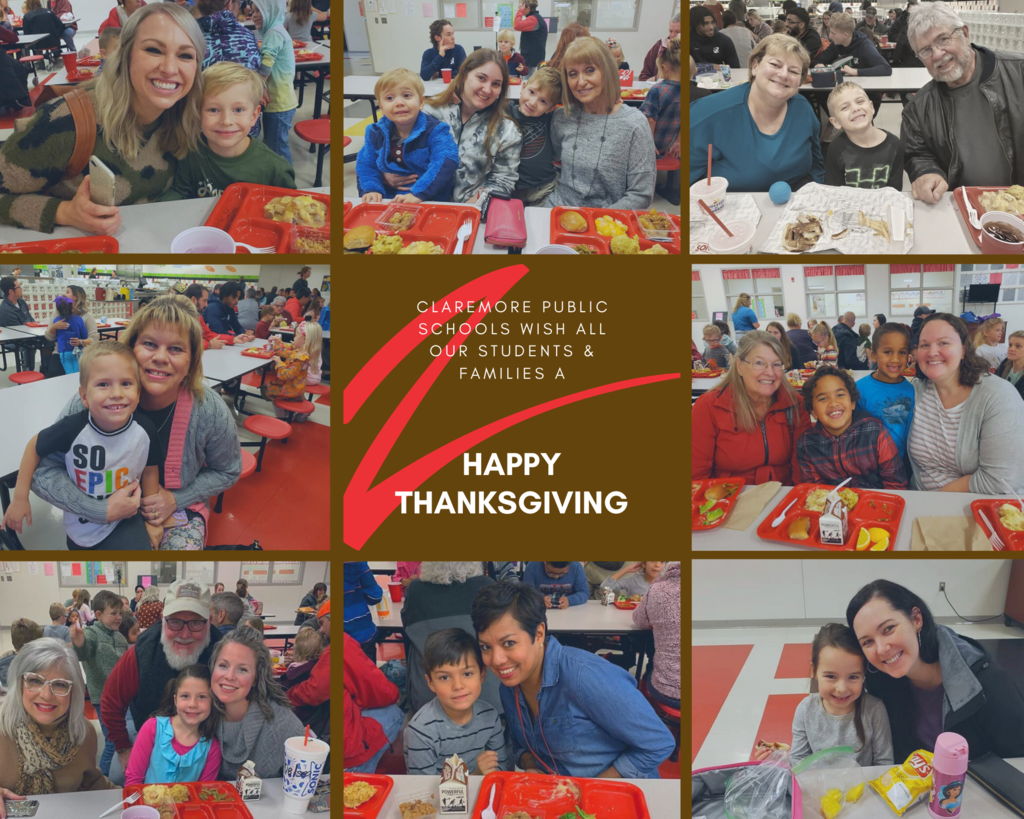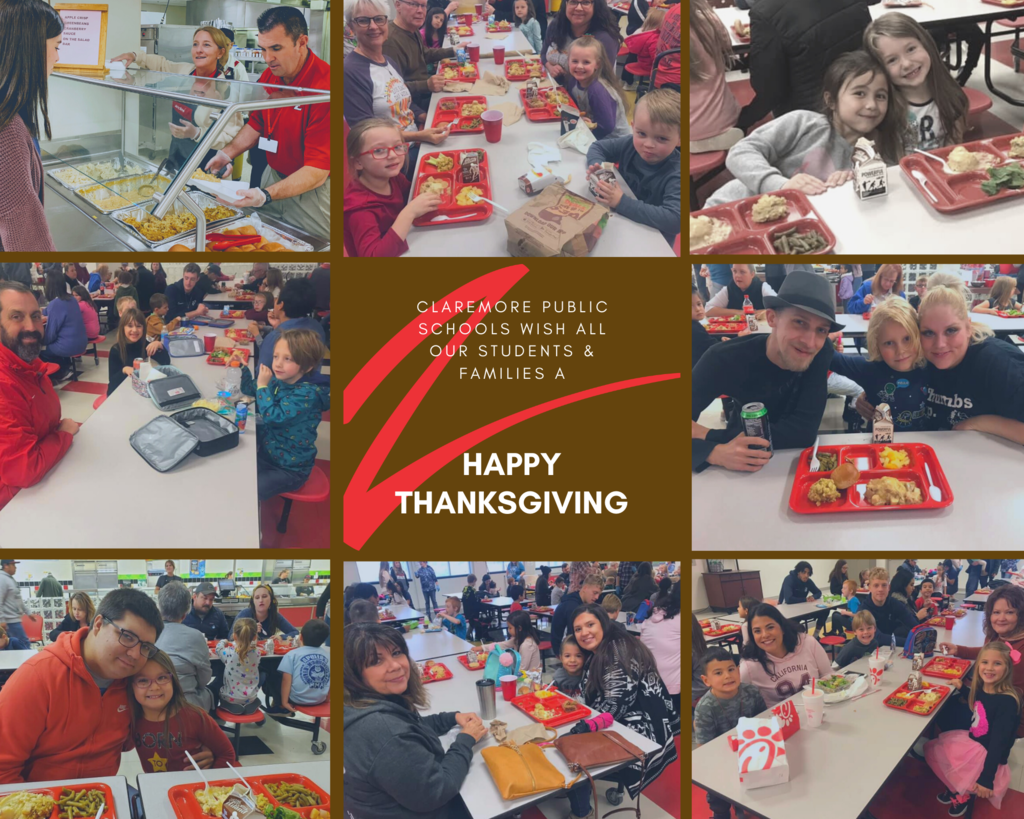 Thanksgiving Break begins tomorrow, Wednesday - November 27th. We will be thankful to see you back in our classrooms on December 2nd.

Pick up your holiday drinks from Chick-fil-A this week! $1 of every gallon sold this month will go to benefit Claremore Public Schools Foundation. Make plans to enjoy Sweet Tea, Unsweet Tea, or Lemonade at your Thanksgiving table. Their Lemonade is hand squeezed and mixed fresh daily made with either cane sugar (regular) or Splenda (diet). #CPSZEBRAPRIDE

Hope you had as much fun at Claremont's skating night as we did!!! Congrats to Mrs. Schell's class for having the best turnout! #CPSZEBRAPRIDE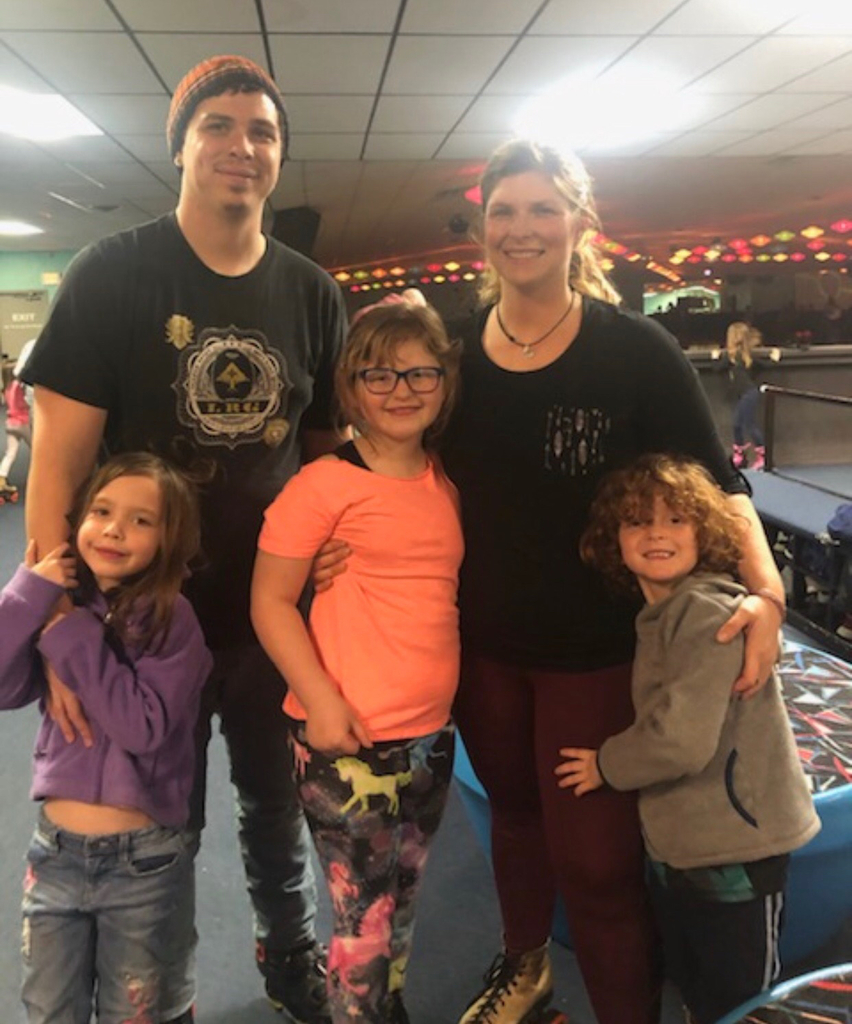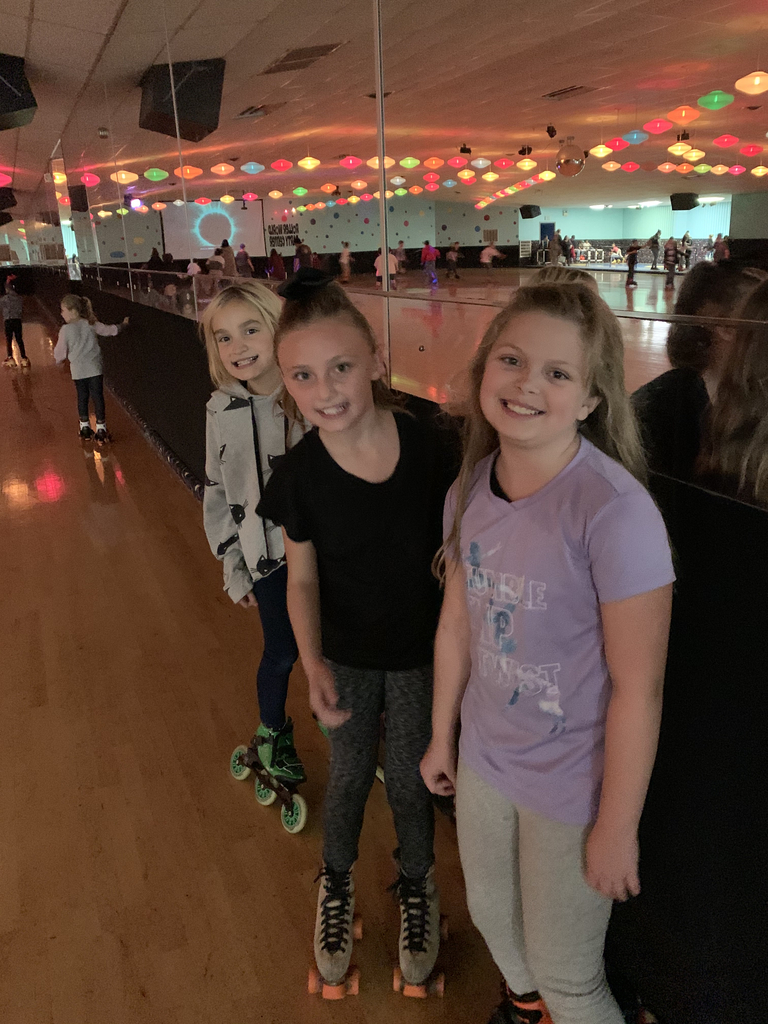 Congratulations to our students who were awarded for displaying Patriotism! #lifeprincipals #CPSZEBRAPRIDE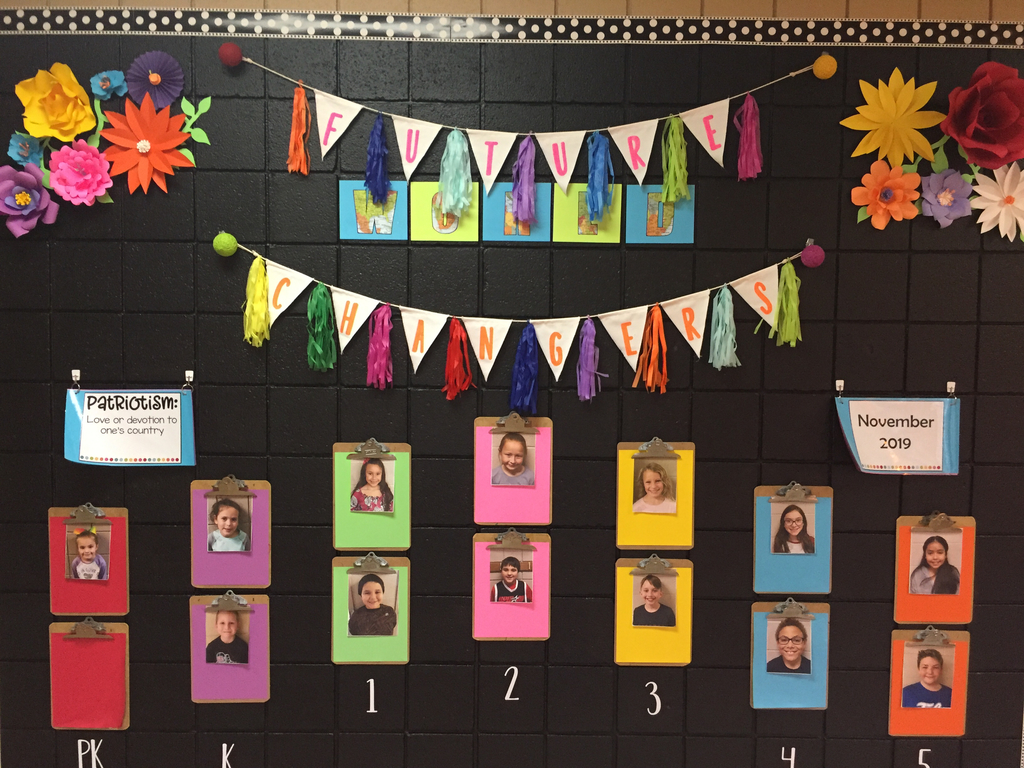 We know that being present is important for your child's learning progress. What can you do to help them be at school every day? • Set a regular bedtime and morning routine. • Lay out clothes and pack backpacks the night before. • Don't let your child stay home unless she is truly sick. Keep in mind complaints of a stomach ache or headache can be a sign of anxiety and not a reason to stay home. • If your child seems anxious about going to school, talk to teachers, school counselors, or other parents for advice on how to make her feel comfortable and excited about learning. • Develop back-up plans for getting to school if something comes up. Call on a family member, a neighbor, or another parent. • Avoid medical appointments and extended trips when school is in session. #CPSZEBRAPRIDE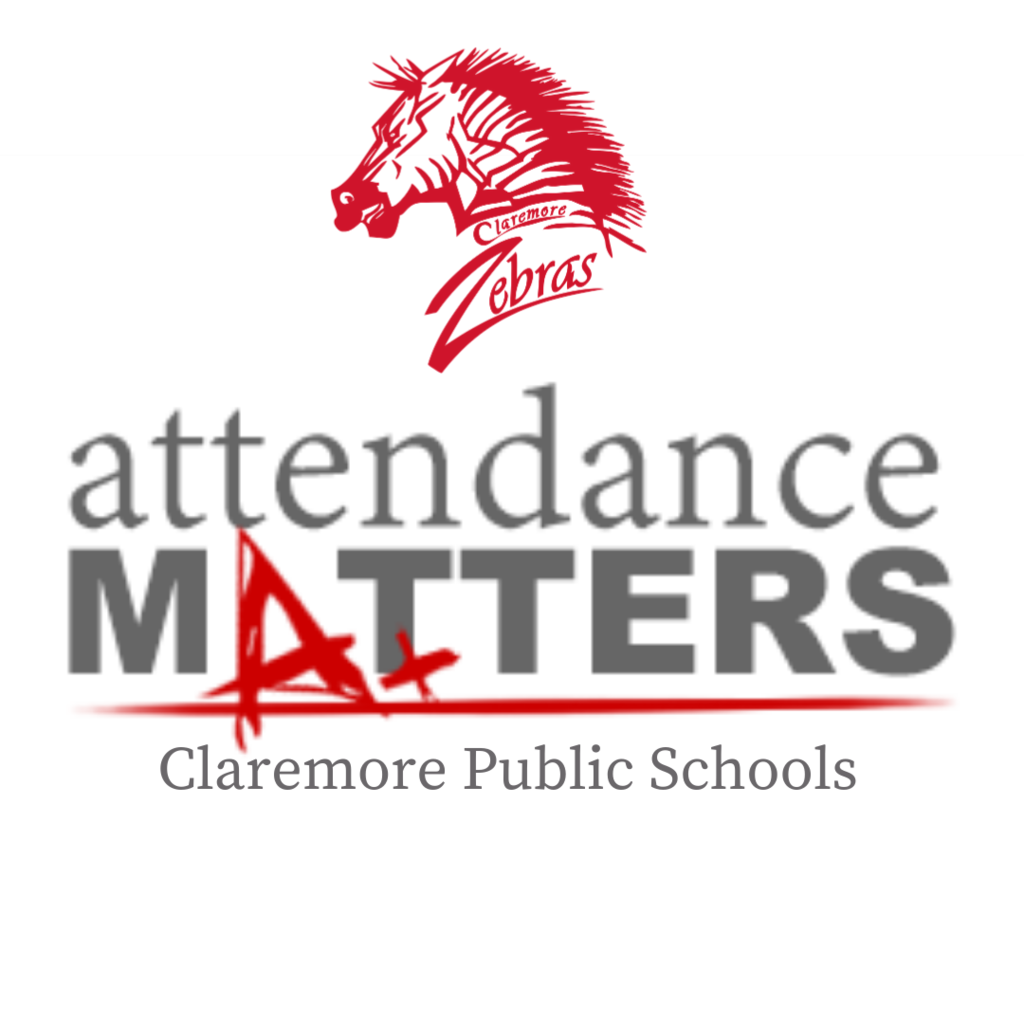 We love getting the chance to celebrate academic gains!!!! #CPSZEBRAPRIDE


Chick-fil-A is thrilled to partner with the Claremore Public Schools Foundation. $1 of every gallon sold this month will go to benefit this worthy organization. Make plans to enjoy Sweet Tea, Unsweet Tea, or Lemonade. Our Lemonade is hand squeezed and mixed fresh daily made with either cane sugar (regular) or Splenda (diet). Stock up for your holiday parties! #CPSZEBRAPRIDE

With the 14-7 win against Tahlequah this past weekend, the Claremore Zebras have earned a spot in the first round of the playoff games. They will make a road trip to McAlester on Friday night. Get out your cold-weather #ZEBRARED and plan on showing your #ZEBRAPRIDE as we take on the Buffalo.

"Veterans know better than anyone else the price of freedom, for they've suffered the scars of war. We can offer them no better tribute than to protect what they have won for us." - President Ronald Reagan, 1983 We honor our final three staff members who have served: Bruce Riggs, Ben Russell, and Jake Steven. Let's show them some #CPSZEBRAPRIDE and admiration of their service in the comments below.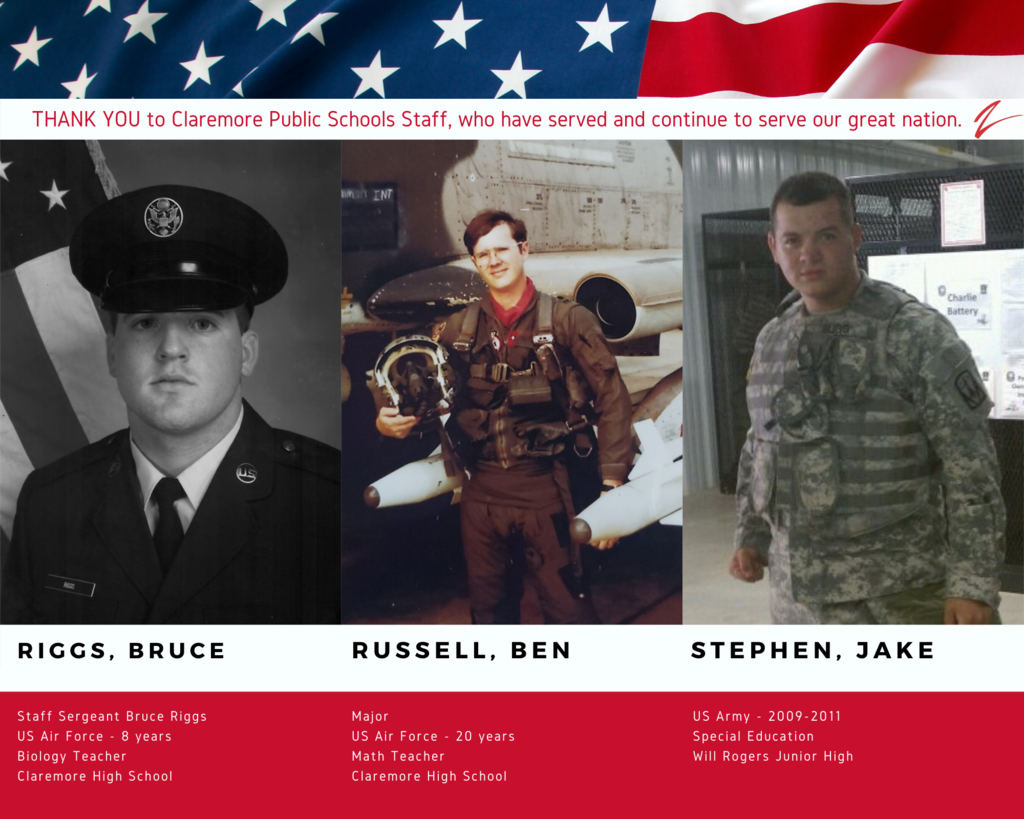 As people march in parades, wave their flags, salute their soldiers, and speak of the sacrifices the men and women of our armed forces today, we are taking the time to honor the staff of Claremore Public Schools that have served our great nation. We also acknowledge their calling and continued service the future of this nation as teachers and influencers here where we are shaping the next generation. Here's to the four service women at CPS: Darla Meisinger, Karen Olari, Lisa Puglsey and Brandy Albert. Give them a #CPSZEBRAPRIDE shout-out below for their service.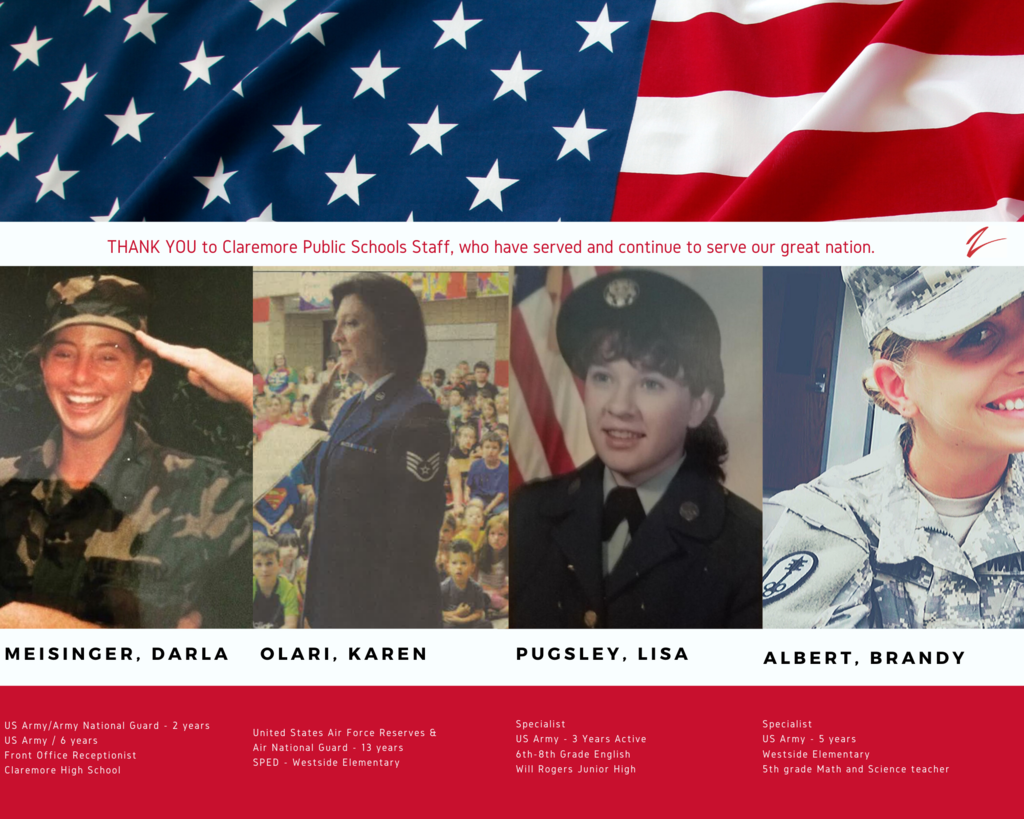 Happy Veteran's Day from our Claremont students and staff! We are grateful for our Veterans and the opportunity to honor them this morning. #freedom #CPSZEBRAPRIDE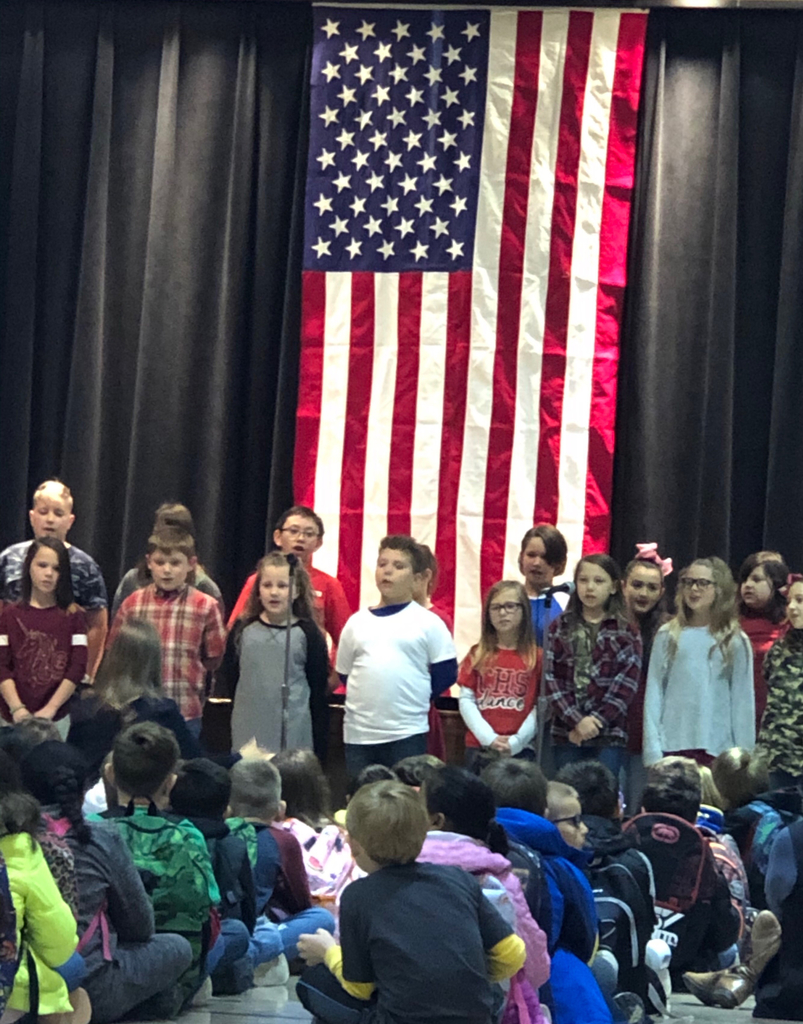 We will never be able to repay the debt we owe the brave men and women who have served in the Army, Navy, Air Force, Marines, and Coast Guard. But today on Veterans Day, we set aside some time to commemorate those that have served and those that continue to serve so we can sit in this school and learn about the freedoms their sacrifices have bestowed on us. Let us learn from their courage, sacrifice, faithfulness, reliability, self-discipline, and motivation. THANK YOU to Claremore Public Schools Staff, who have served and continue to serve our great nation. Our first three are: Commander Murry Estabrook, Steve Janke, and Chief Skip Jasper. Show them a little #CPSZEBRAPRIDE and appreciation in the comments below.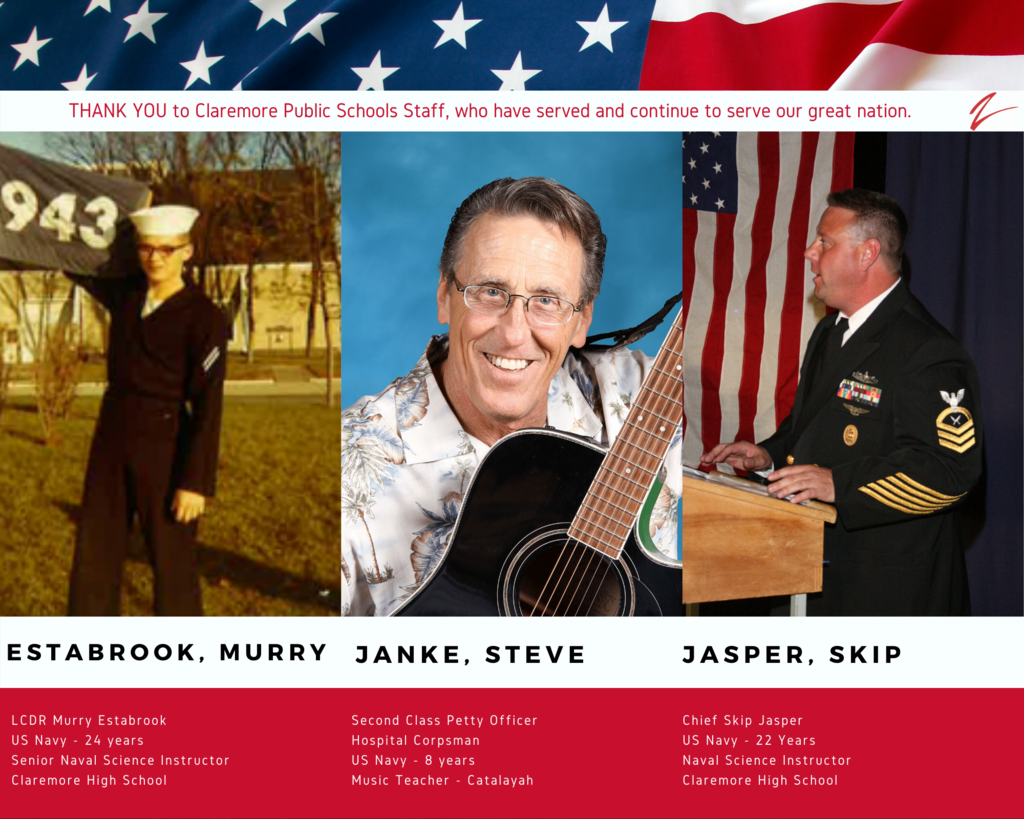 To all the proud MEN AND WOMEN who have served or are currently serving our Armed Services we say THANK YOU and Happy VETERANS DAY. Your sacrifices and duty of service have given us the freedoms we so freely exercise every single day. The price of freedom is not free. Thank you! Thank a veteran today and show your appreciation. #CPSZEBRAPRIDE #USPRIDE -Bryan Frazier Supt CPS

Many classes have been planning to attend the Veteran's Day parade. If the temperature and wind chill is consistent with the current forecast, classes will not attend. We will be having a special "Call to Excellence" morning program to honor Veterans and this day of respect for our classes at 7:45. Enjoy this beautiful day!

Our 4th grade welcomed special guests teaching on nutrition. #loveourcommunity #CPSZEBRAPRIDE