Secondary PARENT / TEACHER CONFERENCES - September 14, 2021 Of all the factors that determine student outcomes, family engagement is at the top of the list. Partnerships between schools and families can improve students' grades, attendance, persistence, and motivation. We look forward to visiting with you about your child's progress at our upcoming Parent/Teacher Conferences for Claremore High School & Will Rogers Jr Hi on September 14. Appointments will be made through myconferencetime; teachers will be available from 4:00pm to 7:30pm. Links to your child's school myconferencetime will be sent through email and posted on all platforms on Friday. NOTE: CHS Class of 2022 will also have a parent meeting at 6:00pm in the high school cafeteria. #CPSZEBRAPRIDE

EFFECTIVE 9/9/21 Attention Bus #17 Families, 🚧 The City of Claremore has notified us of road construction that will affect our bus routes in Harvest Hills from 9/9/21 to 9/15/2021. 🚌 All students who are picked up &/or dropped off on Midway Rd., Orchid Ct., and Colhurst Ln., will move to Walnut Hill Ln. temporarily. 🚌 The times for the buses routes will remain the same. 🚌 The changes to bus routes will begin Thursday, September 9th, and run through September 15th. 🚌 Bus routes will return to normal on September 16th, unless otherwise communicated by our department. Thanks, Jeff O'Shields Director of Transportation

College Reps on Campus during Encore in room 507 🏫 Sept. 8th - Missouri Southern Sate University #CPSZEBRAPRIDE

Claremore Public School is NOW HIRING dynamic and passionate teachers to be a part of our teaching team. THIS JUST IN: 4th grade just opened up at Claremont Elementary! Apply at:
www.claremore.k12.ok.us/employment
#CPSZEBRAPRIDE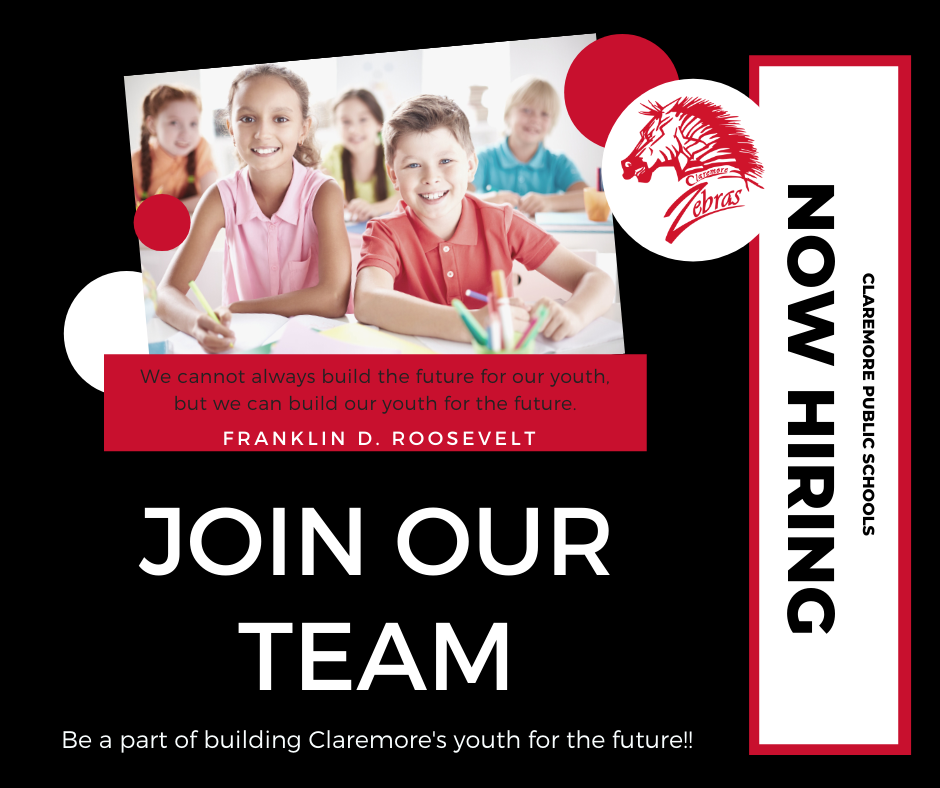 Attention Bus #1 & #18 - EFFECTIVE 9/9/21 The City of Claremore has notified us of road construction that will affect our bus routes from 9/9/21 to 9/15/2021. All students who are picked up &/or dropped off on Davis Ave. will move to Moore Ave. The times for the buses routes will remain the same. The changes to bus routes will begin Thursday, September 9th, and run through September 15th. Bus routes will return to normal on September 16th, unless otherwise communicated by our department. Thanks, Jeff O'Shields Transportation Director

Are you interested in attending college for a degree in a health related career field? ⚕ Nursing ⚕ Pre-Med ⚕ Athletic Training ⚕ Physical Therapy ⚕ Occupational Therapy Make plans to attend Roger State University's Health Career Day on October 7th. You can use one of your 2 college visit day absences for this event. Questions? Need assistance registering? Contact our RSU Gear Up College Coach, Mrs. Sarah Adcock at
sarahadcock@rsu.edu
. To attend, please register at this link ▶
https://rogersstate.secure.force.com/events#/calendar

ASVAB If you are interested in taking the ASVAB test it is being offered here at the high school on September 15th @8:30am in the library. The ASVAB is a Military Entrance Exam and a Career Exploration Exam. Please sign up in the counseling office room 101.


Oklahoma's Greatest Homecoming is October 1st and it's time to order your Homecoming gear! Download an order form here (Due 9/14) ▶
https://5il.co/yg1a
Order online here (Due 9/15 @ noon) ▶
https://claremoregear2021.itemorder.com/sale
🤠 September 30th - Site Tours 🤠 October 1st - Pep Assembly / Alumni Brunch / Parade / Coronation / Game / All Alumni Gathering @ Elks Lodge More details to follow. #CPSZEBRAPRIDE

📷 CHS YEARBOOK PICTURE DAY INFO 📷 9/14: Picture Day (8A - 2:25P) 😄 Location: High School Library 😄 TRADITIONAL CHS - All Students will take a photo through their English or History Class. If they don't have one of these classes we will make an announcement over the intercom for them to come to take a photo. 😊 CVS students may show up anytime between 8a - 2:25p. The afternoon has more space available for walk-ins. 😎 CLS students will be transported to the high school. Details TBD.

Involvement in clubs and organizations has been positively correlated with several areas of our lives and school experience. Your participation in clubs can hone your communication skills, foster creative thinking, and teach you to work effectively with other people. Even better, having a well-rounded portfolio can improve your competitiveness as a future college applicant or career experience. Check out the almost 40 clubs and organizations at CHS ▶
https://5il.co/c28s
If you have interests that are not listed, we encourage you to start one. Here are the procedures to establish a club at CHS ▶
https://5il.co/yest
GET INVOLVED! GET CONNECTED! #CPSZEBRAPRIDE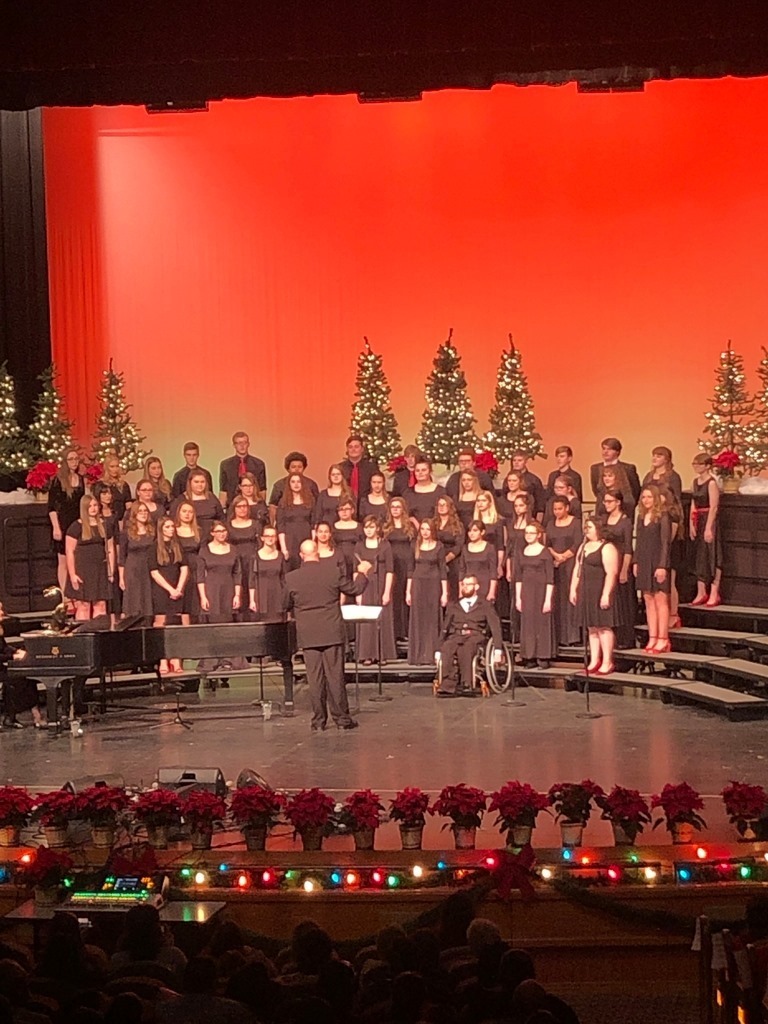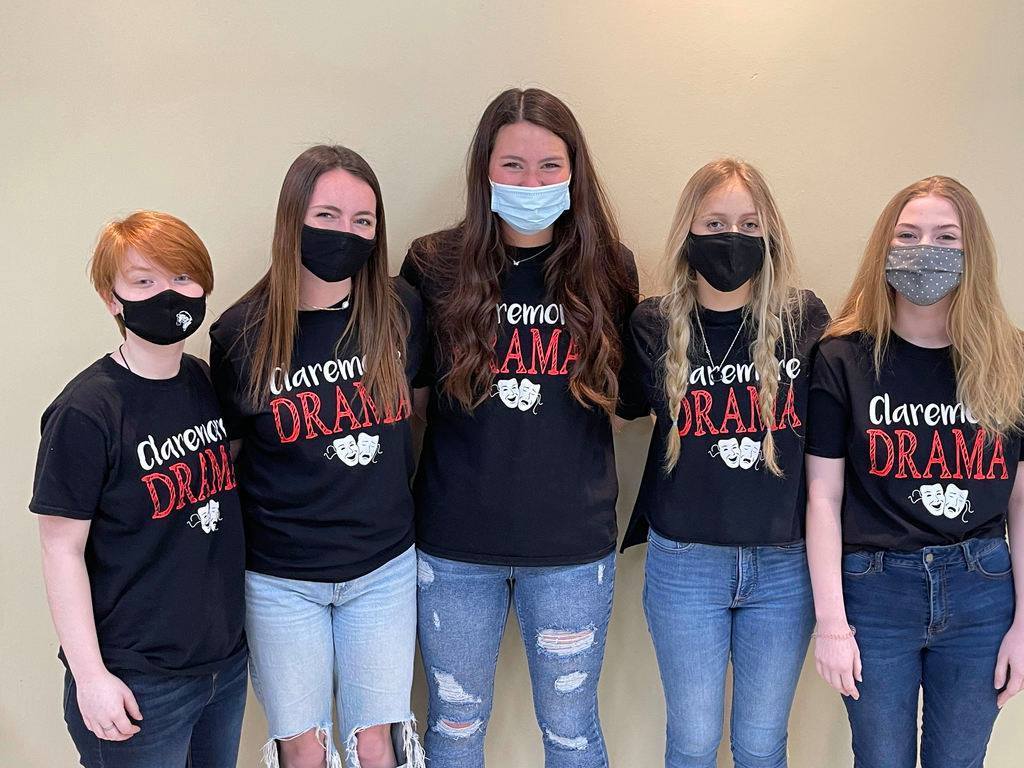 Attention Sophomores! The Pre- ACT scheduled for next Thursday has been postponed to October 5th.



DANCING with the ZEBRAS Join our State Championship Dance Team for a mini-clinic September 7th - 9th and perform at a CHS football game this fall. Register here >
https://5il.co/y25q
#CPSZEBRAPRIDE

Students, are you off-campus during announcements? Does the intercom work in your 2nd hour? Parents, do you want to know what is going on at CHS? Does your child forget to let you know about events, ACT testing dates, scholarships, etc.? Here is your communication solution. All announcements will be posted on the CPS Mobile App for you to check daily. Download it today and subscribe to CHS to make sure you keep up-to-date on the announcements and more. Search Claremore Public Schools in your iPhone or Android app store. #CPSZEBRAPRIDE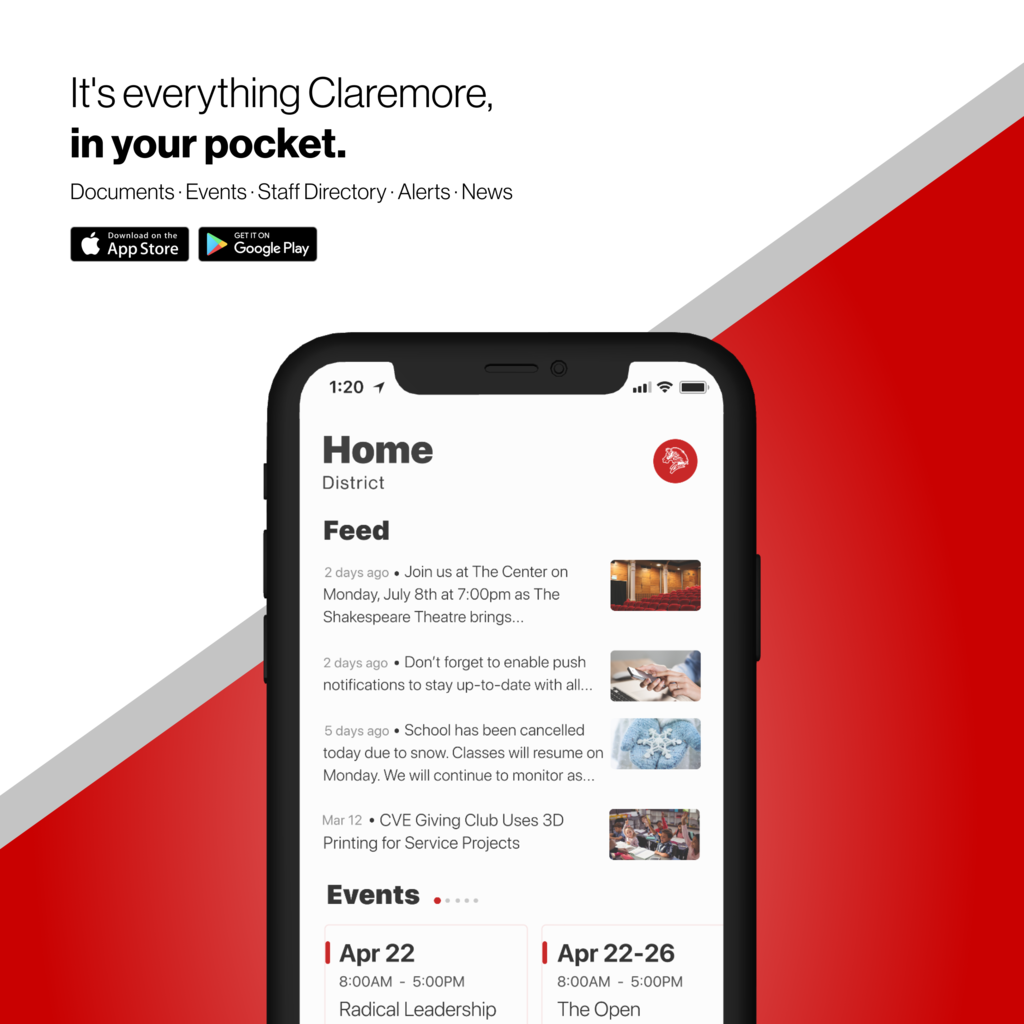 Congratulations to the new Pre-Engineering SkillsUSA Offers President- Caroline Crum Vice President- Dakota Culp Competition Coordinator- Matthew Roberts Community service Coordinator- Elijah Ritter Secretary- Gillian Quellar Treasurer- Cameron Glen Parliamentarian- Aidan Culp Reporter- Kale Radichel Historian- Alex Henning Chaplin- Logan Kelly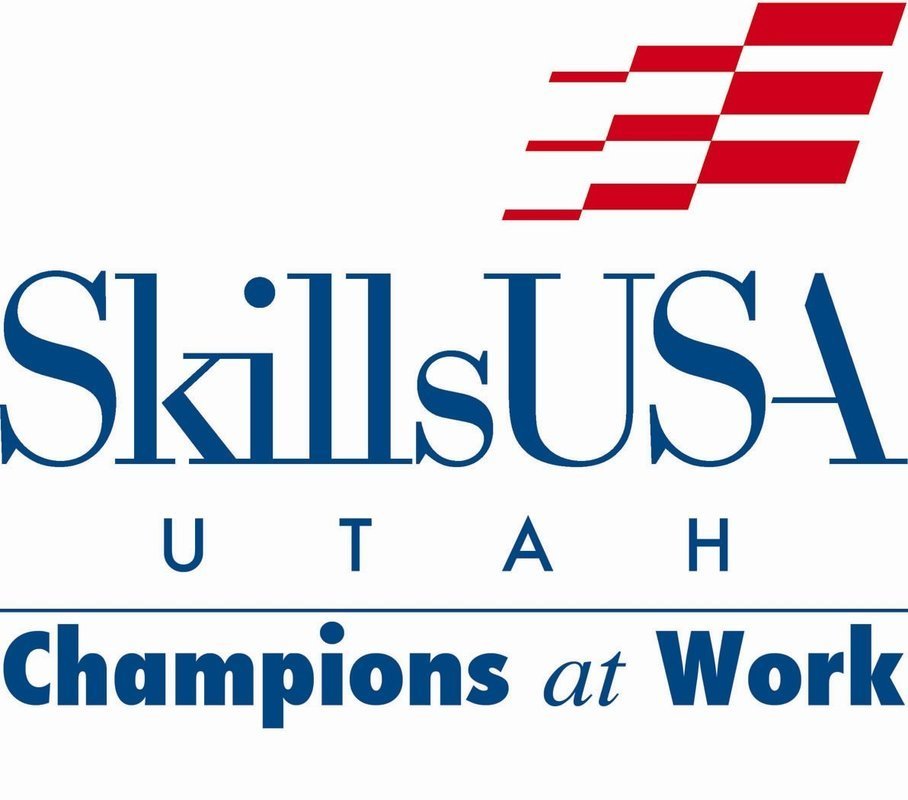 ART Mrs. Hoffer will have an open studio in her classroom, room 210, for students wishing to get extra help, or have a space to work on their art. Open studio will be from 3:35-5pm on Tuesday and Thursday.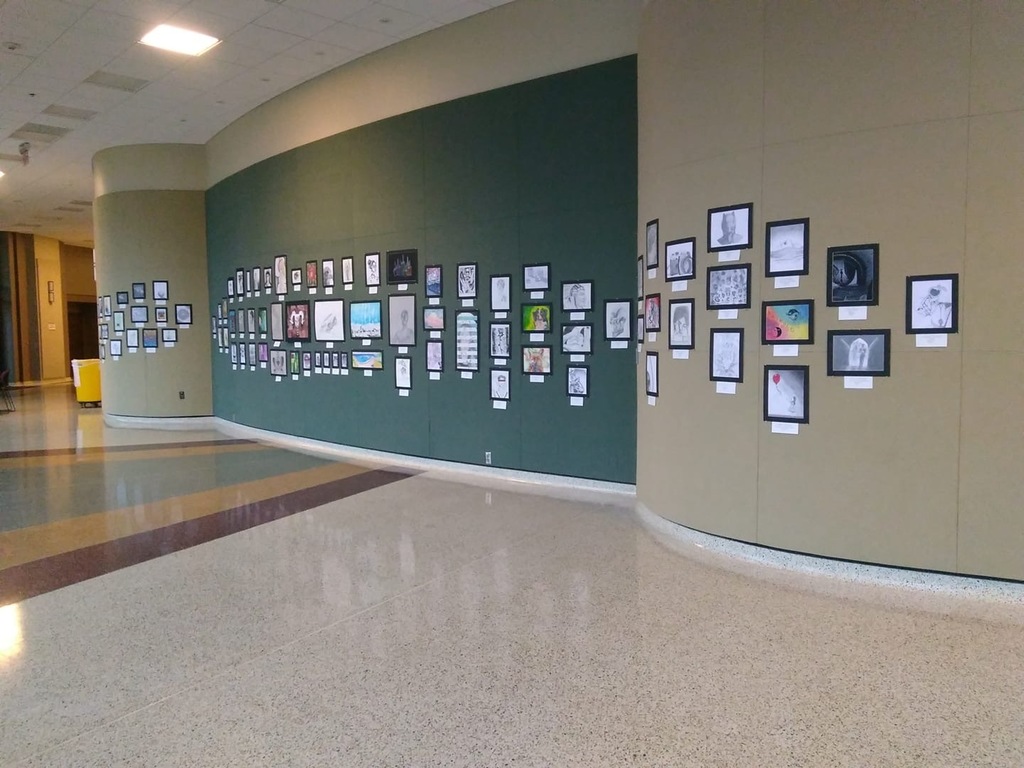 SCHOLARSHIPS - applications can be picked up outside the counseling offices - Room 101 Heisman High School Scholarship is now available to be completed online. If you're a senior with a GPA of 3.0 or better, participates in at least one sport, is involved with your community, Participates in volunteer services and has leadership skill this is a scholarship opportunity for you!