This week during Read Across America, students are anxiously awaiting a visit from The Grinch, who is encouraging students to Drop Everything and Read! Kids are learning to appreciate those few minutes of uninterrupted reading time. Ask your child if they have had a visit from The Grinch yet! Hopefully he will make it to all classrooms by the end of the week! 📗❤️📗 #CPSZEBRAPRIDE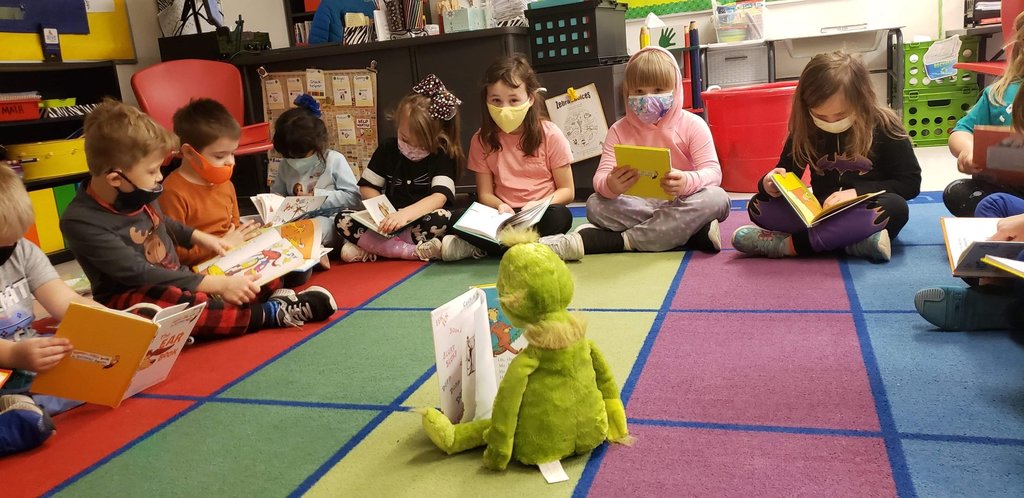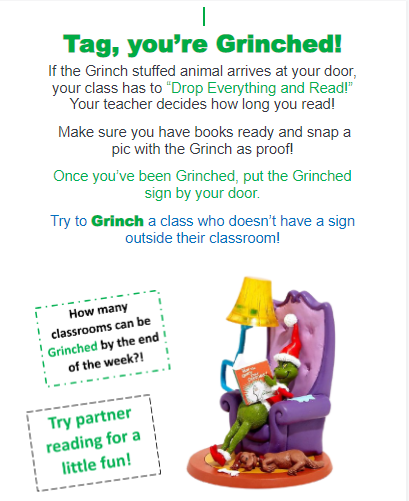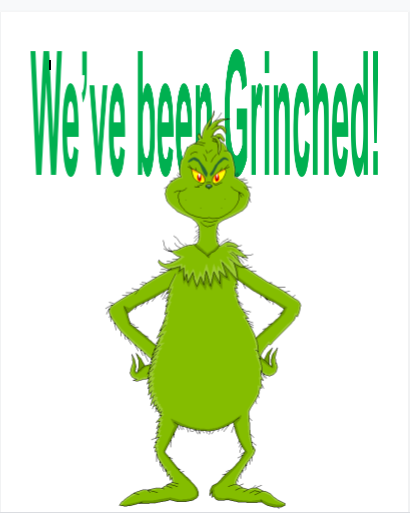 Last week we celebrated the 100th day of school. We sorted, colored and stacked 100 items. The kids were able to show off their 100 days of school projects and some of them even dressed like they were 100 years old. Watch this cute video attached!!
https://www.youtube.com/watch?v=I8ZgsKjqkf4
#CPSZEBRAPRIDE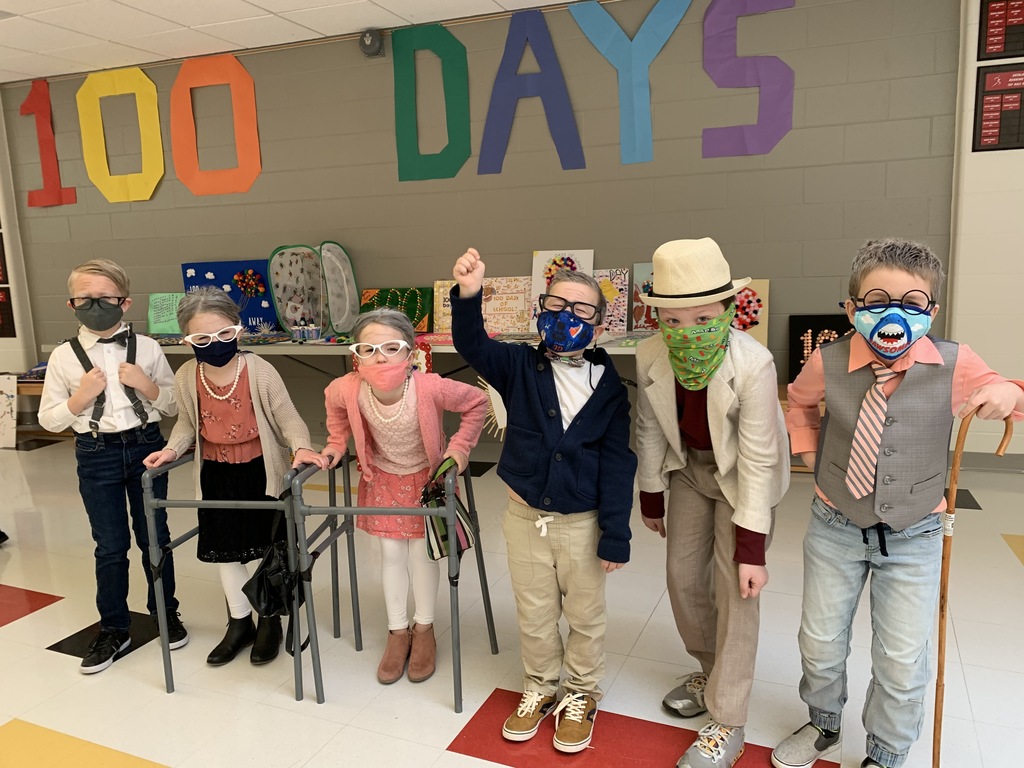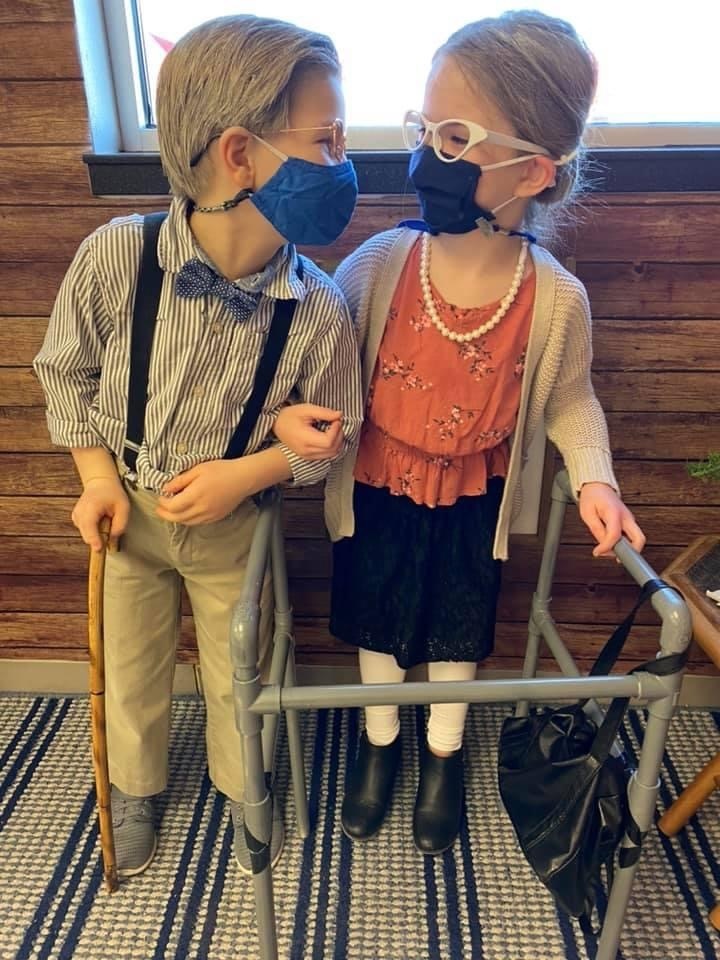 Claremore Zebras are #PUBLICSCHOOLPROUD! We are the 🩺💝 heartbeat of the community. In public schools, all children come first, all students have value, leadership matters, it preserves democracy, and changes lives. Our staff and parents use words like excellence, family, teachers who care, everyone, diversity, academics, athletics, extracurricular opportunities, whole child, educational options, innovation, accountability, social connection, etc., to describe their #CPSZEBRAPRIDE. Give us a 🏫 in the comments if you are a product of the public school. Feeling the love - feel free to share why you are #PublicSchoolProud of Claremore on our FB page.
https://youtu.be/MUaKVnRjEfc
Thank you to the site communications team members and student contributors: Chet Jenkins & Kolby Smith.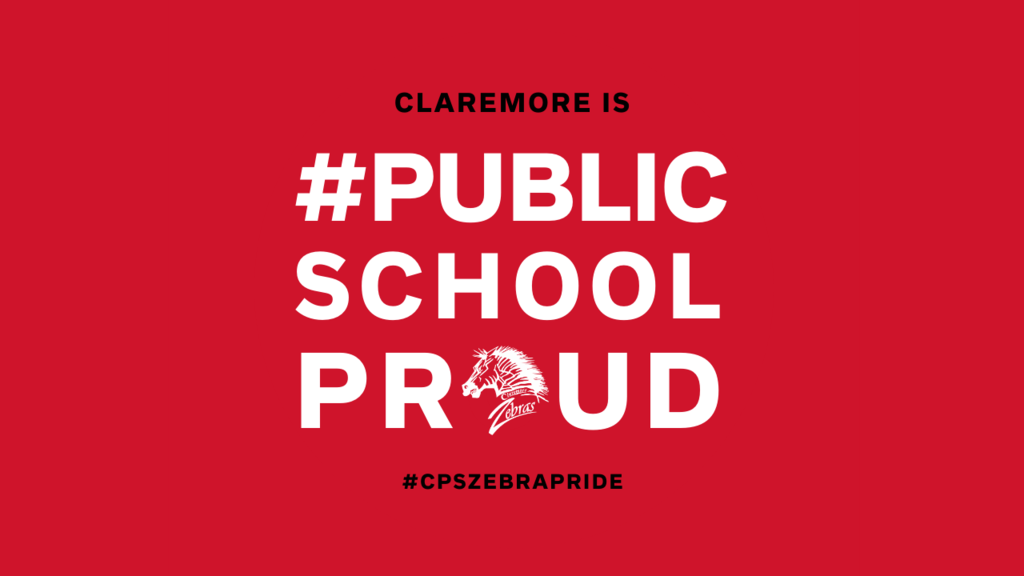 Weekly Reminders for March 1-5

Read Across America Week!! Our dress up day for tomorrow is Eye catching Hats or wear red!!! #CPSZEBRAPRIDE

Tomorrow starts ourPapa Johns Fundraiser nights. Use the code FUND when orders Tuesday March 2 or Wednesday March 3. Catalayah will receive 20% of proceeds,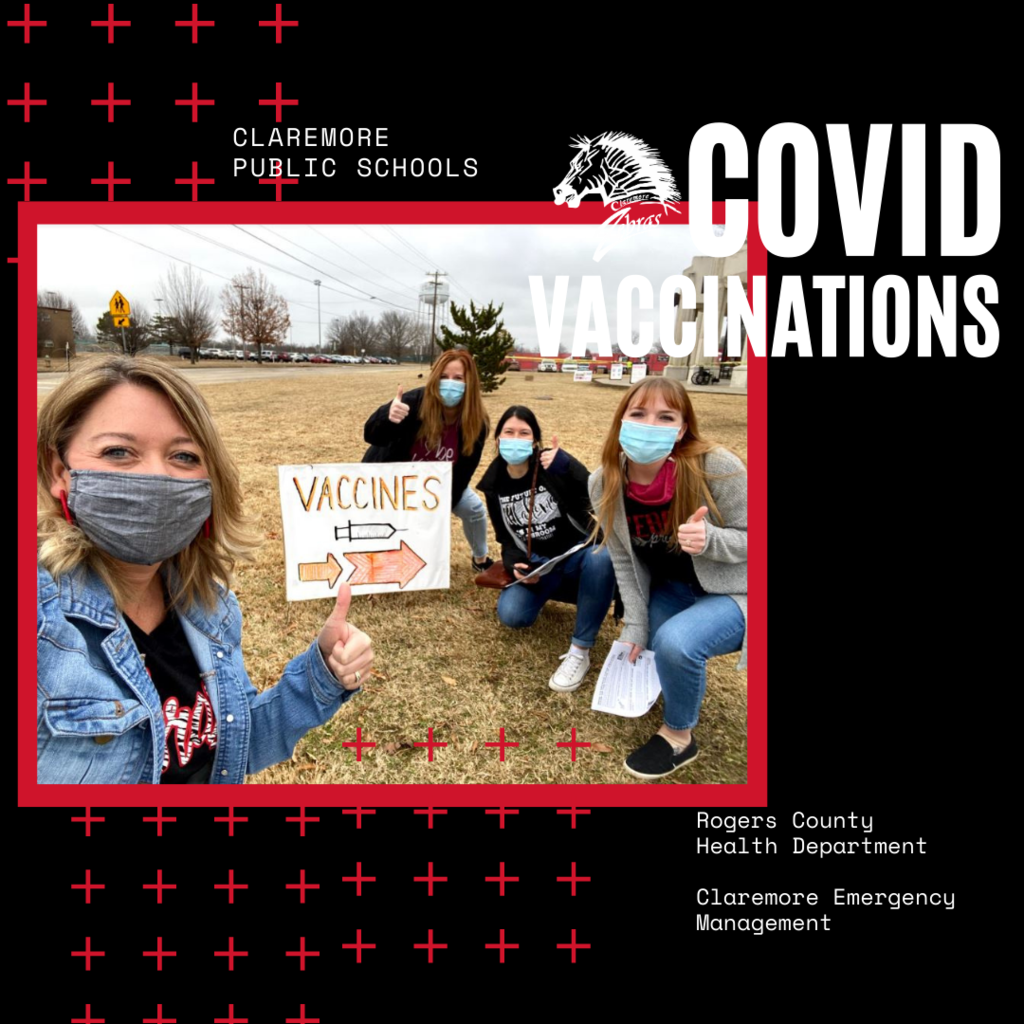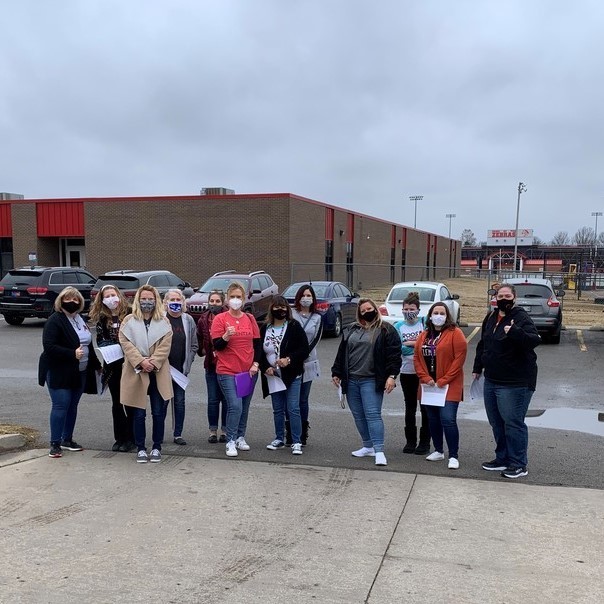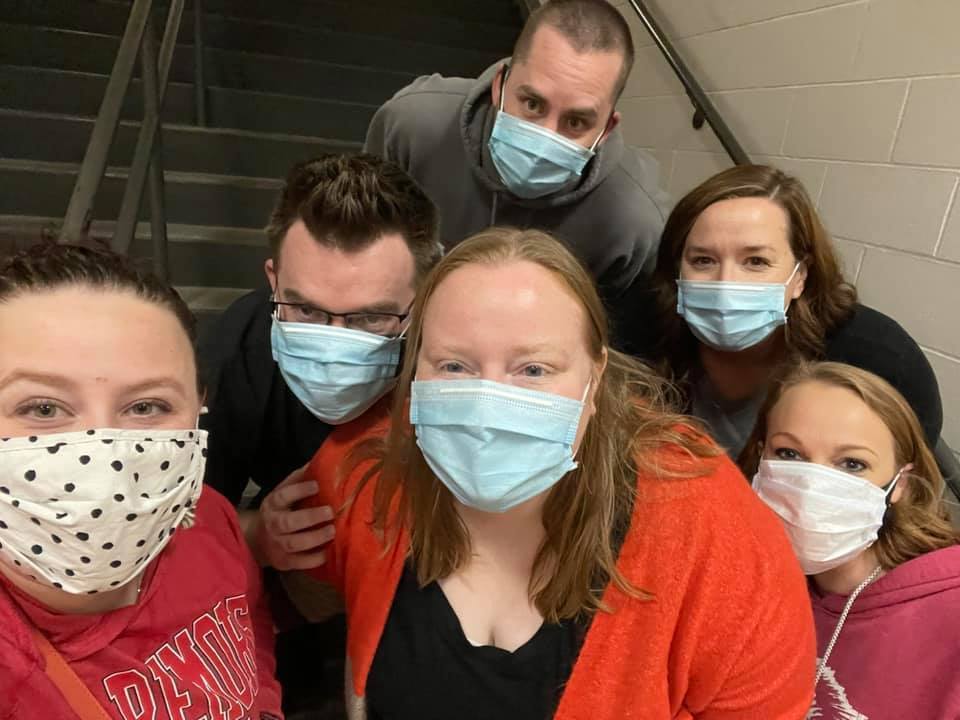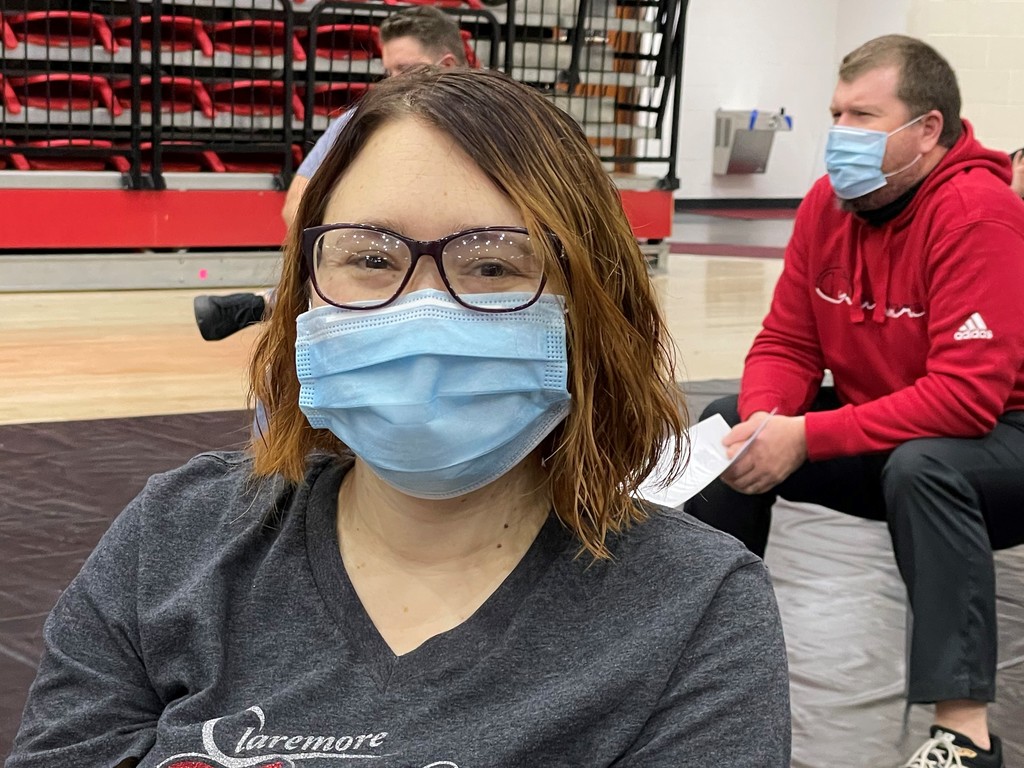 !! Mrs. Seidel's Running Challenge!! Did you know you can see the leaderboard posted outside the gym!! Is your name on it?? You still have plenty of time to join us. Remember, students may run a mile a day at home, but they must send their mileage to Mrs. Seidels email (
jseidel@claremore.k12.ok.us
) DAILY, and include how far the student ran, how much time it took, and how the student measured the distance. Mrs. Seidel knows these last two weeks have been hard to get any running/walking accomplished, but we still have 3 weeks and anybody can win. Right now for students, the most miles run are 3.5. Congratulations, Ethan Griffin! Staff members are being led by Mrs. Bero! #CPSZEBRA

Next week, March 1-5 is Read Across America. Mrs. James has come up with some really fun dress up days. I can't wait for you to see what else she has planned. #CPSZEBRAPRIDE

BECOMING A ZEBRA - EARLY ENROLLMENT for Pre-K & New K is for students who did not attend PK here in Claremore Schools. Enrollment Sessions: March 8th - 12th by appointment only. Read more here -
https://www.claremore.k12.ok.us/article/195994

BECOMING A ZEBRA - EARLY ENROLLMENT for Pre-K & New K Who: New PK - New Kindergarten students that did not attend PK here in Claremore Schools. Date: March 8-12, by appointment. Bring: Documents required for enrollment at Claremore Schools. No child will be enrolled without the following information and up-to-date immunization records. ✅ Birth Certificate - Age Requirements are: Early Childhood students must be 4 years old by September 1st. Kindergarten students must be 5 years old by September 1st. ✅ 2 Proofs of Residency (may include utility bill or utility deposit, and a lease agreement, mortgage statement, or county tax statement. P.O. Box addresses are NOT acceptable.) ✅ Immunization Record (must be up-to-date) ✅Parent/ Guardian Driver License ✅CDIB Card (Native American citizenship registration card) if applicable. For more info go to bit.ly/2Mg8Lbv #CPSZEBRAPRIDE

**Reminder** Snack Cart is tomorrow morning. Students will be able to purchase snacks on their way to class. Snacks are $.25-$1.00

Box Tops are due Monday. If you have any laying around please send them in tomorrow.

Catalayah is wearing RED to support Claremore Public Schools. WE ARE, PUBLIC SCHOOL PROUD!!! #CPSZEBRAPRIDE

Snack Cart is coming back to join us starting this Thursday!!! It will be here every Thursday morning. Snacks are $.25-$1.00. Students will be able to purchase snacks on their way to their classrooms. ***I spy with my little eye***** FROZEN PICKLE POPS on the snack cart!!!!

Weekly Reminders for Feb 22-26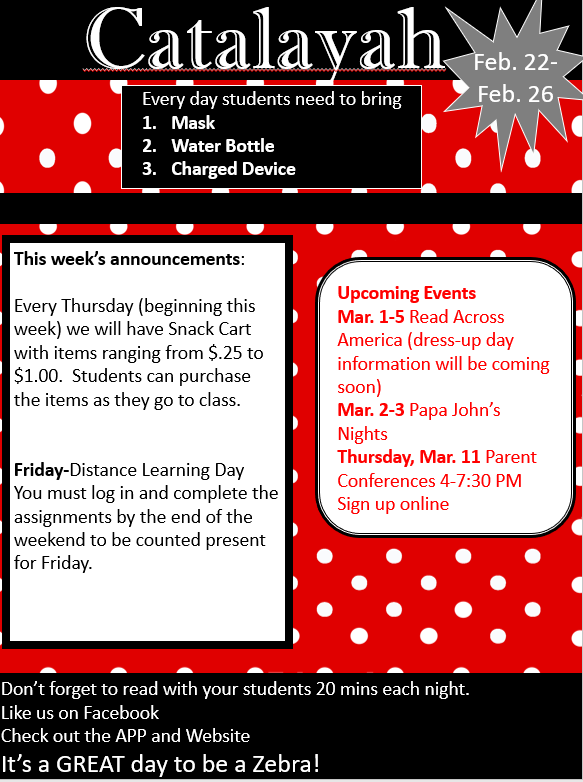 ❤ Wear RED for ED on Tuesday, February 23rd to show your support for public education. #CPSZEBRAPRIDE #PUBLICSCHOOLPROUD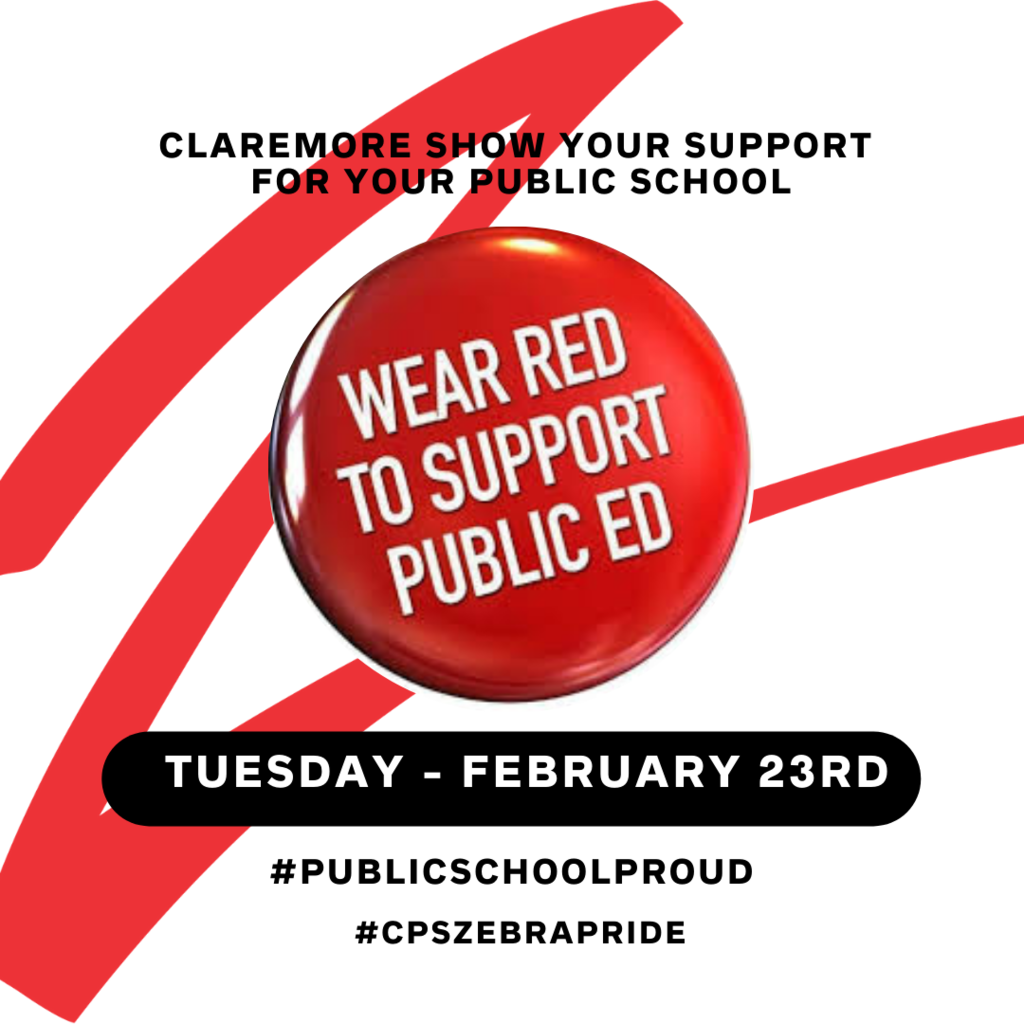 **Staff Spotlight** Music Teacher, Mr. J I graduated from South High School in Wichita, KS and then attended Claremore Jr. College/ NSU. I was in the US Navy for 8 years as a Second Class Petty Officer. I served as a Hospital Corpsman. I enjoy seeing students perform and hearing them sing and play instruments. I have been teaching for 24 years. 12 of those years have been at Claremore Public Schools and the last 9 years have been at Catalayah. During my free time I enjoy spending time with my wife Cindy. I have been playing the Saxophone since I was in the 5th grade. My picture hangs on the wall of the Oklahoma Jazz Hall of Fame. #CPSZEBRAPRIDE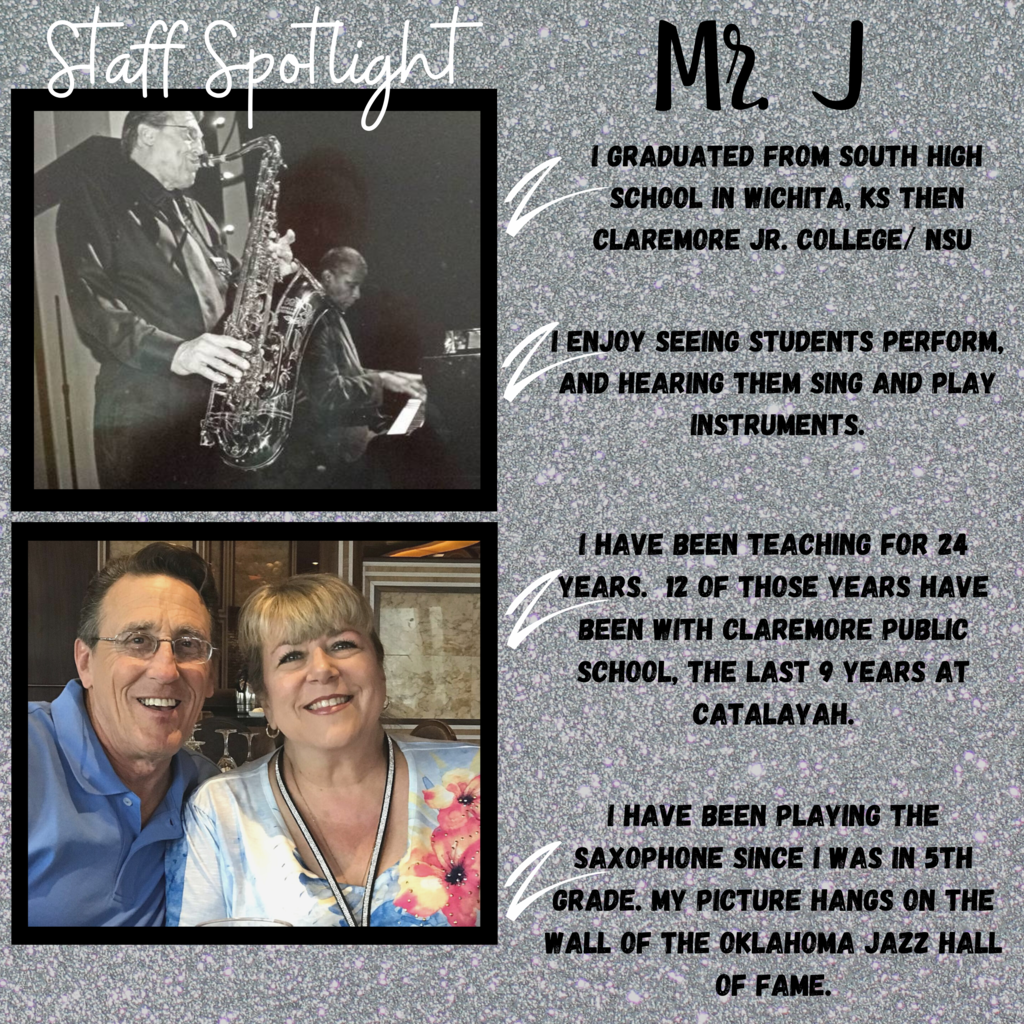 Random Acts of Kindness Week- Saturday Today is the last day of Kindness Week but that doesn't mean the Kindness has to stop. Keep it up Catalayah!! Today we are going to celebrate our neighbors. What can you do that is nice and kind for your neighbors?? Surprise them!! #CPSZEBRAPRIDE We would love to hear about your kindness to your neighbors!!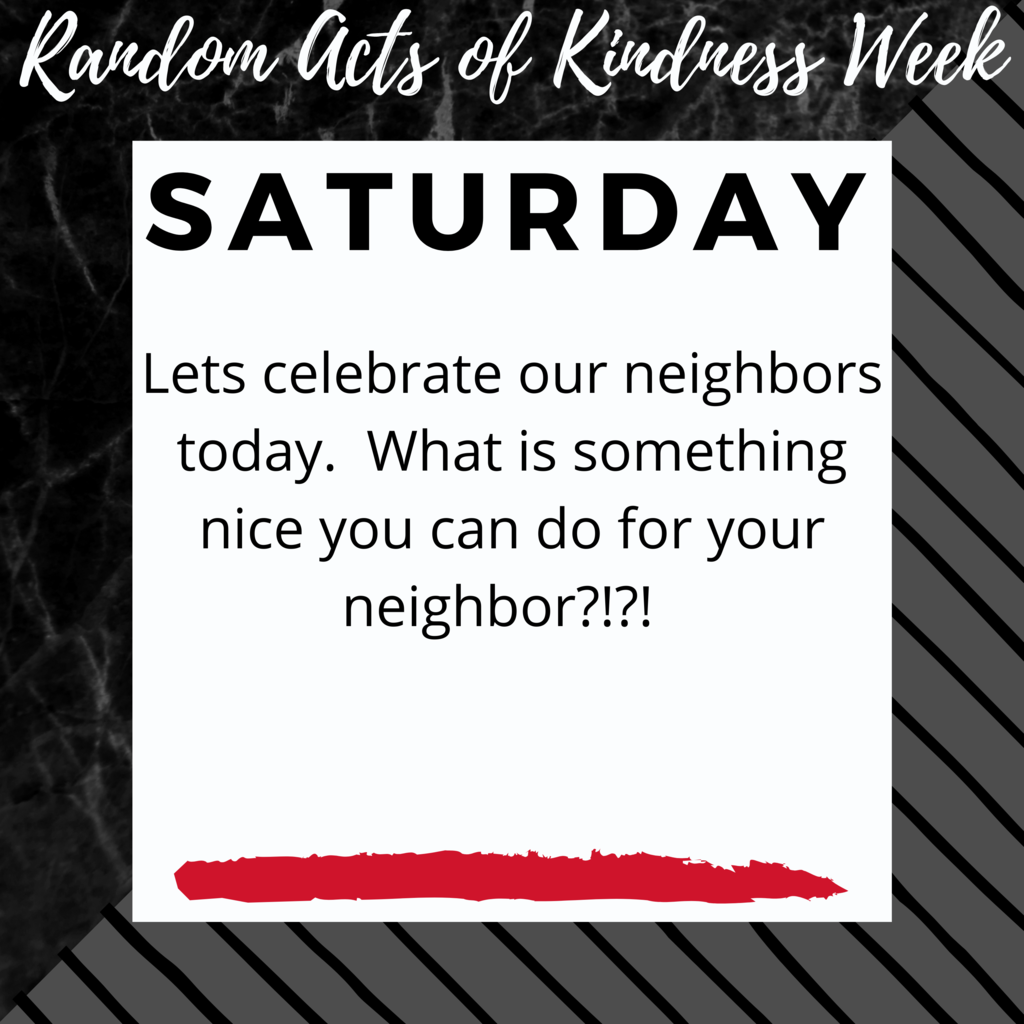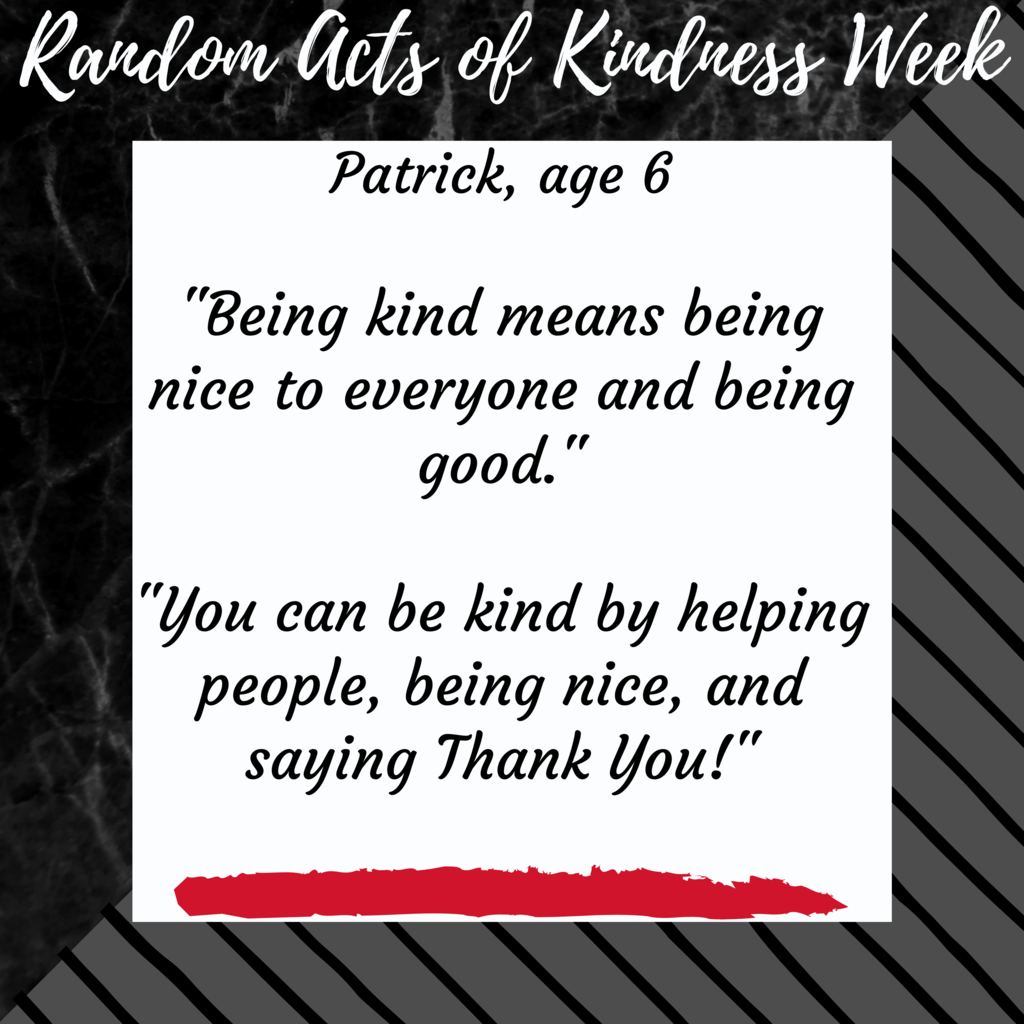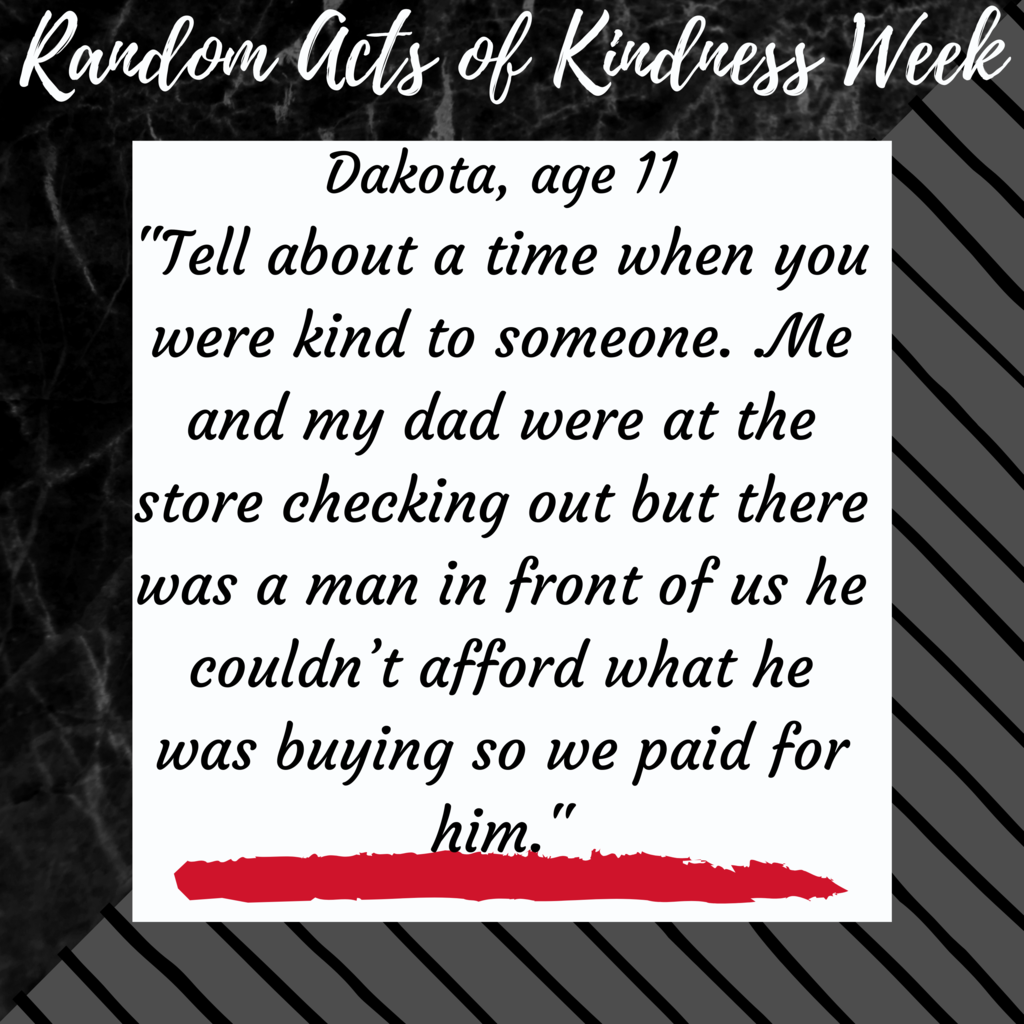 Community Announcement Mercy Chef's Community food distribution, until supplies last: Feb. 20th from 1-3p at Real Life Church on Blue Starr. Light of Hope & Mercy Chefs are blessed to partner together and "help people see the HOPE!" Please share with your family and friends.