PUBLIC SERVICE ANNOUNCEMENT - Where can you receive a COVID-19 vaccine in Claremore? If you are interested in receiving the COVID-19 vaccine here is a list of local POD sites we have been made aware of this week. Currently, they are providing vaccines for those in the phase two category.
https://5il.co/qars
#CPSZEBRAPRIDE #StaySafeToStayInSchool

Spring Break Meals will be available for all children from March 15-21. Meals will be provided for seven (7) days. Pick up will be on Monday and Thursday to manage product quality and help relieve storage issues for our families with multiple students. 🍽 Monday 3/15/2021 (receive meals for Mon/Tues/Wed) 🍽 Thursday 3/18/2021 (receive meals for Thurs/Fri/Sat/Sun) Order here:
https://forms.gle/icf3bWMp4q8My9vD7
🗹 ORDER DEADLINE: Wednesday March 10, 2021 🗹 PICK UP LOCATION: Pick up all meals at the Enrollment Center (101 W. 11th Street) 🗹 Pick Up TIME: 10:30 AM and 12:30 PM REMINDER - these meals are available to ALL children 18 years of age and younger, including siblings of school age children and are FREE! Read more on our website:
https://www.claremore.k12.ok.us/page/child-nutrition
. Contact:
jragland@claremore.k12.ok.us
or 918-923-4243 #CPSZEBRAPRIDE
These lovely ladies dressed the part for Mix match day! we sure are having fun for Read Across America Week!! These students too! #cpszebrapride #readacrossamericaweek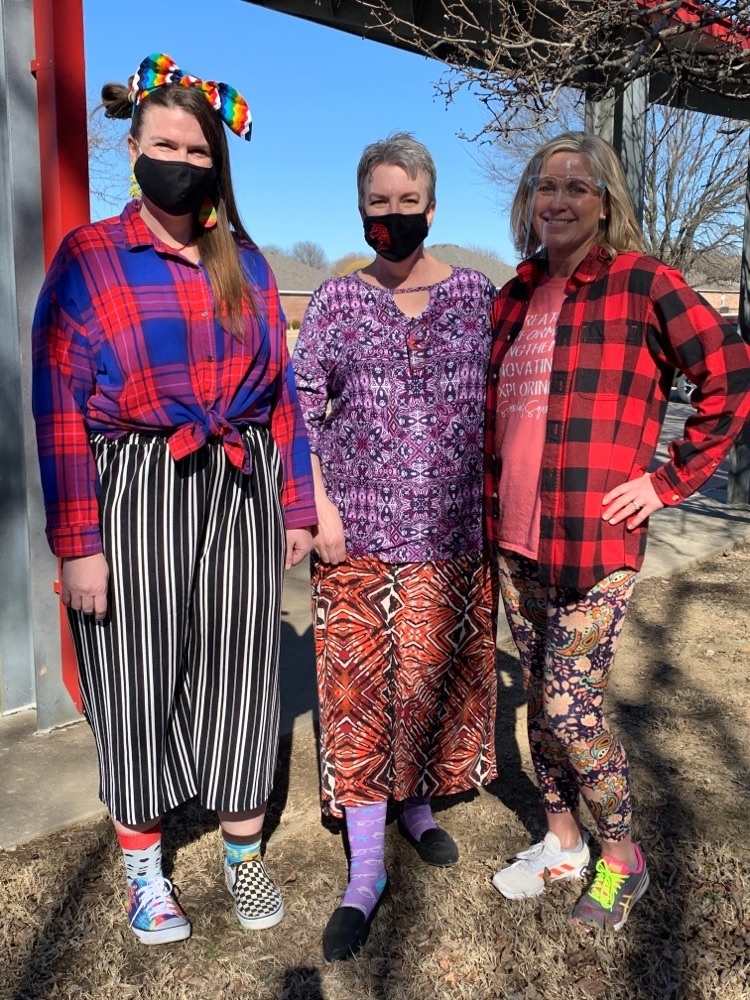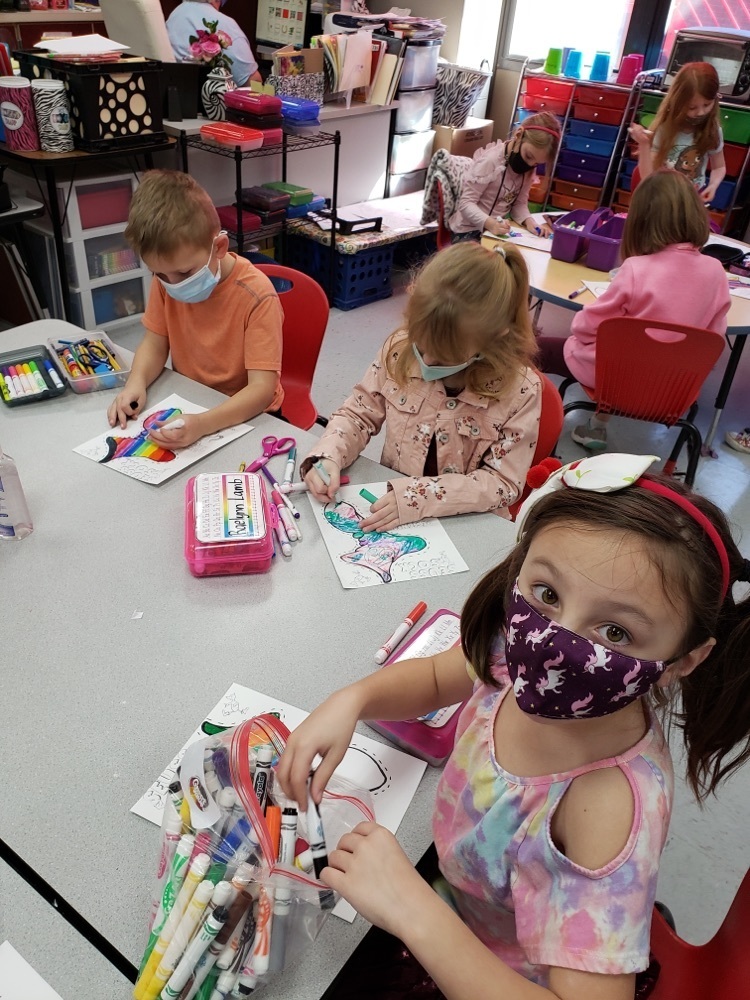 What Is a Growth Mindset? Some individuals acquire skills and knowledge effortlessly, some are more orderly and achievement-focused than are their peers, and others exhibit unusual talents. While such positive traits are not evenly distributed, they are not necessarily out of reach for those who are not "natural" high achievers. A growth mindset, as conceived by psychologist Carol Dweck and colleagues, is the belief that a person's capacities and talents can be improved over time. A growth mindset contrasts with a fixed mindset—the limiting belief that such capacities cannot be meaningfully developed. Proponents of the theory contend that adopting a growth mindset, and rejecting a limited mindset, can make students and others more likely to succeed. They propose that individuals with a growth mindset will be more oriented toward self-improvement and more likely to persist in the face of challenges and failures because they will treat them as opportunities to grow rather than signs that their abilities are inadequate. In mindset studies, participants are considered to have more of a growth mindset if they disagree with statements such as "You have a certain amount of intelligence, and you really can't do much to change it," and to have more of a limited mindset if they agree. What's great about growth mindset? Growth Mindset has several beneficial statistics. To highlight just a few, growth mindset has been associated with: *Seeking out better feedback and persisting for longer. *Coping better with transitions . *Improved self-regulation . *Choose more challenging task. *Most beneficial for disengaged students . *Reduces stress and aggression . *Increases wellbeing. *Improved self-esteem, learning orientation and reduce helplessness. As well as that, there is evidence from schools emerging that growth mindset is associated with grit and prosocial behaviors . I think all teachers would agree that these are exactly the sort of behaviors and skills we would want to help our students develop. #CPSZEBRAPRIDE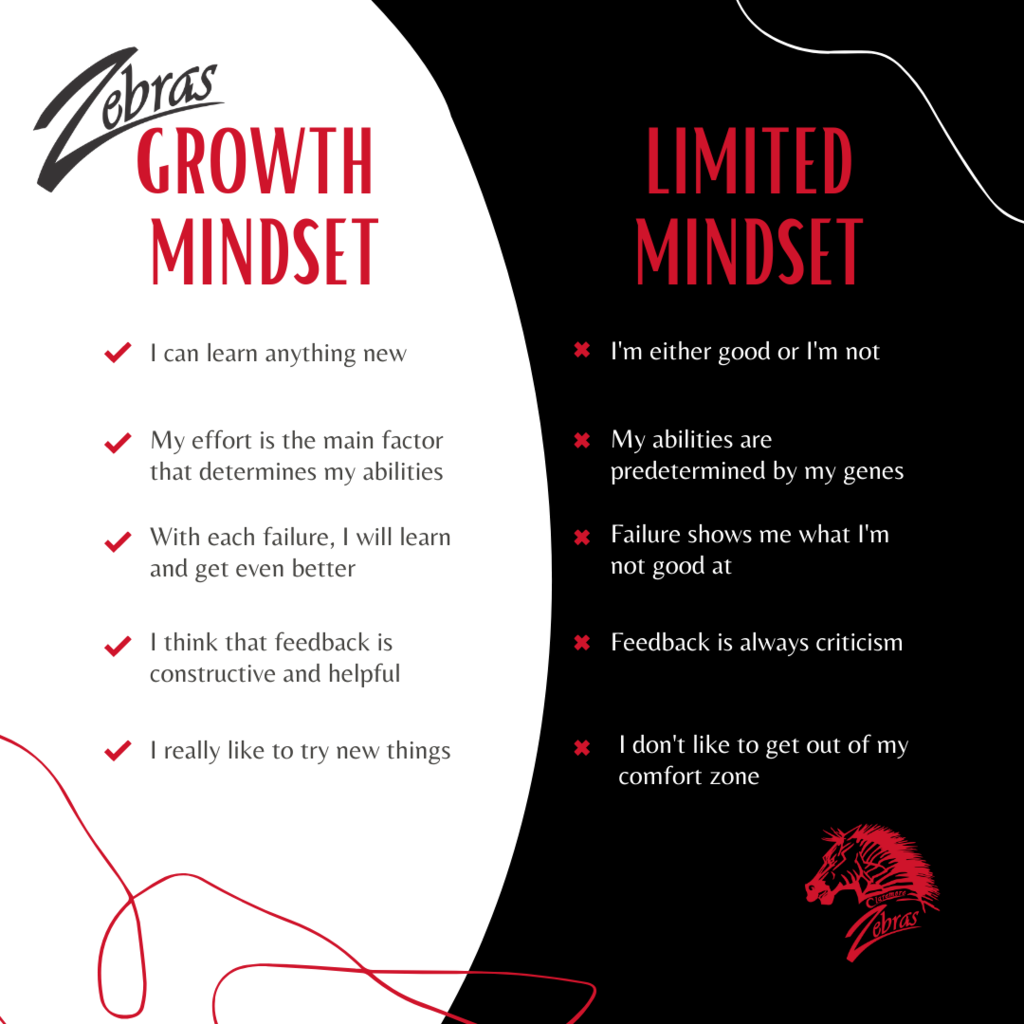 THEIR FIGHT IS OUR FIGHT Cancer may feel like someone else's fight if you have not experienced it in your own life. But CHS has decided THEIR FIGHT IS OUR FIGHT! Over the past four years, the ZUAC (Zebras United Against Cancer) Committee has helped raise over 9K to help our ZEBRA family members fighting this disease directly. We have supported students & employees with Lymphoma, Prostate Cancer, Leukemia, Ewings Sarcoma, Breast Cancer, & Pancreatic Cancer in our elementary schools, our junior high, and our high school. We have experienced this disease as a family district-wide. This is why our theme this year is "THEIR FIGHT IS OUR FIGHT" because family takes care of family. Although all our clubs contribute to the fundraising, the ZUAC t-shirt sales are the largest part of our efforts. We hope you will be a part of showing our #CPSZEBRPRIDE and giving hope to our ZEBRA family members. Order online at
http://bit.ly/3kJ3pSH
Print an order form from
https://5il.co/q7bb
More info at
https://www.claremore.k12.ok.us/article/413633
Thank you! 2020-21 ZUAC Committee Caroline Cowherd, Cash Flegal, Brooklyn Boatman, and Leah Kruger
Introducing... Mrs. Jennifer Levesque Elementary Coordinator for Education 2019-2020 District and Westside Teacher of the Year Thank you for your dedication to Westside! ________________________________________________________________ Jennifer Levesque has taught in the elementary setting for 14 years. She has taught Kindergarten, 4th grade, and Special Education. Jennifer has been at Westside for the last 5 years and was honored as Claremore's 2019-2020 Teacher of the Year. She holds a Bachelor's Degree in Elementary Education and a Master's Degree in Special Education. Jennifer lives in Claremore with her husband, Dusty, who is the Director of Bands for Chelsea Public Schools. They have 2 wonderful children, Abigail and Ryker. She enjoys music, reading, watching baseball, traveling, and spending time with family. She loves being a part of the Westside team! #CPSZEBRAPRIDE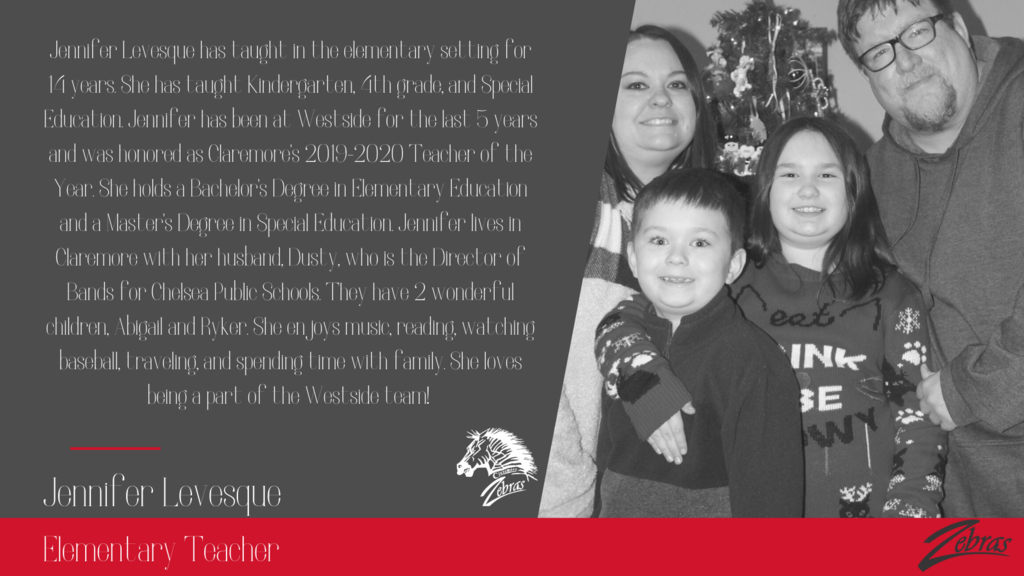 CPSF? What does that stand for? The Claremore Public Schools Foundation is a non-profit 501(c)(3) corporation founded for the purpose of raising and providing support for the teachers and students of Claremore Public Schools, as seen in the pictures here. These Kindergarten students at Westside are enjoying some of the brand new items purchased with a grant from CPSF. The Foundation works in partnership with, but financially independent of, the school district. Monies raised are invested and distributed through a competitive grant process. Since 1988, the Foundation has awarded over $1.7 million in grants-to-teachers, staff scholarships, and special program support to fund innovative classroom initiatives, and advanced training. The Foundation administers the Bluejacket Memorial Scholarship, the Mary Klassen Memorial Scholarship and the RCB Bank Scholarship. Through these scholarship programs, Claremore High School seniors have been awarded $200,000 in scholarships. They believe children deserve a strong educational foundation and that teachers and staff are valued resources. They support quality programs that directly and positively impact student learning. With continued support, they can achieve our goal of funding the innovative project requests that we receive each year. As a private, non-profit organization, the CPSF depends on the contributions of individuals and corporate donors to fund its programs. Their donors not only impact the children of Claremore but also the entire community by providing a better future for all its citizens. Mission Statement The mission of the Claremore Public Schools Foundation is "to enrich the quality of education in Claremore Public Schools". In order to accomplish its mission, the Foundation depends on contributions – your donation directly funds programs that enhance and inspire. You are making a difference in the lives of CPS students! Goals of the Foundation To encourage academic excellence To facilitate innovative educational activities To promote continued community involvement in the schools When Claremore's businesses, alumni and residents come together to advance education, we inspire students and faculty to achieve their best. We hope you will join the movement and invest in CPS students through supporting the Claremore Public Schools Foundation. If you would like more information about the CPSF or are interested in making a donation, please contact Alyson Garrison, the foundation's executive director, at
foundation@claremore.k12.ok.us
. You can also make an online contribution through the donation portal. #CPSZEBRAPRIDE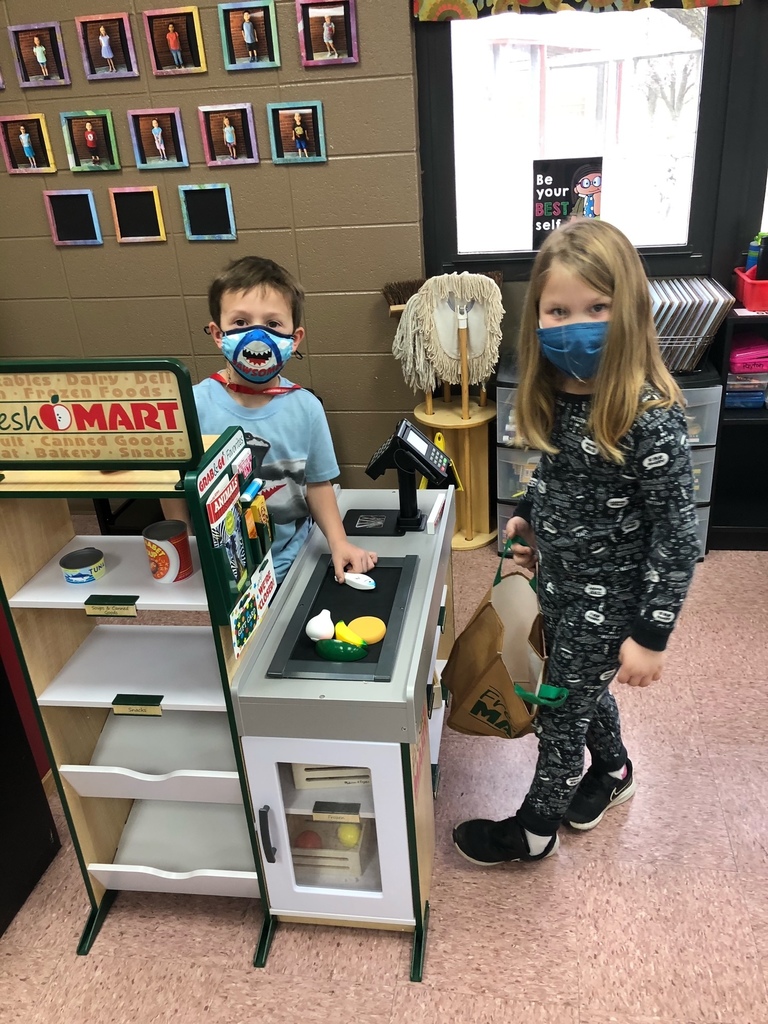 Happy birthday Dr. Seuss from Thing 1 and Thing 2! #CPSZEBRAPRIDE #readacrossamericaweek

BECOMING A ZEBRA - EARLY ENROLLMENT for Pre-K & New K Who: New PK - New Kindergarten students that did not attend PK here in Claremore Schools. Date: March 8-12, by appointment. Bring: Documents required for enrollment at Claremore Schools. No child will be enrolled without the following information and up-to-date immunization records. ✅ Birth Certificate - Age Requirements are: Early Childhood students must be 4 years old by September 1st. Kindergarten students must be 5 years old by September 1st. ✅ 2 Proofs of Residency (may include utility bill or utility deposit, and a lease agreement, mortgage statement, or county tax statement. P.O. Box addresses are NOT acceptable.) ✅ Immunization Record (must be up-to-date) ✅Parent/ Guardian Driver License ✅CDIB Card (Native American citizenship registration card) if applicable. For more info go to bit.ly/2Mg8Lbv #CPSZEBRAPRIDE

Claremore Zebras are #PUBLICSCHOOLPROUD! We are the 🩺💝 heartbeat of the community. In public schools, all children come first, all students have value, leadership matters, it preserves democracy, and changes lives. Our staff and parents use words like excellence, family, teachers who care, everyone, diversity, academics, athletics, extracurricular opportunities, whole child, educational options, innovation, accountability, social connection, etc., to describe their #CPSZEBRAPRIDE. Give us a 🏫 in the comments if you are a product of the public school. Feeling the love - feel free to share why you are #PublicSchoolProud of Claremore on our FB page.
https://youtu.be/MUaKVnRjEfc
Thank you to the site communications team members and student contributors: Chet Jenkins & Kolby Smith.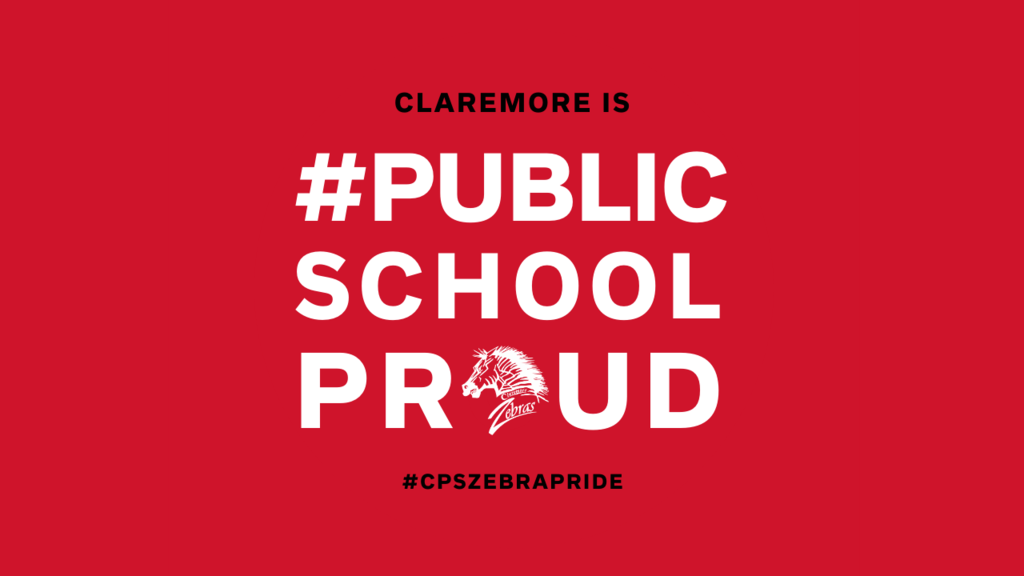 March is here! In like a lion out like a lamb! Those strong winds, that cool breeze tends to calm down by the end of the month. #Knockonwood One year we had snow in the middle of March! Please NO! These elementary kids need that fresh air and wide open Recess fields to run in! #CPSZEBRAPRIDE
Introducing... Miss Hannah Barlow Teacher in the Elementary Setting Thank you for your dedication to Westside! _______________________________________________________ Miss Hannah Barlow graduated from Northeastern State University with a Bachelor of Arts in English. She began her career in education 3 years ago as a paraprofessional. Currently, Hannah teaches 3rd and 4th grade elementary. She is also pursuing a Master of Education from NSU. Hannah chose to be a teacher because she believes "to teach is to touch a life forever." She loves working at Westside because she enjoys the warm,welcoming atmosphere and has tremendous respect for the talented educators she works with. Hannah loves watching movies with her family, having lunch with her friends, taking her fur baby for walks and reading good books. #CPSZEBRAPRIDE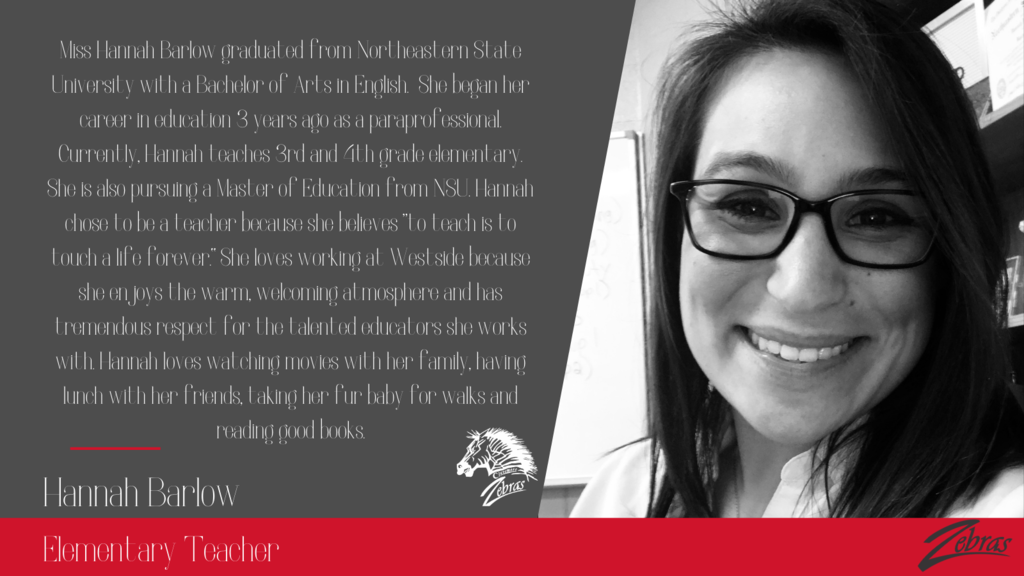 Welcome to #FridayFunnies, where we share funny things that happen in the classroom! For today's edition we have a 2nd grade Classroom that shared this funny with us! ______________________________________________________________________ Two students accidentally bumped heads on the playground. Teacher: Let's get an ice pack for that. Student: Okay, but he doesn't need one because he's hard headed. ____________________________________________________________________ This concludes today's edition of #FridayFunnies, join us next Friday for more laughs! #CPSZEBRAPRIDE
The Ultimate list for 2021. How to be happier, healthier, and use self care. #CPSZEBRAPRIDE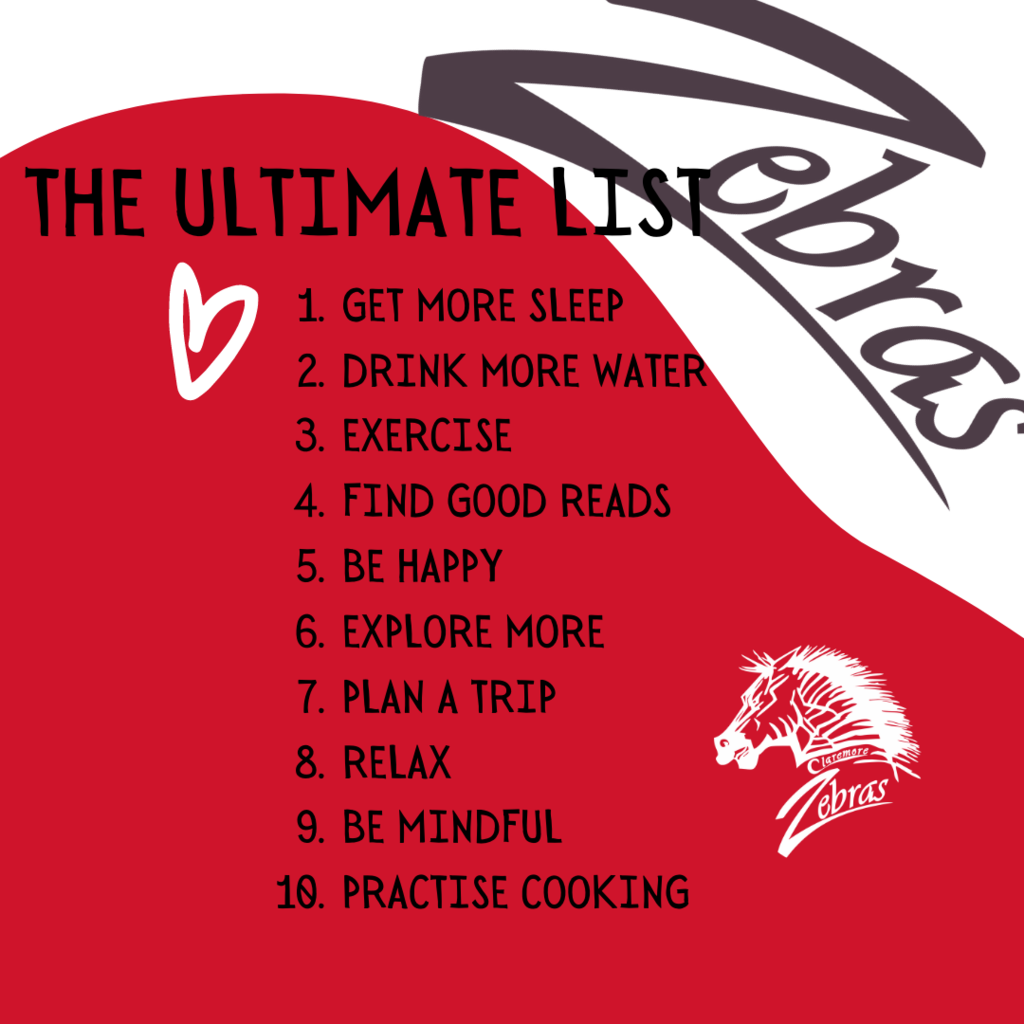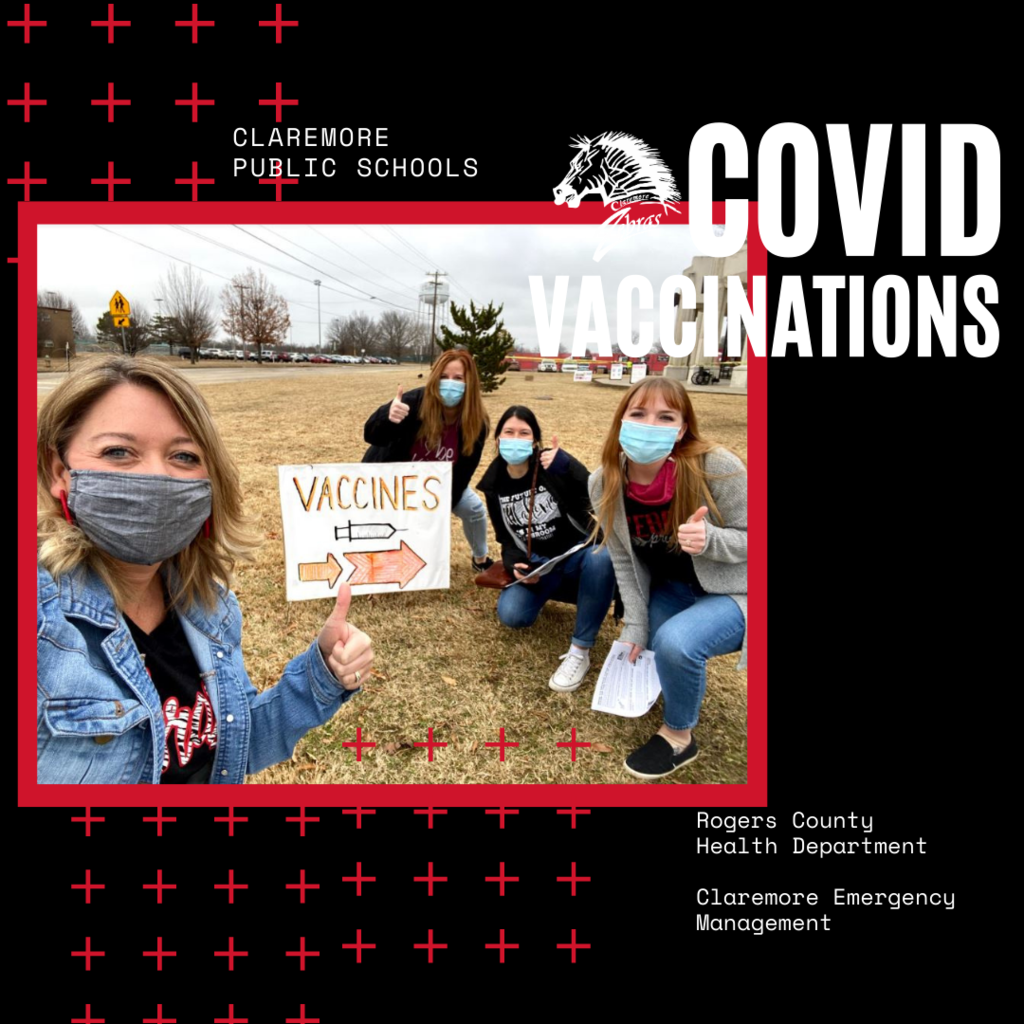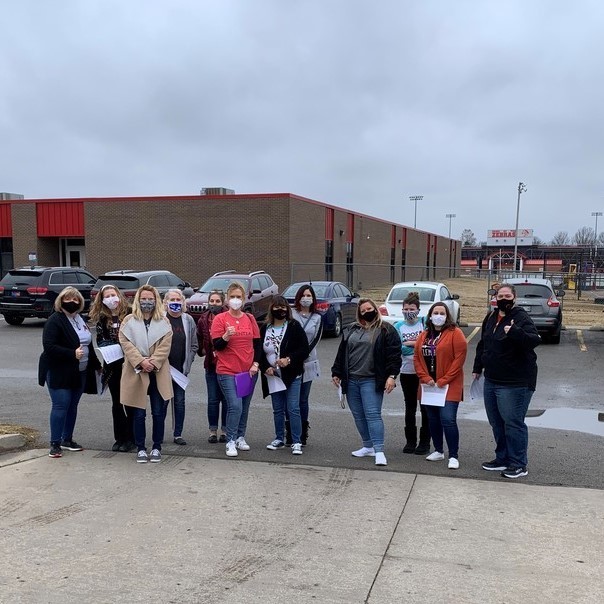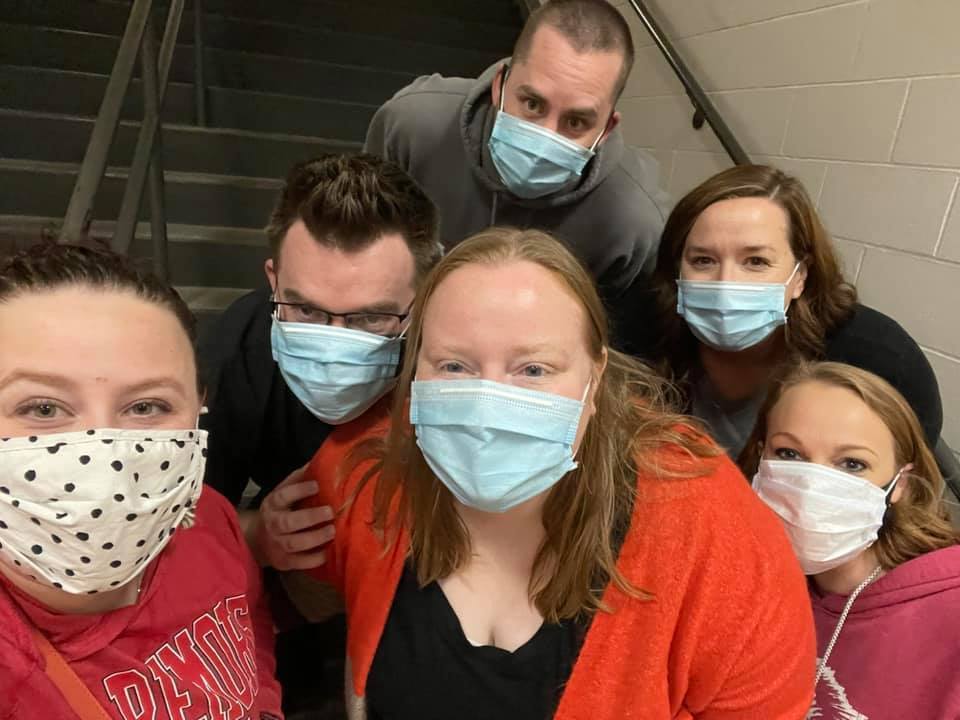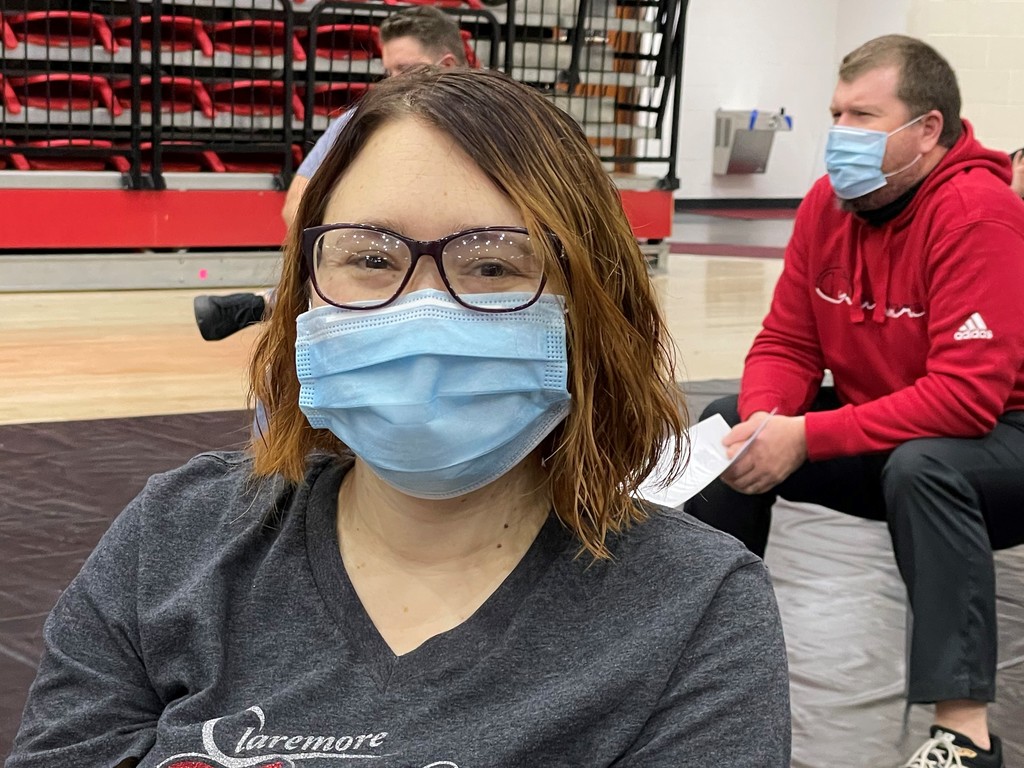 February is Black History Month. In honor of so, we have highlighted some Famous Black Americans that have persisted and were determined to make a difference. __________________________________________________________ Sojourner Truth 1797-1883 Sojourner was born a slave in upstate New York under the name Isabella Baumfree. Under the state's Gradual Emancipation Act, she was due her freedom in 1827. When she realized her slave owner was planning to keep her enslaved, Sojourner ran away with her infant daughter in tow. But this came at a huge cost. She had to leave behind her five-year-old son. The slave owner sold Sojourner's son to a plantation a thousand miles away in Alabama. Meanwhile, Sojourner remained in hiding in New York until her freedom was official. When the coast was clear, Sojourner filed a court case, saying her son had been sold illegally. She was one of the first black women to file a court case in America, and even though it seemed nearly impossible, she won. She got her son back! In 1843, she changed her name to Sojourner (which means traveler) and became a preacher. She traveled the country, sharing her messages for women's rights and the abolition of slavery everywhere. Although Sojourner could neither read nor write, her voice carried far. In December 1851, she gave a speech that she made up on the spot. In it she advocated on behalf of black women who had faced double discrimination of racism and sexism and had often been left out of the fight for equality. The speech is known by its most famous refrain: "Ain't I a Woman?". She went on to encourage African Americans to fight on behalf of the Union in the Civil War, for former slaves to be given places to live, and for desegregation of streetcars. She was an agitator and a fierce activist for equality. #CPSZEBRAPRIDE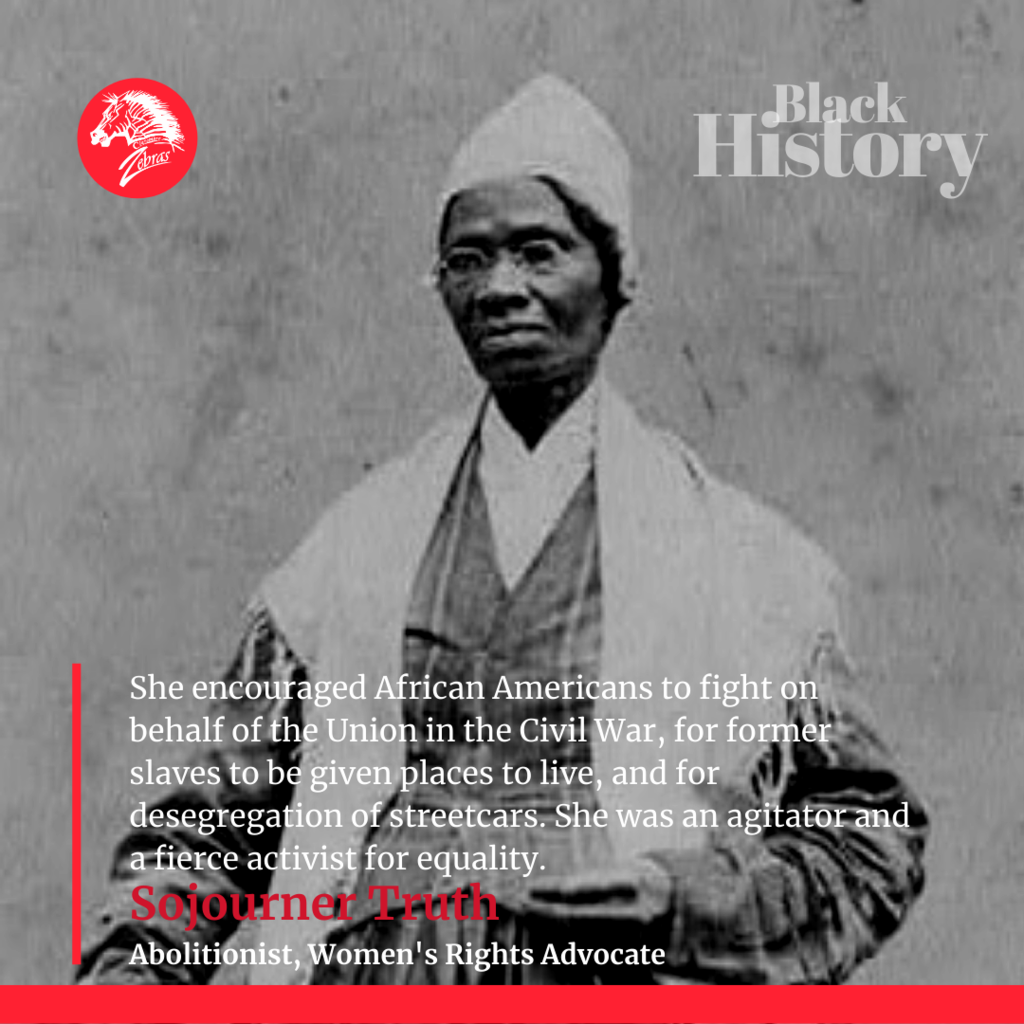 Introducing... Mrs. Leigh Johnson Teacher in the Elementary Setting Thank you for your dedication to Westside! _________________________________________________________ Leigh Johnson has taught for 21 years, during her career she has worked as a reading instructional coach, reading specialist, 4th grade teacher, and special education teacher. She has been at Westside for the last three years. She lives in Claremore with her husband Curtis. She has a son Seth, a scientist, and a daughter Ashtin, a musician. Leigh was born and raised on a farm and enjoys raising animals, spending time with family, fishing, kayaking, going to estate sales, and reading. She has Bachelor's degrees in Early Childhood and Elementary Education. She also holds Master's degrees in Early Childhood Education and as a Reading Specialist. She loves teaching at Westside! #CPSZEBRAPRIDE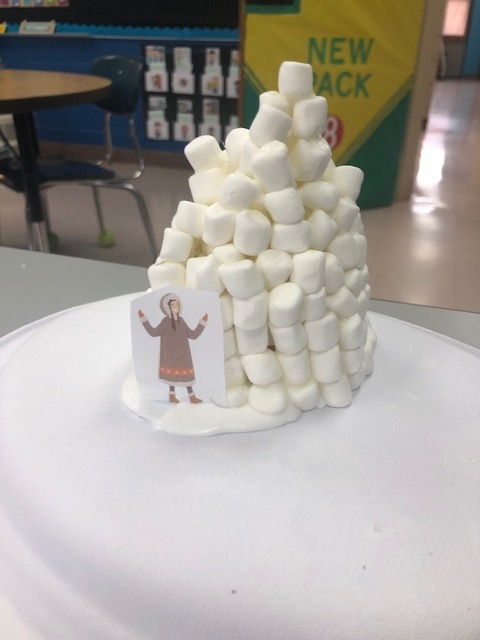 BECOMING A ZEBRA - EARLY ENROLLMENT for Pre-K & New K Who: New PK - New Kindergarten students that did not attend PK here in Claremore Schools. Date: March 8-12, by appointment. Bring: Documents required for enrollment at Claremore Schools. No child will be enrolled without the following information and up-to-date immunization records. ✅ Birth Certificate - Age Requirements are: Early Childhood students must be 4 years old by September 1st. Kindergarten students must be 5 years old by September 1st. ✅ 2 Proofs of Residency (may include utility bill or utility deposit, and a lease agreement, mortgage statement, or county tax statement. P.O. Box addresses are NOT acceptable.) ✅ Immunization Record (must be up-to-date) ✅Parent/ Guardian Driver License ✅CDIB Card (Native American citizenship registration card) if applicable. For more info go to bit.ly/2Mg8Lbv #CPSZEBRAPRIDE

BECOMING A ZEBRA - EARLY ENROLLMENT for Pre-K & New K is for students who did not attend PK here in Claremore Schools. Enrollment Sessions: March 8th - 12th by appointment only. Read more here -
https://www.claremore.k12.ok.us/article/195994
Read Across America Week A Nation of Diverse Readers! March 1st-5th! Dress up each day! Monday-Wear animal print or green! Tuesday-Wear a hat or red! Wednesday-wear mismatched clothes or blue! Thursday-Wear crazy socks or yellow! It's sure to be a lot of fun! ❤️🤍🖤 #cpszebrapride