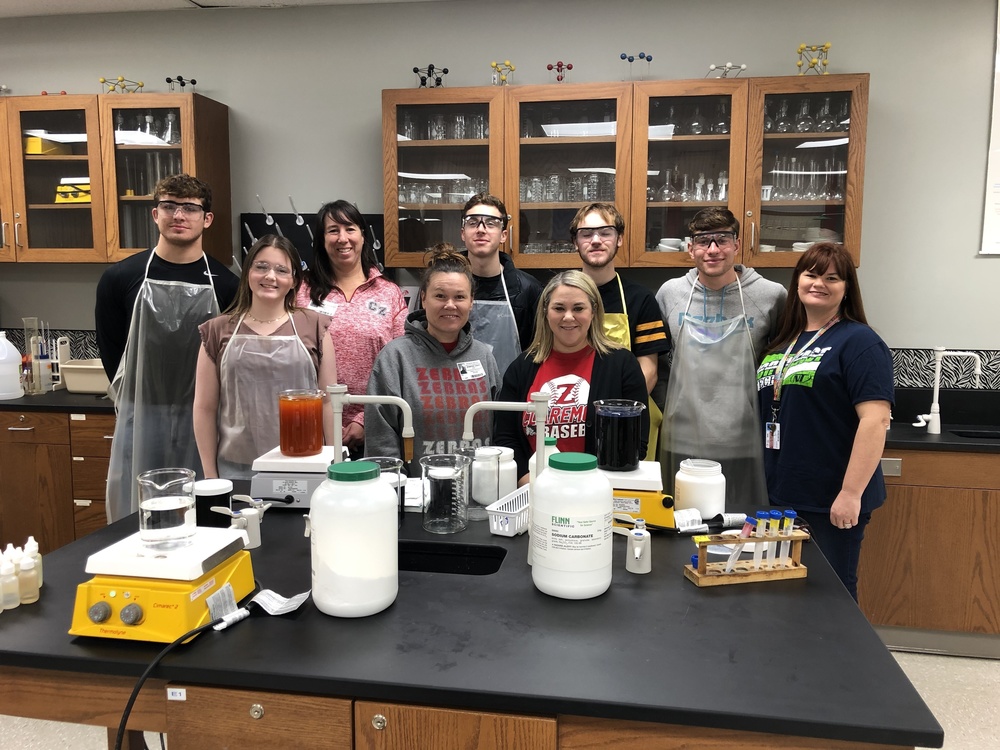 "Let's Have a Moment of Science" GEAR UP PLA Contributes to Classrooms
Jamie Brace
Thursday, January 02, 2020
Claremore Parents Make Contributions to Science Classrooms
The Oklahoma GEAR UP Parent Leadership Academy (PLA) Team from Claremore presented science equipment and materials to Claremore High School science classes today.
Through their PLA project, "Let's Have a Moment of Science," PLA team members Jennifer Craig, Michelle McNelly and Janie Sisovsky have generated nearly $3,000 in science supplies for the high school. The team will continue to work to focus on science classes at the junior High.
"GEAR UP's PLA program gave us an opportunity to use real-time data to evaluate where our students could use additional support as they prepare for college," said team members. "After we decided to focus on science, we met with teachers in the science departments to collect information on challenges in the classroom and ways to eliminate student achievement barriers."
With support from GEAR UP, the PLA provided Claremore parents with the tools and training to understand what students are expected to learn and be able to do. Through four training sessions, team members learned the leadership skills necessary to develop parent-school-community partnerships to significantly increase the number of students who are prepared to enter and succeed in college. The Claremore PLA team received $3,000 to plan, implement and market their project with the option to receive additional funds matched through community support. To date, the team has raised another $1500 that was matched by GEAR UP.
"Parent involvement is crucial to ensuring the best possible education for students, but knowing how to strengthen the connection between schools and parents can be challenging," said Oklahoma GEAR UP Director Jolynn Horn. "Oklahoma GEAR UP's Parent Leadership Academy engages parents to get a clearer understanding of the obstacles and opportunities in their school district, which helps open the lines of communication among parents, teachers, and students. We appreciate Jennifer, Michelle, and Janie for their commitment to the PLA."
Along with the PLA, Oklahoma GEAR UP, a federally funded program administered by the State Regents for Higher Education, provides student support services, college access and financial aid information and assistance, and school faculty and staff collaboration and leadership opportunities. Oklahoma GEAR UP partners with Claremore and nine other K-12 school districts and five regional colleges across the state to provide college preparation services and information to 11,000 7th-12th grade students and their families.
Learn more at okgearup.org or follow on Facebook or Twitter under Oklahoma GEAR UP.
The U.S. Department of Education awarded Oklahoma with a state GEAR UP grant totaling $20.5 million in 1999. The grant was supplemented with a one-year extension of $4.4 million in 2004. Oklahoma received additional GEAR UP grants totaling $20.6 million in 2005 and $34.9 million in 2011. In September 2017, the State Regents were awarded a fourth, consecutive GEAR UP grant in the amount of $24 million over the next seven years.