Doctors, Nurses, Medical Device Engineers, Researchers...
CPS is in the business of educating and inspiring them all!
⚕ CHS BioMed students take their learning beyond the walls of CHS to participate in Operation Orange. Emily Rogers, Kenedy Roach, Bryce Rhoades, Teresa Knapp, Nathan Brasel, Hope Mallory, Angela Rasor, Jenna Smalygo, and Michael Robertson participated in a "day in the life" of a medical student, a free one-day medical camp filled with hands-on demonstrations and 1:1 mentoring with current medical and graduate students during the 22-23 school year.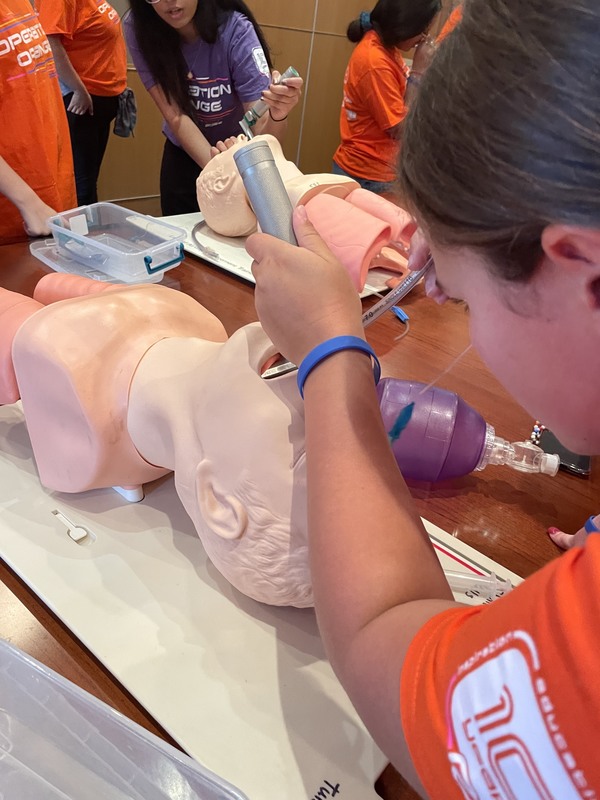 🩺Kenedy gave a play-by-play of their day with unbridled enthusiasm, "We started the day with CPR training. Then we got to intubate the manikins; Emily got to go to finals at the end of the day! Then we got to go to the simulation class with a manikin who was having a hard time breathing. So we got to check the vital signs such as the pulse oximeter, the heart rate, and his blood pressure. After checking those, we assessed treatment options, such as what we could do to provide him with more oxygen. After that class, we studied sports medicine and learned methods to find and treat a concussion or other sports injury. The last class was anatomy, which was my favorite and Emily's! We got to touch a human heart, brain, and lungs! We got to ask many questions and learned much about the medical school process and how to prepare!"
Mr. Riggs, the CHS biomed teacher, is intentional in providing robust and rigorous opportunities within the walls of CHS but also helps students find enrichment opportunities for our future medical personnel that is available outside those walls, too. Kenedy and Emily shared, "We just wanted to thank him for sharing the opportunity and being the best Biomed teacher!"
🏆This spring Bryce attended and won the intubation competition...so basically he's qualified if we have an emergency on-site.