HOPE RACE Gives $4000 in Tech Grants to Help CHS Teachers
Registration is still open for the 2021 run.
In light of budget cuts to education across Oklahoma, people are always inquiring about ways to give back—Claremore students are paving the way for you to do so. The annual Hope Race will be held on May 1st, at Claremore Lake. Come 8 AM the Claremore High's National Honor Society will have a Fun Run, 5K, and 10K set up and ready for you. All monies raised registration, shirts, and sponsors will go directly back into the school. The charitable event is student-organized, from sign-ups, sponsor recruitment, promotions, facilitating, budgeting, correspondence, site selection, acquiring necessary permits, registration and follow-up. This race is fostering the opportunity for students to engage in philanthropy "the love of mankind" and the learning and executing of a large-scale event. These students have seen the issues in their school, and are working to inspire change.
The Hope Race has continued to grow each year that it has been put on. The inaugural race in 2015 raised funds to help one of their own who suffered the loss of his arm in a boating accident. Since then the race has produced over $10,000 that has funded grants to different activities throughout the High School like the Career Development, field trips, Science, Math, and History departments. This year, NHS was able to give every high school teacher a needed piece of technology to help with distance learning including microphones, headphones, tablets, tripods, and a wireless mouse. National Honor Society wants to increase its profits even more so that they can create a legacy at the school.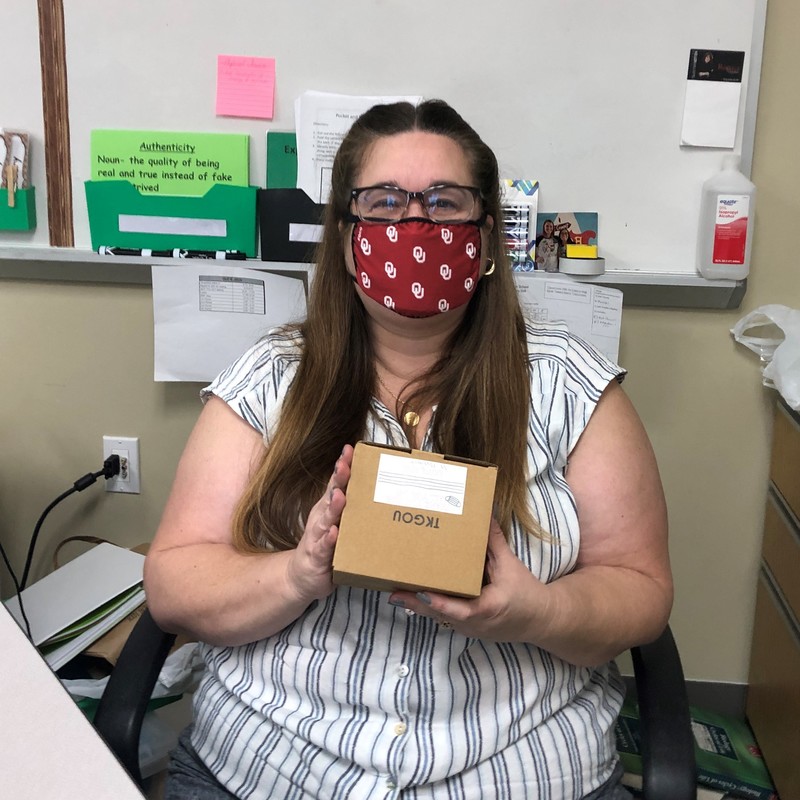 "Although we had to postpone our regular November Hope Race to May, working with the rest of the officer team and organization to achieve our $10,000 goal, has been so rewarding," says President Kate Bustamante, "It has been a very exciting experience knowing that we are closely working with the community while also positively impacting our school."
The Hope Race registration sign-ups will continue until the day of the race and will be $30. After April 20th T-shirts are not guaranteed and will only be available while supplies last. Since this is a fundraiser, sponsors and donations will be accepted on the day of the race as well. There are three levels of sponsorships: Gold, Silver, and Bronze. Online registration can be found at https://runsignup.com/claremorehoperace.
At the time of print, the investments made by the following sponsor are helping these students accomplish their fundraising and educational goals.
At press time the Gold investors are Aspen Dental, Cherokee Nation, El Banquete, El Charro, Fortna CPA, Jo's Quilting, Rescue Heat and Air, Tre'ce', Red Crown Credit Union, and Titan Homes LLC
Silver investors include BancFirst, David Merriman, Da Vinci's, El Maguey, International Flowers and Fragrances, K and Co. Dance Studio, LLC., Longhouse Inventory Solutions, Melton Sales, More Claremore, Oklahomes, RCB, Rogers County Abstracts, Rogers County Youth Services, Scentsy- Nicole Joslin, Smalygo Auto Wholesale, The District On Main, Tri-Star Roll-offs, Unique Properties - Andrew Jones, Waste Water Solutions, and Swift Mart
Bronze investors are the 6:19 Nutrition, ARC Family Property, AXH, Back Seamless Guttering LLC, Carl's Coney Island, Claremore Police Academy, Dorothy's Flowers, El Azteca, Eye Care Claremore, Froman Propane Co., Grant Gingerich State Farm, Harrell Law Office, Higgins and Easley Law, P.C., Highfill Property, KAJS Inc., Keller Ventures, Laura Willhoite DDS, Lollipop Sweet Boutique, Marty Quinn Shelter Insurance, Sean and Kim Cox, Skyco Painting, Stillwater Milling Company, Summit Pediatric Therapies, The Detailing Pros of Claremore, and Willhoite Dentist
The old Chinese proverb, "Give a Man a Fish, and You Feed Him for a Day. Teach a Man To Fish, and You Feed Him for a Lifetime." is true with this altruistic project. Whether you run or offer support from your business – one thing is for sure. You are donating your time and effort to a cause that is teaching students to fish and that will pay dividends to the Claremore community over time.
Teachers are educating and cultivating students to become the next generation of business owners, career leaders, and world-changers. To be able to give back to the educators making this possible is one of the most honorable tasks one can pursue. If you're interested in contributing to or investing in this race contact Kate Bustamante, NHS President, at 4768@claremore.k12.ok.us or NHS Advisor, Jamie Brace at jbrace@claremore.k12.ok.us.