Claremore Community to Celebrate ROOSA SPACE DAY - September 18, 2021
Roosa Space Day is right around the corner. The Claremore MoH and Claremore Public Schools are partnering to celebrate a historical event and showcase several exciting new developments in the community. Roosa Space Day is open to the entire community. It will feature the Journey to Space STEM Event in the newly completed Innovation STEM Center at CHS, funded by the #CPSZebraBond2019 and the To The Moon And Back Event at the MOH.
The CHS Innovation Center will be full of activities for all ages, including a family/team GooseChase Digital Scavenger Hunt, Drone Obstacle Course, Flight Simulator, Virtual Reality Headsets, authentic NASA artifacts - TBA, and over 25 hands-on STEM activities designed to explore, experiment, and engage students in the world of science, technology, engineering, and math. There will also be several food trucks available for a quick bite to eat.
During the day at the Claremore Museum of History, there will be a sneak peek at the city's new Roosa Playground in Gazebo Park, the unveiling of the newly expanded Stuart A. Roosa exhibit, a Bill Moore book signing, and more family activities. Later in the evening, there will be a members-only reception.
These events coincide with the 50th anniversary of Apollo 14. We are proud as a city, as a public school system, and as a museum to honor the accomplishments of Claremore's astronaut, Stuart A. Roosa.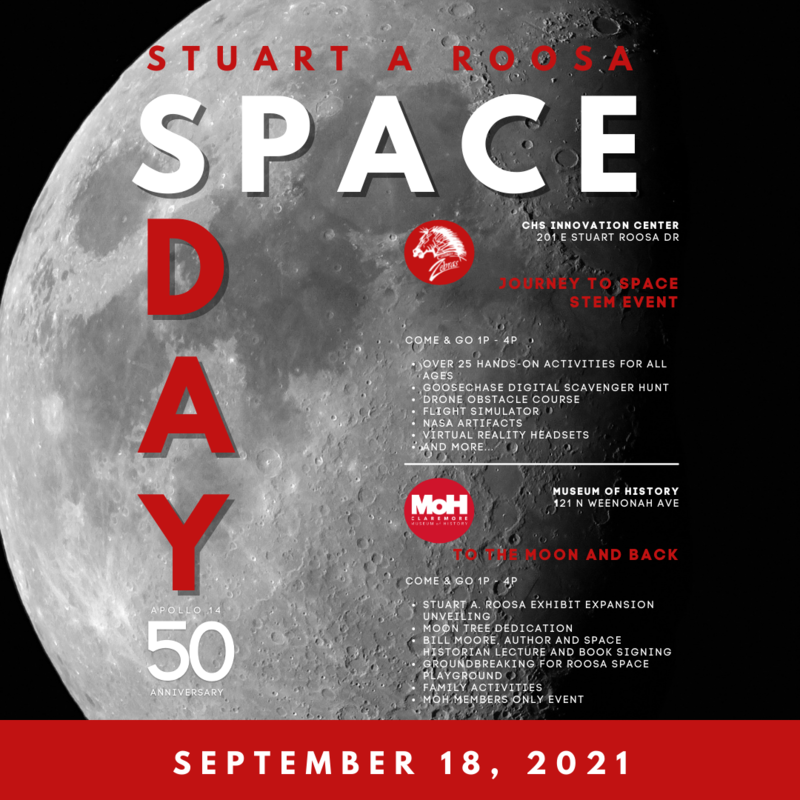 Check back for an update on the list of sponsors and activities.
CHS Innovation Center Sponsors & Activities 1pm - 4pm
Johnson Space Center: Mock Apollo Suit, Astronaut Glove, Space Food Trays, Inflatable Space Suit
Tulsa Regional STEM Alliance: STEM in a Bag kits and Moon Map activities
Rogers State University: Drone Obstacle Course and Virtual Reality Headsets & Activities
OK Soybean Council: Growing Plants in Space using different mediums
Oklahoma NASA Consortium: Authentic Artifacts - TBA
Oklahoma Alliance for Geographic Education OKAGE: Giant Universe Map & Activity
Civil Air Patrol: Flight Simulator and HAM radio operator experience
Tulsa Astronomy Club: Getting to know your Star (the sun) activities and information
Smithsonian Teacher Leaders: GooseChase Scavenger Hunt
CPS Teachers/ Students Lead Activities
Solar System Bracelets
Martian Habitat: Can it withstand the Pressure?
Solar System Size & Distance Activity
Draw Your Night Sky: Constellations
Impact Meteor Craters
Space Face Painting
Lunar Lander
Moon Trees: decorate tree cookies
Straw Rockets
Create a Planet
Getting to Know your Star: Sun Observations (weather permitting)
Space Patch
Ring Saturn Game:
Mars Inguniety Helicopter
Parachute Design
Alka Seltzer Rockets
Lather Print
Balloon Flinkers: USNA Weather Balloons
Pinwheel Galaxy
Moon Phase w/ Oreo Cookies
Obstacle Course: Effect of Space Travel on Human Eyesight
Photo Booth
MOH SCHEDULE
Family Activities will be available from 1-4p
1 PM - Stuart A. Roosa Exhibit Expansion Unveiling l Bill Moore, author of Oklahomans and Space and space historian lecture and book signing.
2 PM - Moon Tree Dedication & Groundbreaking for Roosa Space Playground
3 PM - Roosa family video message
4 PM Members Only Reception

#CPSZEBRAPRIDE