Claremore Public School Celebrates School Board Recognition Month
(Claremore)–Claremore Public School (CPS) District joins school districts throughout Oklahoma to celebrate School Board Recognition Month.
"Our school board members are volunteers who shoulder critical responsibilities and often make difficult choices for our District, all without pay. Their goal is always focused on the children's future success in our District," Superintendent Frazier said. "Celebrating School Board Recognition Month is one way to say thanks for all they do."
As a link between the community and the classroom, school board members are elected to establish the policies and provide direction for the District.
School board members come from all walks of life. Although they wear many hats in the workday world, school board members put on a collective hat when they get down to the business of leading their school districts. Board members must pull together as a team toward a common goal—helping all students achieve.
"CPS has a stellar reputation for working as a team and focusing on ALL students. We work hard attending seminars and training sessions to keep abreast of the latest trends and laws in educational leadership, are deeply involved in community activities, and spend many hours in the schools and at extracurricular events. Our love for learning and concern and caring for students, staff and community drive our board members' desire to lead so students can achieve," shared CPS Board of Education (BOE) President Patrick Gotcher, a 15-year member.
The newest member of the BOE, Lindsey Baldwin, shared, "I am humbled to be a part of a great team who truly cares about each and every child in our District. The adage- "There is no 'I' in 'team.'" is the epitome of why our school board is what it is. It's not just about one kid or one particular group of kids. It's not about one sport or one club. It's about all our children. It's about our District as a whole. It's about how we can continue to grow and do better. We are raising our future community members. They deserve the best."
Serving CPS are Rick Mosier - Ward 1, Chelsea Mize - Ward 2, Lindsey Baldwin - Ward 3, Patrick Gotcher - Ward 4, and Shane Huey - Ward 5.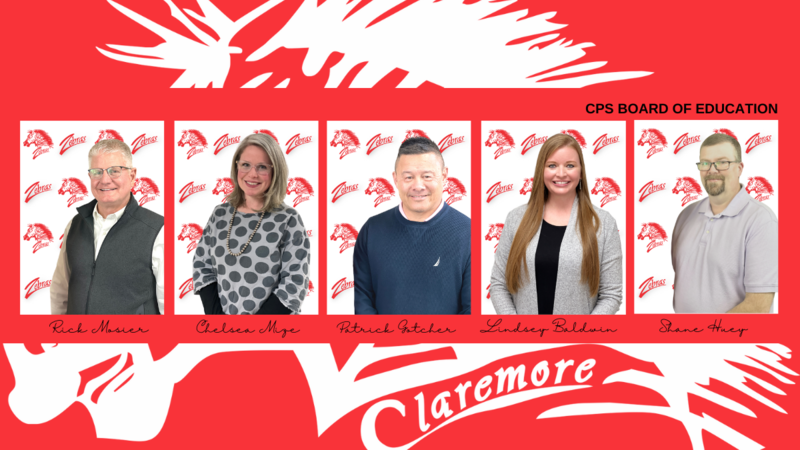 "It's more important than ever before that communities support public education so that today's students are prepared to be productive citizens and the leaders of tomorrow. Please take a moment and tell school board members, 'thanks for caring about our children and giving so much to our community.' Let them know we support them and that their dedicated service is recognized and truly appreciated," Superintendent Frazier said.
For more information about the CPS Board of Education: https://www.claremore.k12.ok.u...