CHS Academic Team 5A Area Champions
🏆You're looking at the 2023 5A Academic Bowl area champions, sweeping the competition with an average of 240 points per game!!
Since 1994, the CHS academic team has stood on the podium at the State Academic Bowl event. They have sixteen titles: nine (9) State Championships, six (6) Runner-Up, and a 3rd place ranking.
They will travel to OKC this weekend and compete at State on Saturday, Jan 28th!! ‼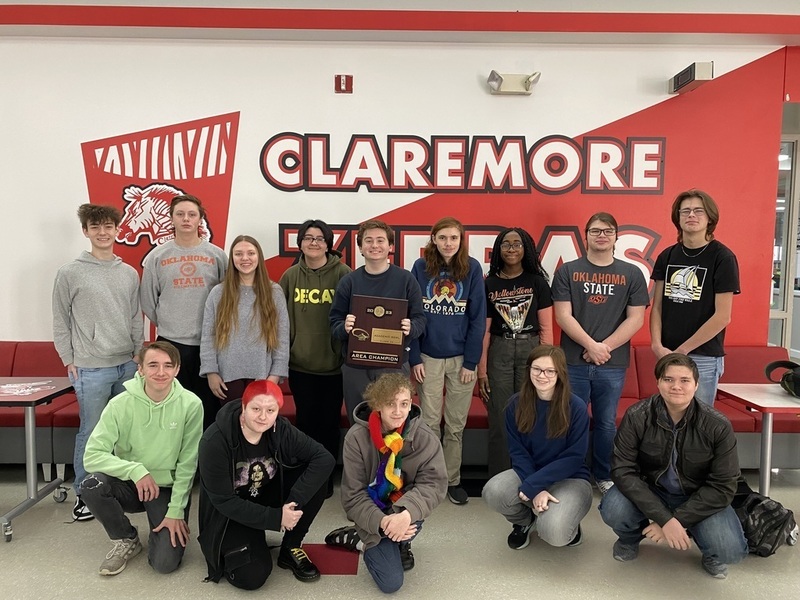 Let's cheer them on to another victory this weekend!! 👏🥇
(Pictured): David Ryals, Beau Eubanks, Kizer Ballard, Jay Arkie, Campbell Crum, Eli Fouse, Adele Wilson, Ryne Vance, Jackson Simpson, Caden Kreps, Samuel Marsh, Christian Holland, Emma Howard, Jaiden Kerstetter. (Not pictured): Eva Howard, Noelani Gray, Kaydence Forler, Ethan Hays, Hope Mallory. Coached by Drew Cummings.
Academic Team History
AWARDS
1994 - State Runner-Up & Regional Champions
1995 - State 3rd Place
2001 - State Champion
2003 - State Champion
2006 - State Champion
2007 - State Champion
2008 - State Runner-Up
2009 - State Champion
2010 - 5A State Champions
2011 - 6A State Champion
2012 - State Runner-Up
2013 - State Champions
2014 - 6A State Runner-Up
2015 - 6A State Champion
2016- 5A State Runner-Up
2017- 5A State Runner-Up
2023 - 5A Area Champions
Years / COACHES
2022 - present: Drew Cummings
2021: Andrew Noland
2015-20: Joy Hatfield
2014-15: Max McGirk
2010-14: Kay Strain
2009-10: Alan Douthitt
Christa Hart
Linda Batty
ACADEMIC BOWL ALL-AREA - Oklahoma Academic Coaches Association
1993 - Jill Johnson & Jeremy Hastings
ACADEMIC BOWL ALL-STATE - Oklahoma Academic Coaches Association
1993 - Jill Johnson & Jeremy Hastings
#CPSZEBRAPRIDE