Today a message from Superintendent Frazier went out via email & voice messaging, concerning the new CDC quarantine guidelines. If you did not receive it please contact the registrar at your child's school site to update your contact information. You can view the information on our website here:
https://www.claremore.k12.ok.us/o/cps/page/health-services-1

PUBLIC SERVICE ANNOUNCEMENT Rogers Co Health Dept. is now testing without appointments. Drive-through testing is available Monday through Thursday from 3 - 4 PM and Friday mornings from 8:30 - 9:30 AM. No cost and no insurance needed. Must wear a mask and stay in the car. Renetta Harrison, MHR, CEP-Health Educator Rogers County Health Department 2664 N Hwy 88 918-341-3166- office CPS #WellnessWednesday

With trees and decorations going up in our community, we wonder which you prefer... white or multi-colored lights? You can use your words or a photo of your tree to tell us your favorite in the comments of our Facebook post.

It's #TechTipTuesday Claremore is a Google School, and the Google Workspaces Suite offers many useful tools to complete homework assignments and teach students. One of the most useful options is the Google Chrome Sync feature which keeps all bookmarks, links, and a user's account information synced across all the devices. This week's #TechTipTuesday will show users how to turn on Chrome Sync, so everything follows the user across all devices! Facebook:
https://www.facebook.com/ClaremorePublicSchools/videos/682043512514530
YouTube:
https://youtu.be/QPRTYhLI31g
#CPSZEBRAPRIDE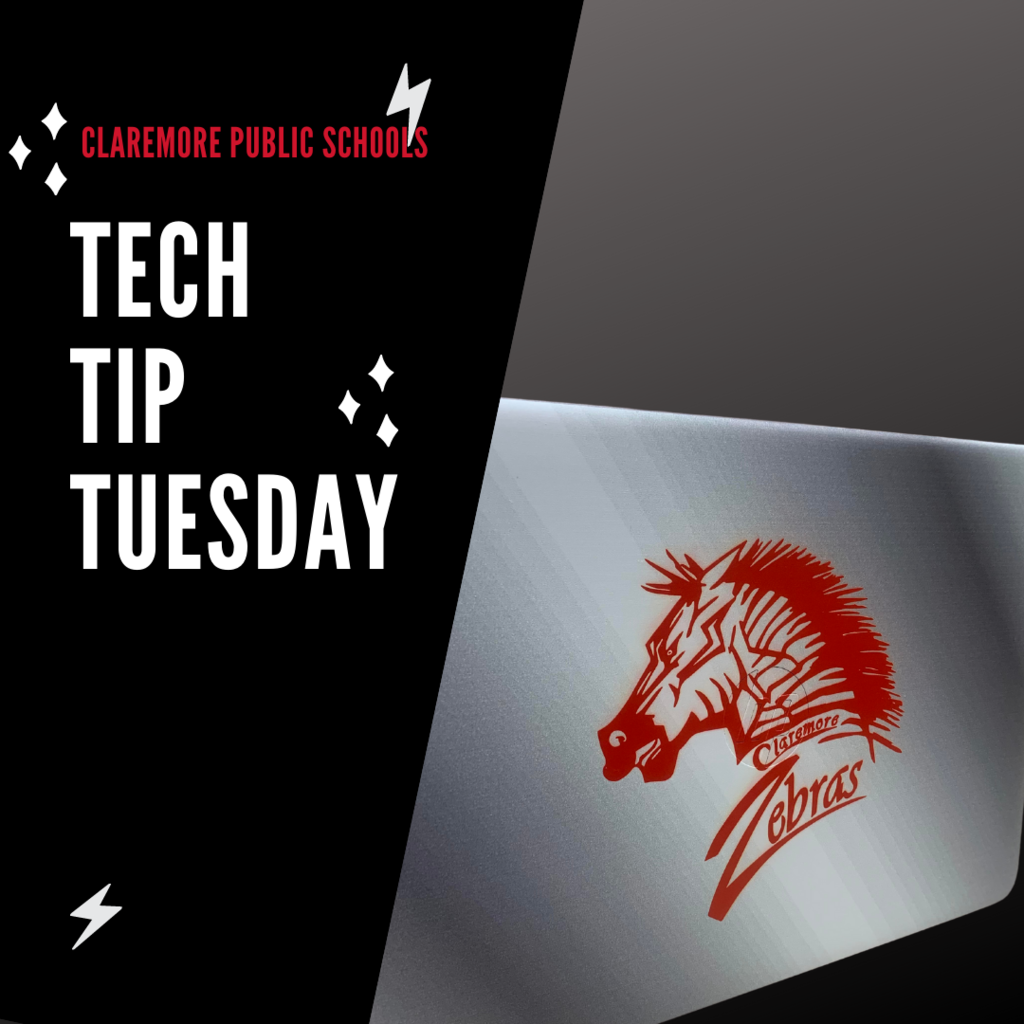 We truly hope your holiday was filled with moments that made you smile and fill your heart with wonder. This past week our CHS baseball team took some time out to serve others and fill the RCSO food pantry. Building a program is good, but building men is even better. "Thankful for a group of young men who were able to go out and collect enough canned goods to fill the RCSO food pantry completely and have enough left over to restock it a few times. Always taking care of a community, that always takes care of them." - Coach #CPSZEBRAPRIDE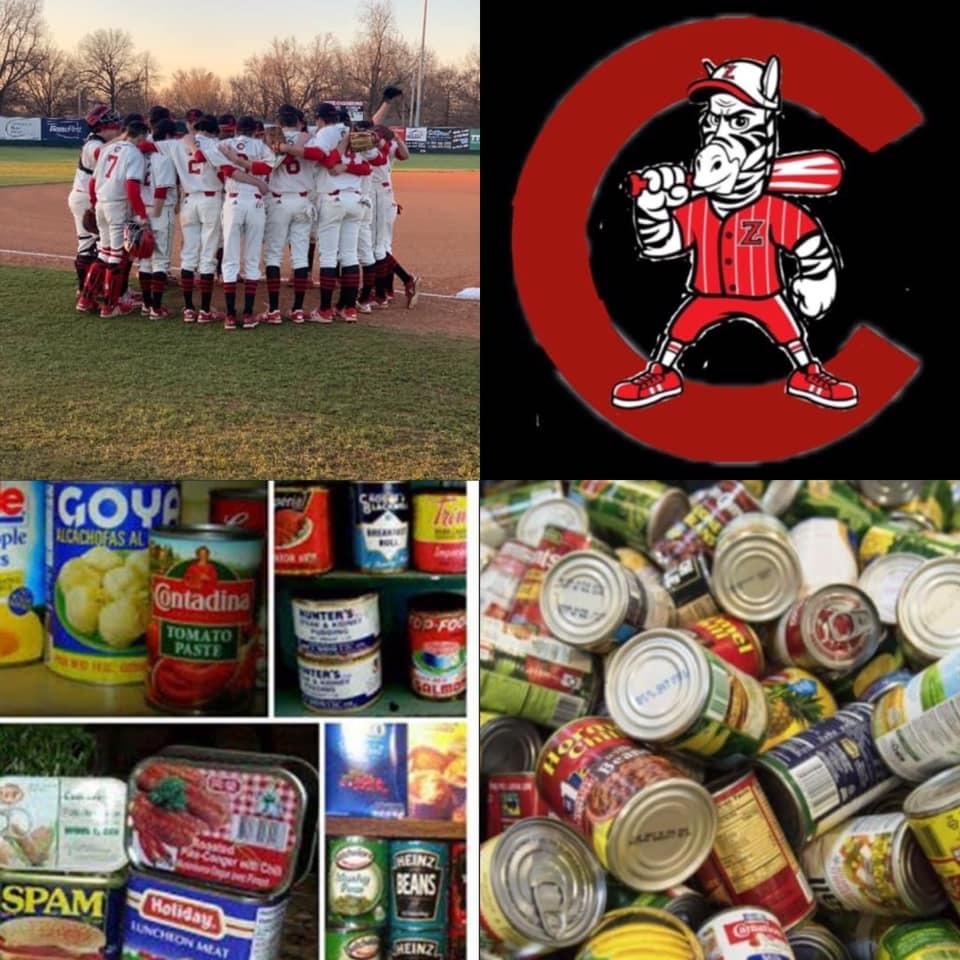 Parents and girls are invited to join us via Zoom to participate in a fun activity and learn about Girl Scouts! You can RSVP at gseok.org/claremore. Marla O'Fallon Membership Development Manager 918-745-5232
mofallon@gseok.org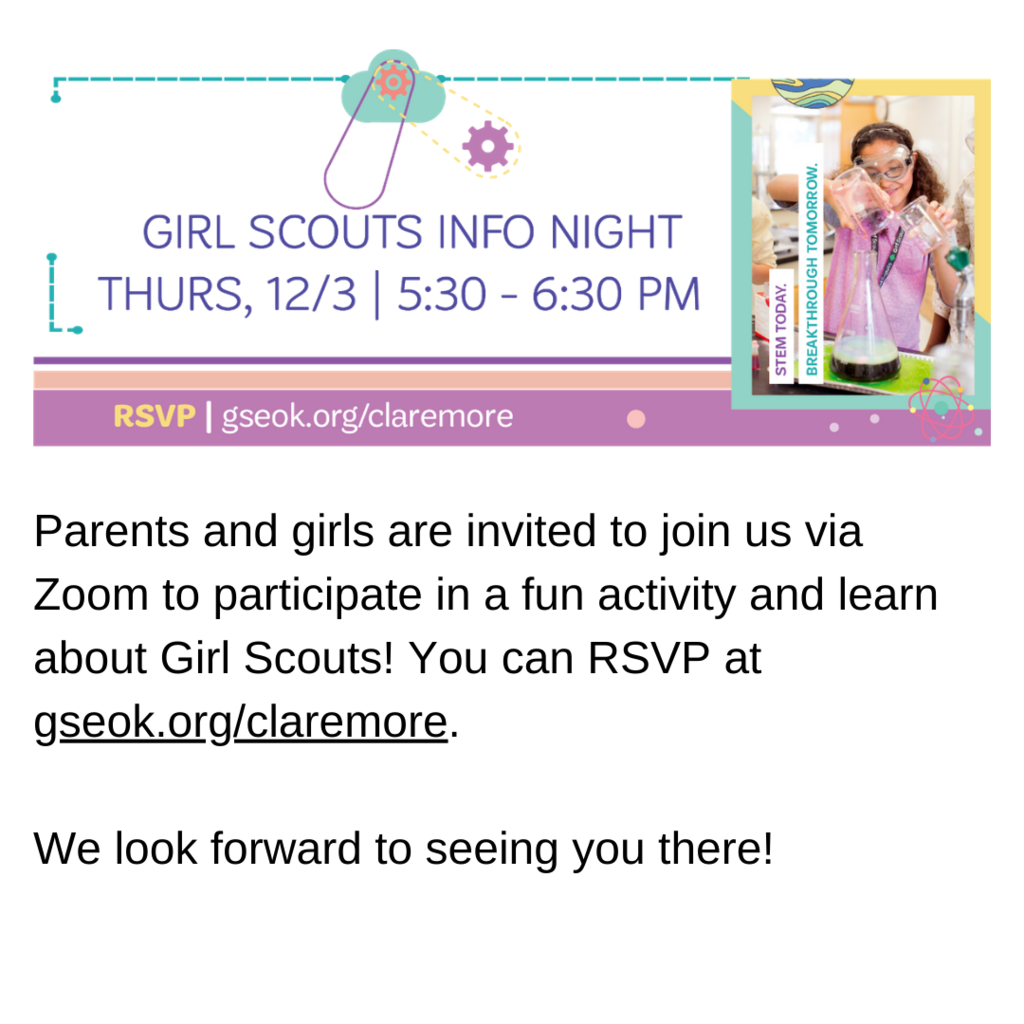 Mrs. @Sara Lahr's English classes are reading the Greek Tragedy, Antigone. Students are placed in a circle, which helps with student engagement. They all rotate and play different actors and audience members daily. Studying the complex text, students learn to use their context clues to comprehend the information. They also learn about vocal inflection and how to use their voices to demonstrate emotion. #CPSZEBRAPRIDE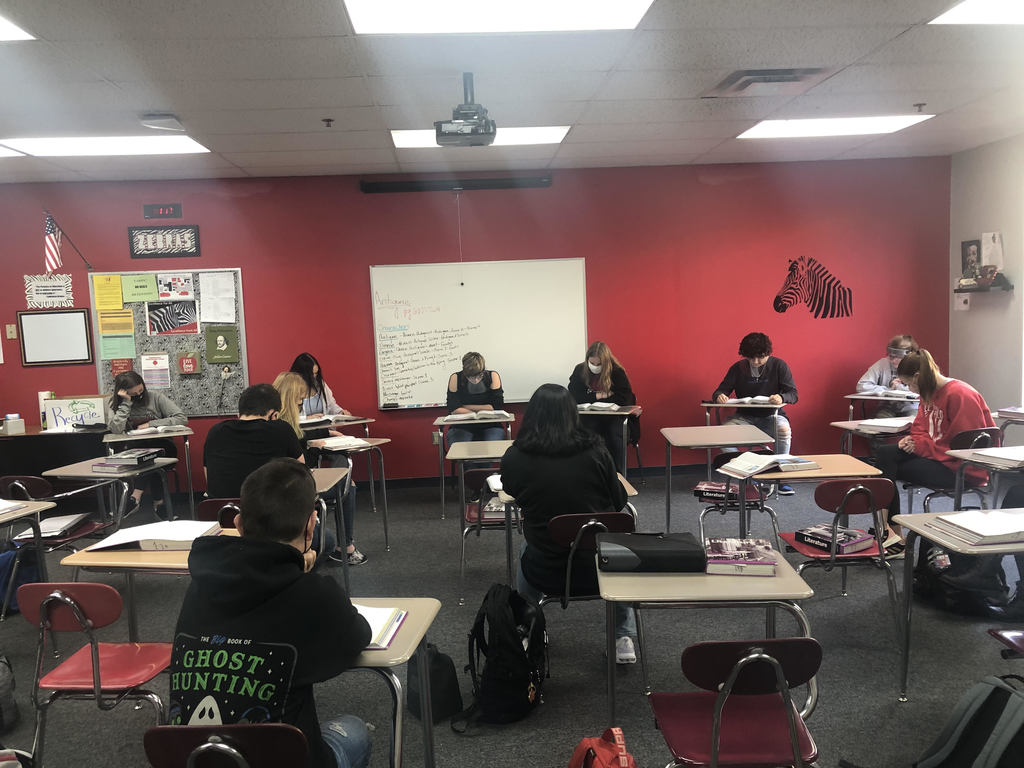 For families, the hustle and bustle of the holiday season can be overwhelming. For seniors, the deadlines, celebrations, and next steps are quickly approaching. Our #MondayMotivation encourages us to NOTICE it ALL. Be in the moment and make that memory every day. Tell or show us, in the comments, what you stopped to notice today. #CPSZEBRAPRIDE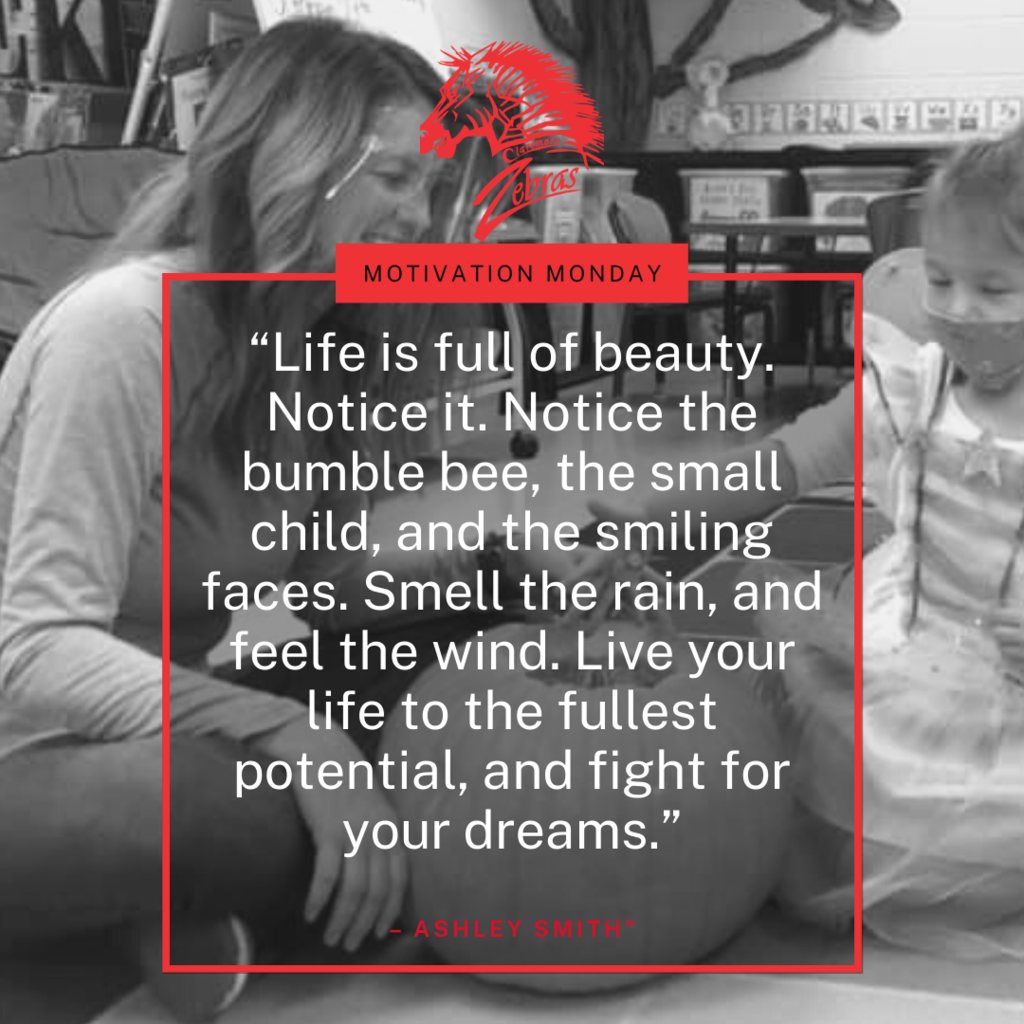 At CPS WIN Time, which stands for "What I Need," is a designated time of day for students to receive targeted instruction for their greatest needs. It is a building-wide fluid system of student intervention. Once students become proficient in their area of difficulty or enrichment, they transition to their next priority area. At Claremont Elementary School, Mrs. @Vona Cardwell's WIN group, for the upper grades, focuses on "enrichment" where the CSN network was launched. The idea was developed to motivate students and nurture a sense of pride in their school; it creatively brings the building together during a time of necessary separation amongst grade-level cohorts. Students love the opportunity to be a part of the CSN broadcast. "Mrs. Cardwell brought the idea to life, exceeding my expectations," exclaimed Mrs. Randa Reavis Fay, Principal. Students are learning about public speaking, improving vocabulary, video technology and more. The broadcast will be available monthly. Watch it here FB -
https://www.facebook.com/ClaremorePublicSchools/videos/399221744613105
YouTube -
https://youtu.be/KdWU7JGPXT0
#CPSZEBRAPRIDE

This year has been filled with chatter of how hard 2020 has been. And, that is undoubtedly true. But, as we observe Thanksgiving today, let's remember there have been moments of wonder, beauty, and celebration in 2020 as well. We have met new people and learned new skills. We experienced new ways of seeing the world, impacting lives, and helping others. Let's not forget the cherished time spent with family. And, maybe, just maybe, these tough times have allowed us the sacred opportunity of growing. One of the most beautiful things is how people have come together to support each other. Drive-by birthday parties, companies sharing resources for free or at discounts to help educators do great work even though they were facing the unknown. Parents sending extra hand sanitizer, tissues, and gift cards to show their support and love for teachers. Restaurants feeding first responders and healthcare workers. These moments have been inspiring. Yes, there have been some gruesome moments in our world this year, but there are moments that are worth holding onto with a very tight grip. Let's be great curators of the moments deserving our attention. We may not be sitting around the table together, but we do hold each other in our hearts and consider each of you a blessing in our lives. #CPSZEBRAPRIDE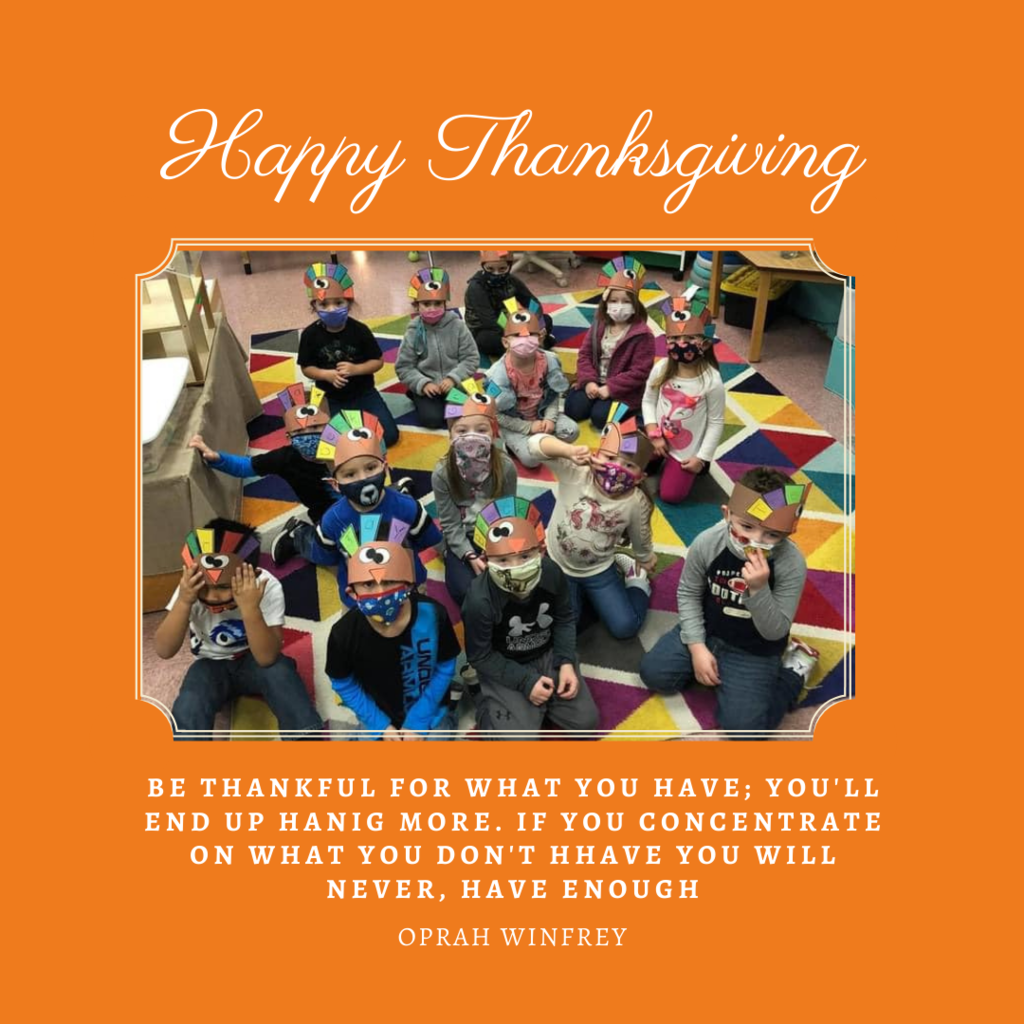 🦃 No school November 25th - 27th for Thanksgiving Break. 🦃 As you celebrate, please make safe decisions to help reduce the spread of COVID-19: 👐 wash your hands, ↔ watch your socially distancing, and 😷 wear a mask when you are around others. 💖 Particularly during this holiday season, we are thankful for the opportunity to serve you, your family, and our community. #StaySafeStayInSchool - we look forward to seeing students again on Monday, November 30. #CPSZEBRAPRIDE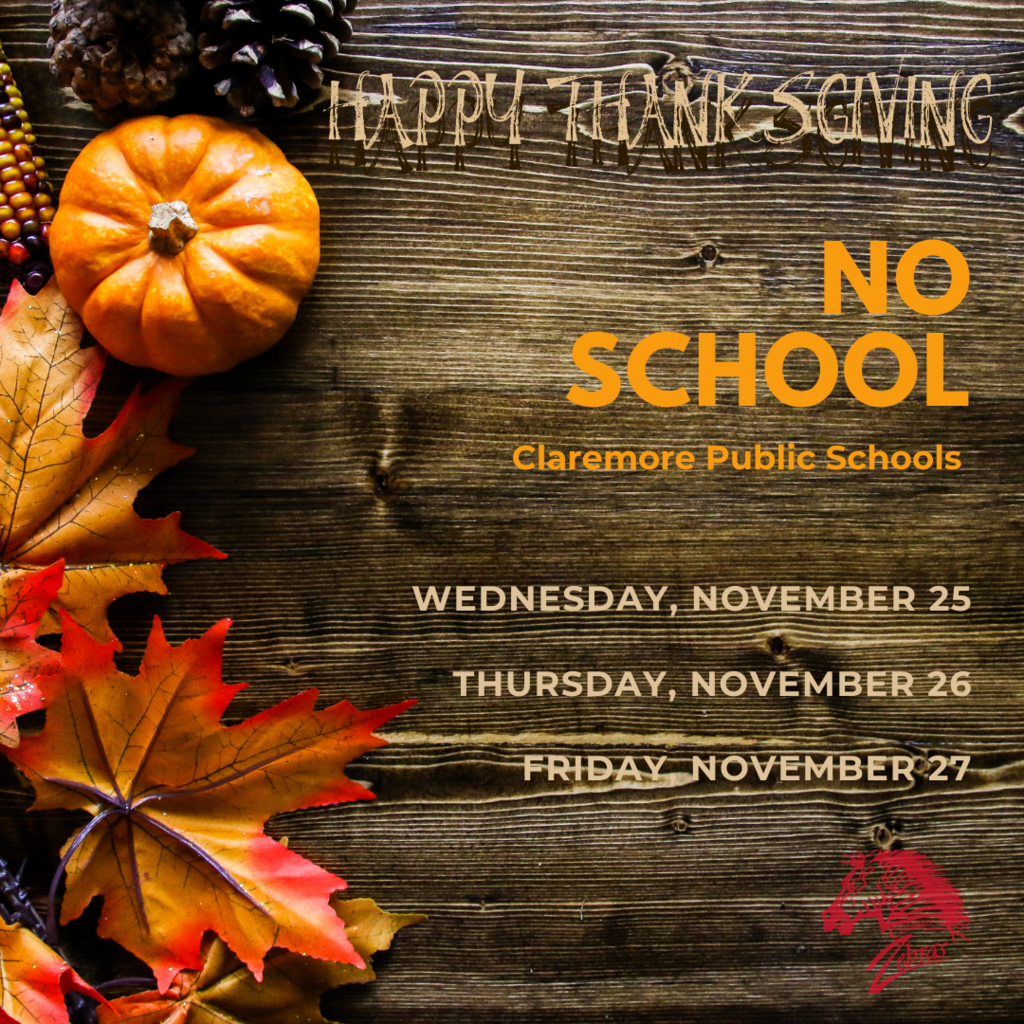 No Library Card? Apply for a temporary E-Card at Will Rogers Library and access our digital resources from home! For those who are interested in their digital services but do not currently have a library card, we're instituting a temporary Electronic Services card.👏👏👏 The library offers E-Books, E-Audiobooks, Streaming Video and E-Magazines! Each has their own catalog of digital downloads, which can be found under the E-books link on the library home page. Any patron in good standing will be able to download e-materials to their personal computer, smartphone, E-reader or listening device. Please call the Will Rogers Library at 918-341-1564 to apply. They will need your name, birth date and address in Rogers County to set up this card. For those under 18, they will also need a parent's name, birth date and address. 📚👏😍🤩 #CPSZEBRAPRIDE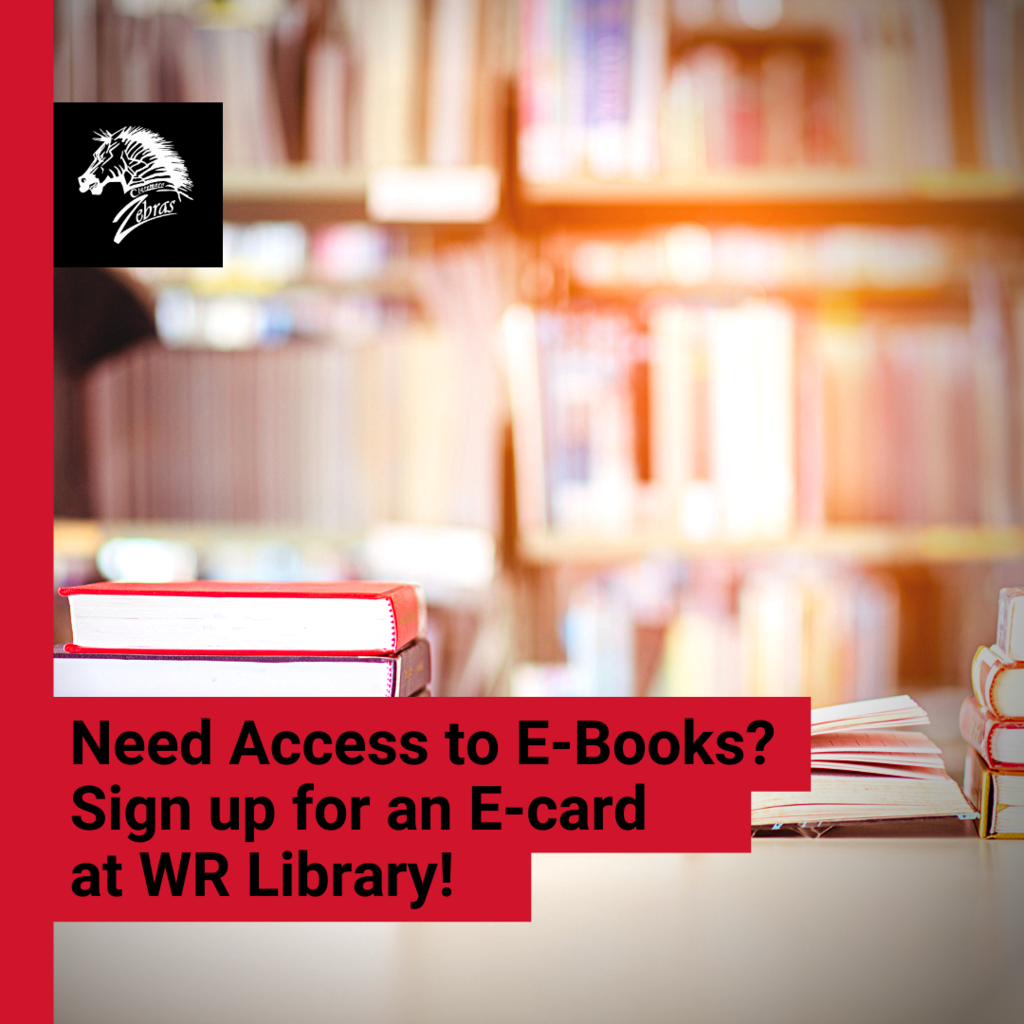 Claremore Public Schools is continually committed to developing an atmosphere of trust among parents and the community in our ability to provide not only a positive and enriching educational experience but a safe place for students to thrive. That is why we have partnered with @FamilyZoneUSA, a leading provider of cyber safety products and education, to ensure your kids are cyber safe while at school. Claremore Public Schools is already using Family Zone to block inappropriate content and to identify red flag search terms from students. However, students do need access to sites like youtube for institutional purposes. Once on those sites students can be exposed to content that may be questionable. It is important that caregivers monitor students when they are on their devices. As a parent or caregiver of our school district, you receive free access to the Family Zone Cyber Safety Hub, which includes articles, videos, courses, and more to help monitor and educate on various cyber threats, apps, etc. This week's #TechTipTuesday is access to this free service. Click "sign up" below to get ongoing materials and education from the platform we trust to manage cyber safety across our entire district.
https://claremorek12.familyzone.com/
#CPSZEBRAPRIDE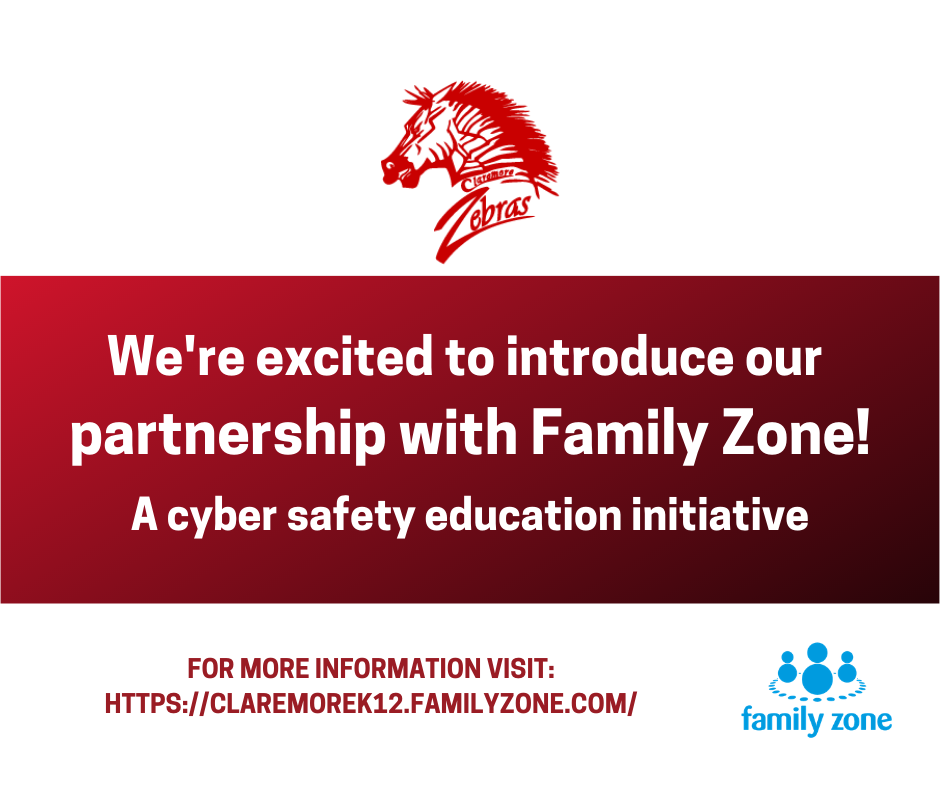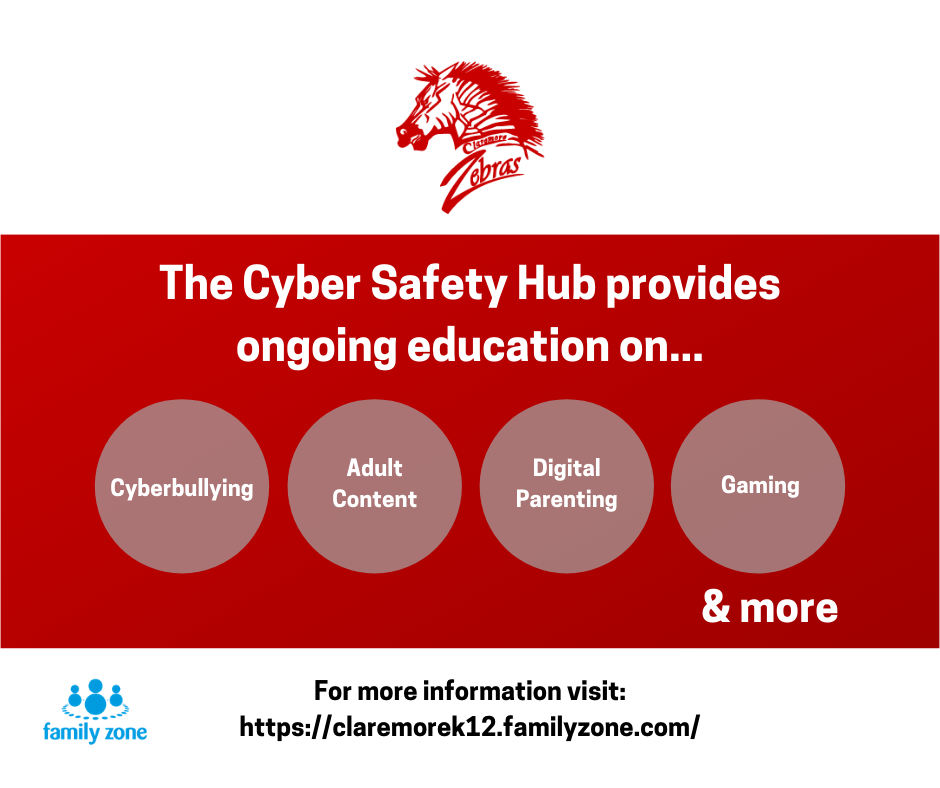 Being a team member is more than a performance on a court but their performance in their community, as well. Building partnerships, serving as role models, motivating others to make their community a better place, and giving back gives them a shared vision with the community that supports them. For the past several years, the Lady Zebras have helped fill food baskets at @Westside Elementary. This year the girls took the necessary steps to stay safe and continue the tradition. 🦓 💗🏀 #CPSZEBRAPRIDE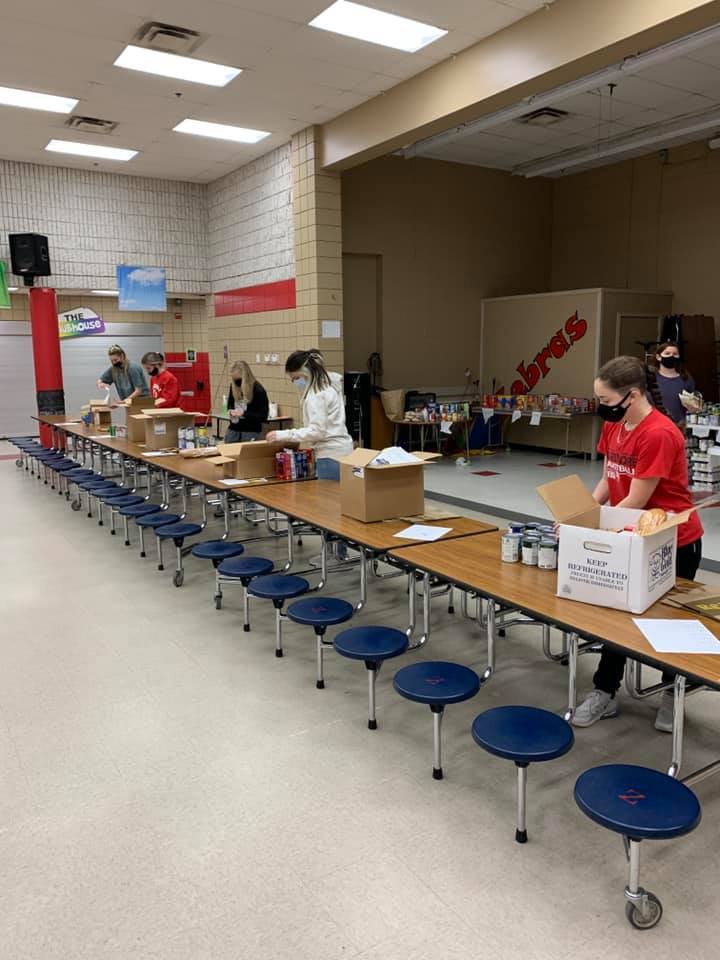 Traditional students that would like Holiday Weekend Meals please place your order by Tuesday (11/24/20). Pick up will be Wednesday 11/25/2020 from 10:30 AM -12:30 PM at the Enrollment Center located at 101 W 11th St.
https://forms.gle/qx3XdeRL6E4VTZ529
Janna Ragland Child Nutrition Claremore Public Schools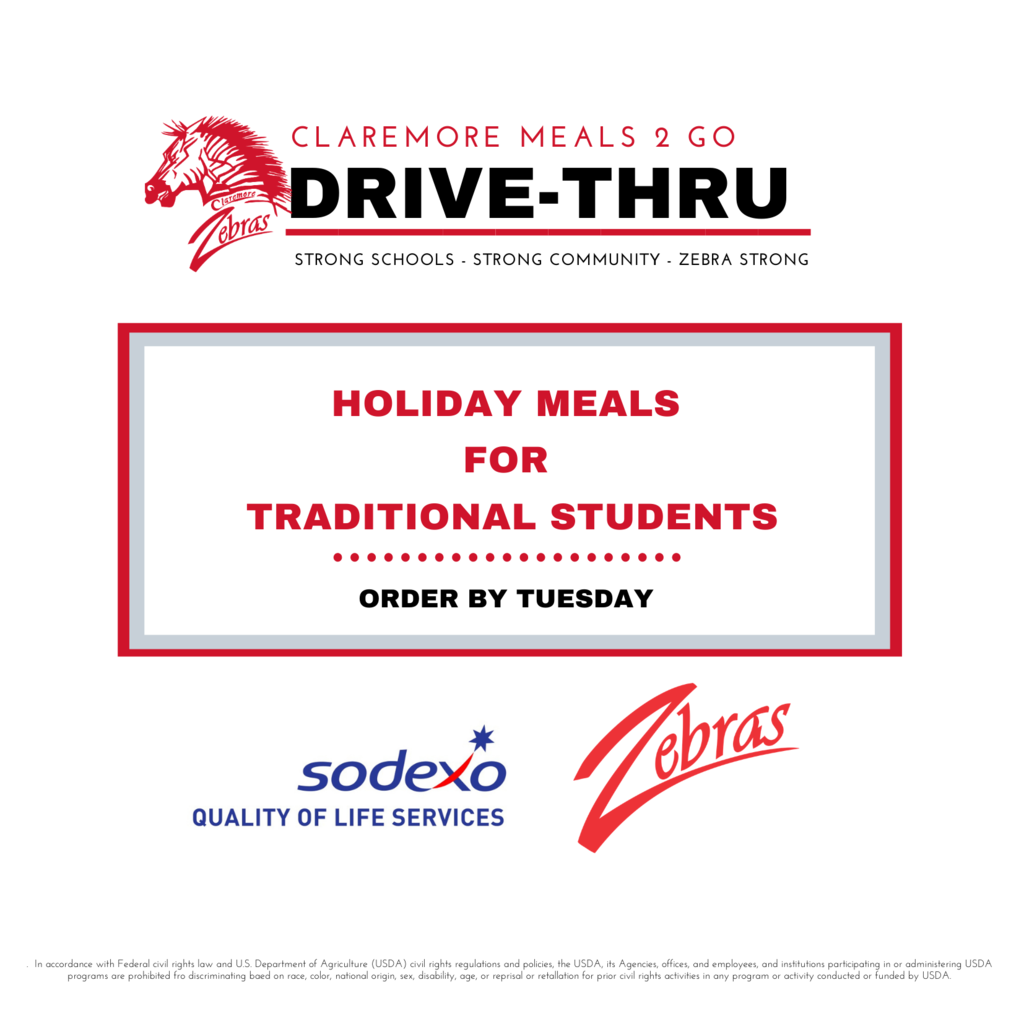 Need an extra gallon to take to your Thanksgiving holiday dinner? Go by and grab a gallon of sweet tea and lemonade from Chick-Fil-A! This month Chick-fil-A will donate $1 to the Claremore Public School Foundation. CPSF funds class and teacher grants district-wide. #CPSZEBRAPRIDE

In the spirit of Thanksgiving #MondayMotivation is about thanking those who have made a difference in your life. Send a note of thanks in the comments below to one or more people who have changed you, motivated you, pushed you, consoled you, mentored you - someone who made a difference. #CPSZEBRAPRIDE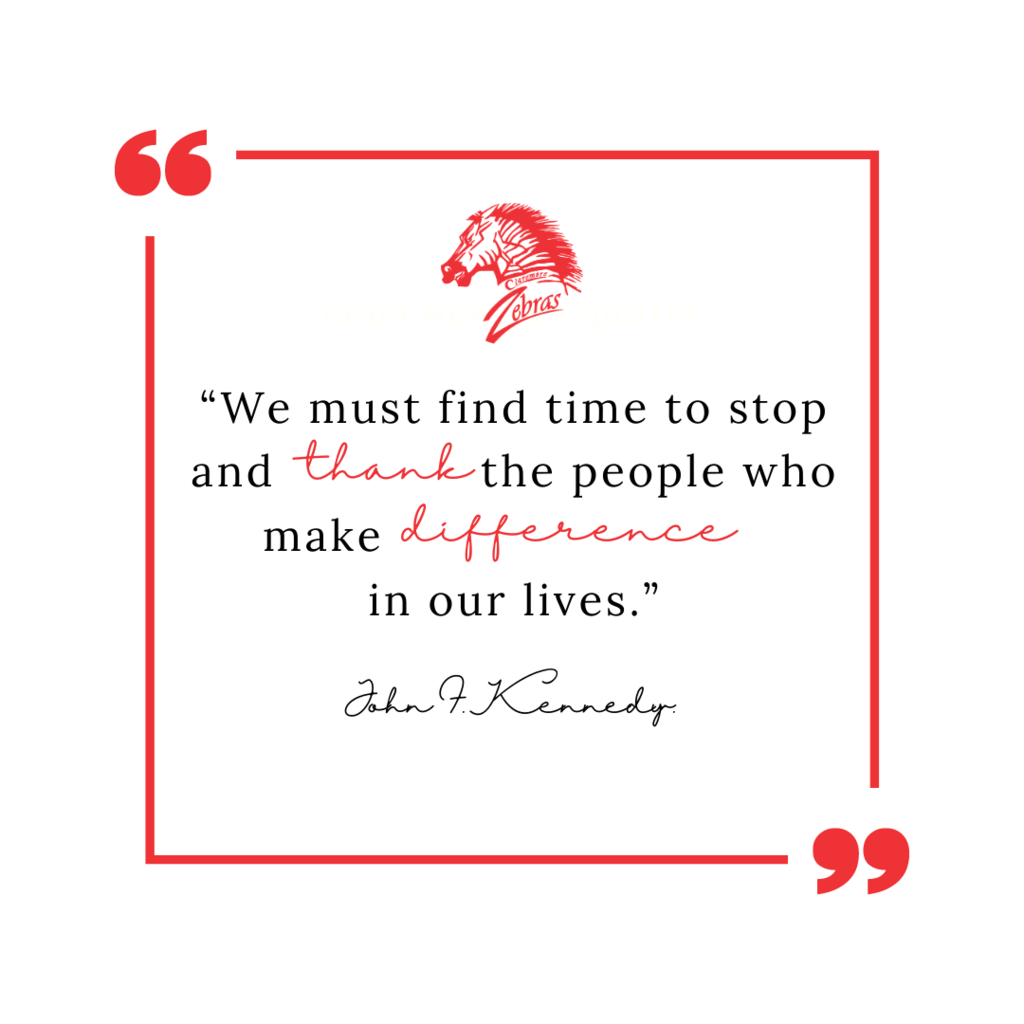 Claremore FFA will have it's final Blue & Gold drive-thru pickup today and tomorrow. Friday 11/20 from 5p to 8p Saturday 11/21 from 11a to 1p 🚙Please enter from the west (see map picture below). Remain in your vehicle at all times. 💲 Cash Only. Prices are listed on the flyer. ❔ If you have any questions, please contact
mboyer@claremore.k12.ok.us
. We look forward to seeing you this weekend, and thank you so much for supporting Claremore FFA!! #CPSZEBRAPRIDE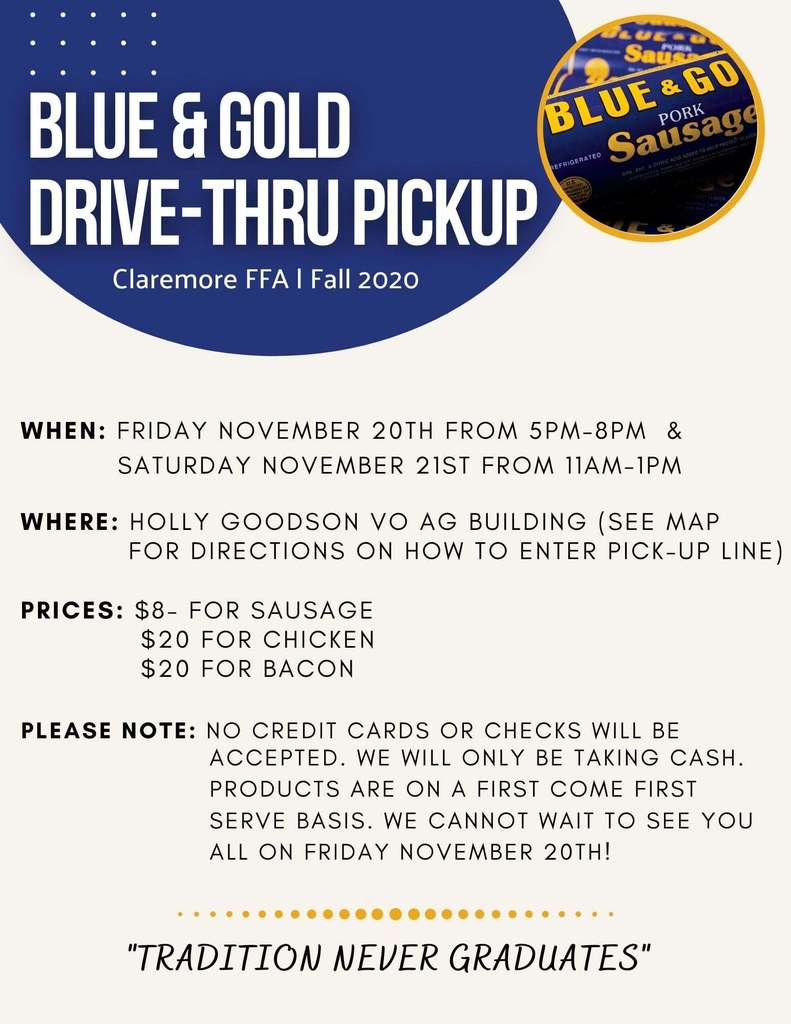 Tonight's football game vs. Coweta is canceled. Tickets purchased online will be refunded. #CPSZEBRAPRIDE