Everybody loves that Chick-Fil-A sweet tea and lemonade! Bring it to your holiday gathering, corporate party, or home for dinner. This month Chick-fil-A will donate $1 to the Claremore Public School Foundation. CPSF funds class and teacher grants district-wide. Go by and grab a gallon or two... or three this month. #CPSZEBRAPRIDE

November is Native American Heritage Month so we checked in with the @Claremore Museum of History to share our rich Native American roots here in Claremore. How Claremore came to be… Claremore got its beginnings when Chief Glahmo led his tribe of Osage Indians from Missouri in 1802. He soon established a fur trading post along the Verdigris River. The trading post sat atop a 25 acre mound which came to be known as Clermont, a French word meaning "clear mountain." Over time, traders and Indians alike began to refer to the Chief as "Chief Clermont."When the area became part of the Louisiana Purchase in 1803, it was designated as Indian Territory. Before long, the Cherokee tribe was forced from their eastern homes along the infamous "Trail of Tears" and was given title to the land, including Clermont Mound. The Osage Indians were removed to a reservation, which would later be called Osage County. A settlement made up primarily of Cherokee Indians was established on Clermont Mound beginning with a general store, a blacksmith shop and a school. In 1874 the post office was established with the intention of naming the town after Chief Clermont. However, due to a clerical error, the name was listed as Claremore, and so it was. The Cherokees prospered, organized constitutional governments, published newspapers, and established an extensive educational system. In 1889, when the U.S. Government began to open up unassigned lands in Indian Territory to the white men, they flooded the territory and soon took control of Claremore. By the turn of the century, Claremore was larger than Tulsa.In 1903, a test oil well was drilled in Claremore, but instead of finding oil, the drillers discovered a large flow of artesian mineral water. Before long radium bath houses became the rage in Claremore. In 1907, Rogers County was created from the Cherokee Nation and was named for Clement V. Rogers, the father of Will Rogers, and a member of the Constitutional Convention.When Route 66 came through the city, it was already well established, and quickly built motor courts, service stations and restaurants along the highway to service the many travelers of the road. Claremore is best known as the hometown of the Oklahoma's favorite son, Will Rogers "The Cherokee Kid." Rogers was born nearby in a rough log cabin "halfway between Claremore and Oologah on November 4, 1879. He rose from a vaudeville career as a sideshow rope‑tricks artist to become one of the most popular humorists in America. #CPSZEBRAPRIDE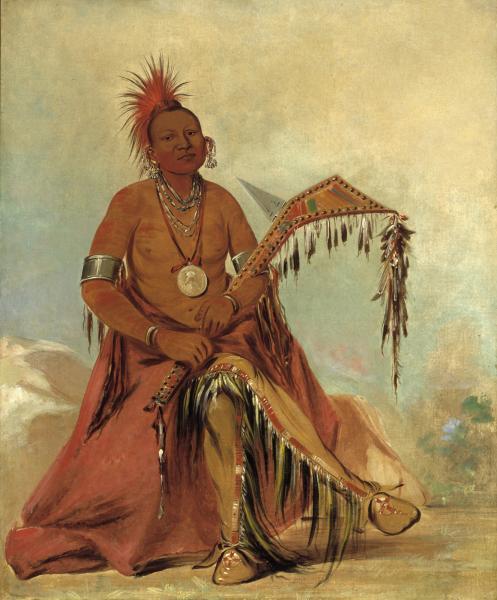 CLAREMORE HIGH SCHOOL NJROTC CORPS OF CADETS ANNUAL FLAG RETIREMENT CEREMONY Claremore High School NJROTC will hold its annual Flag Retirement on November 11, 2020 at 1100 at the American Legion Post 141 located at 2141 OK-88, Claremore, OK. This program is free to the public and we encourage all Claremore Veterans and patriotic citizens to come and join us to celebrate our Veterans and our Freedom. What: Flag Retirement Ceremony When: November 11, 2020, at 11:00 am. Where: American Legion Post 1421 2141 Ok-88 Hwy Claremore, OK #CPSZEBRAPRIDE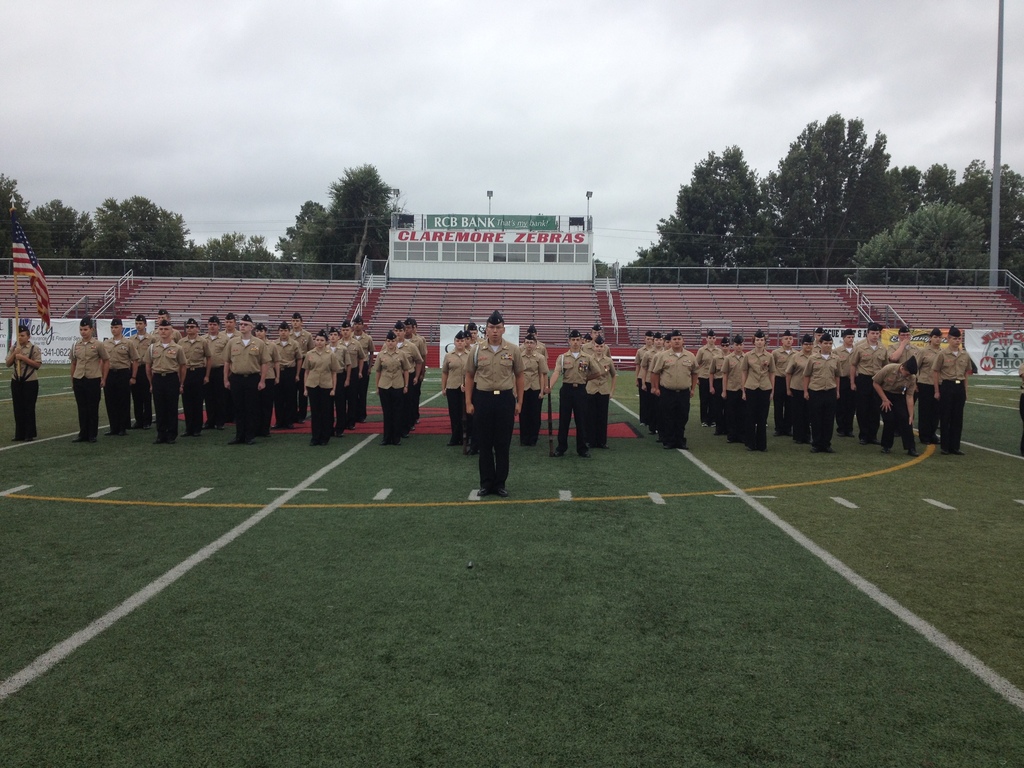 It's no secret that curiosity makes learning more effective and enjoyable. Curious students not only ask questions, but also actively seek out the answers. Tag a teacher who sparked that curiosity in your life? #CPSZEBRAPRIDE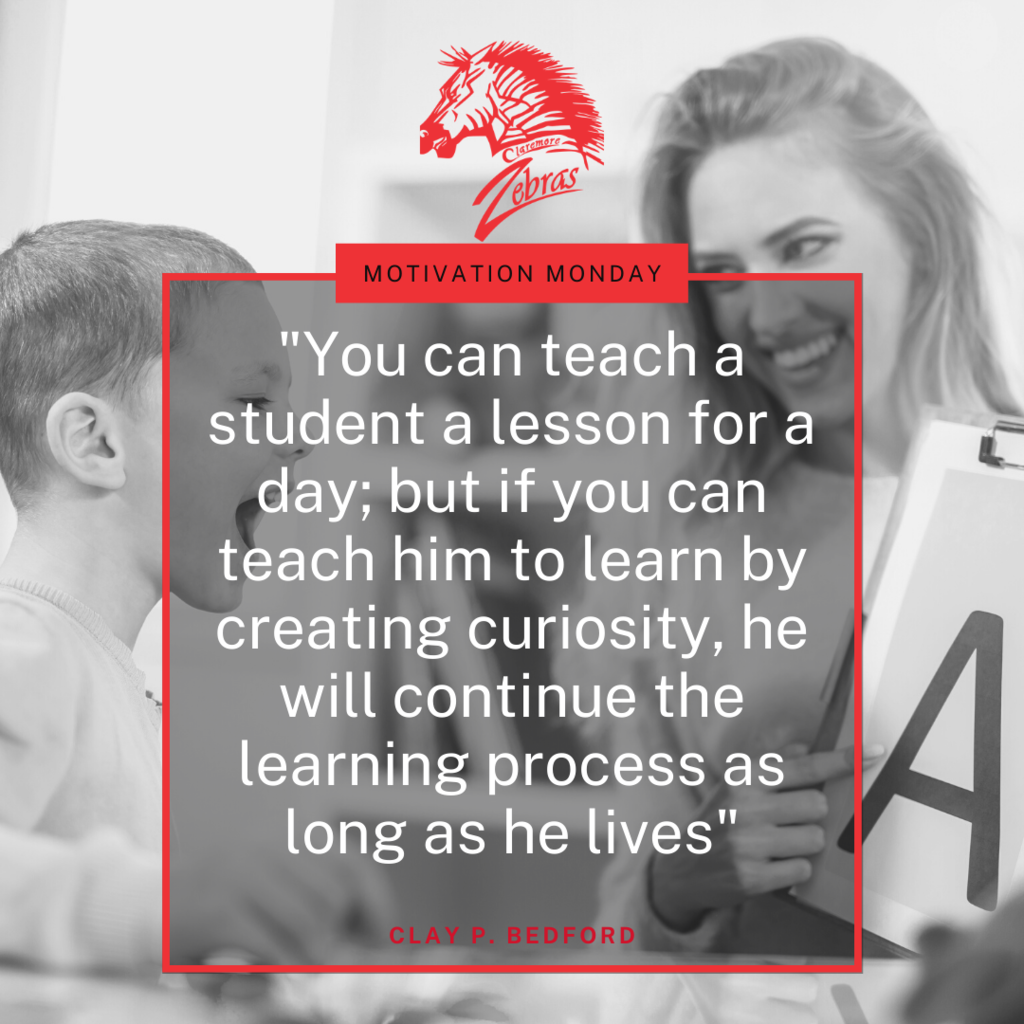 CZC is headed to Game Day Regionals. This is the first year for Claremore to attend this OSSAA sanctioned regionals. Good luck CZC! CZC competes at 11am today! 🦓❤️. #CPSZEBRAPRIDE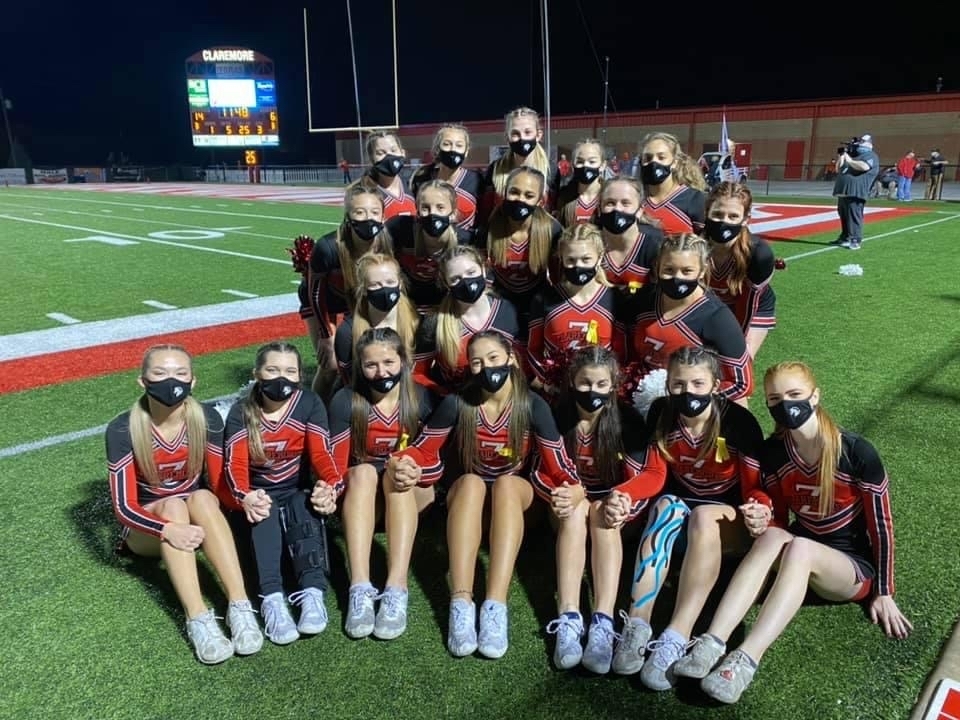 Substitute teaching is a remarkably rewarding and worthwhile career path for people from many different walks of life. As a sub, you get to work with children, set your schedule, and experience many different educational opportunities. Are you thinking of teaching? Substitutes can acquire experience, develop transferable skills, and improve your chances of landing a full-time job. Of course, it's is also a way to give back to your community and make a difference in the lives of children. Join the ZEBRA family by applying to be a substitute teacher. Contact 💻
www.kellyeducatinoalstaffing.us
or call 📱 918.461.0357. Minimum Requirements: ✅ Must be at least 18 years old ✅ Have a High School Diploma ✅ Must pass an OSBI background check #CPSZEBRAPRIDE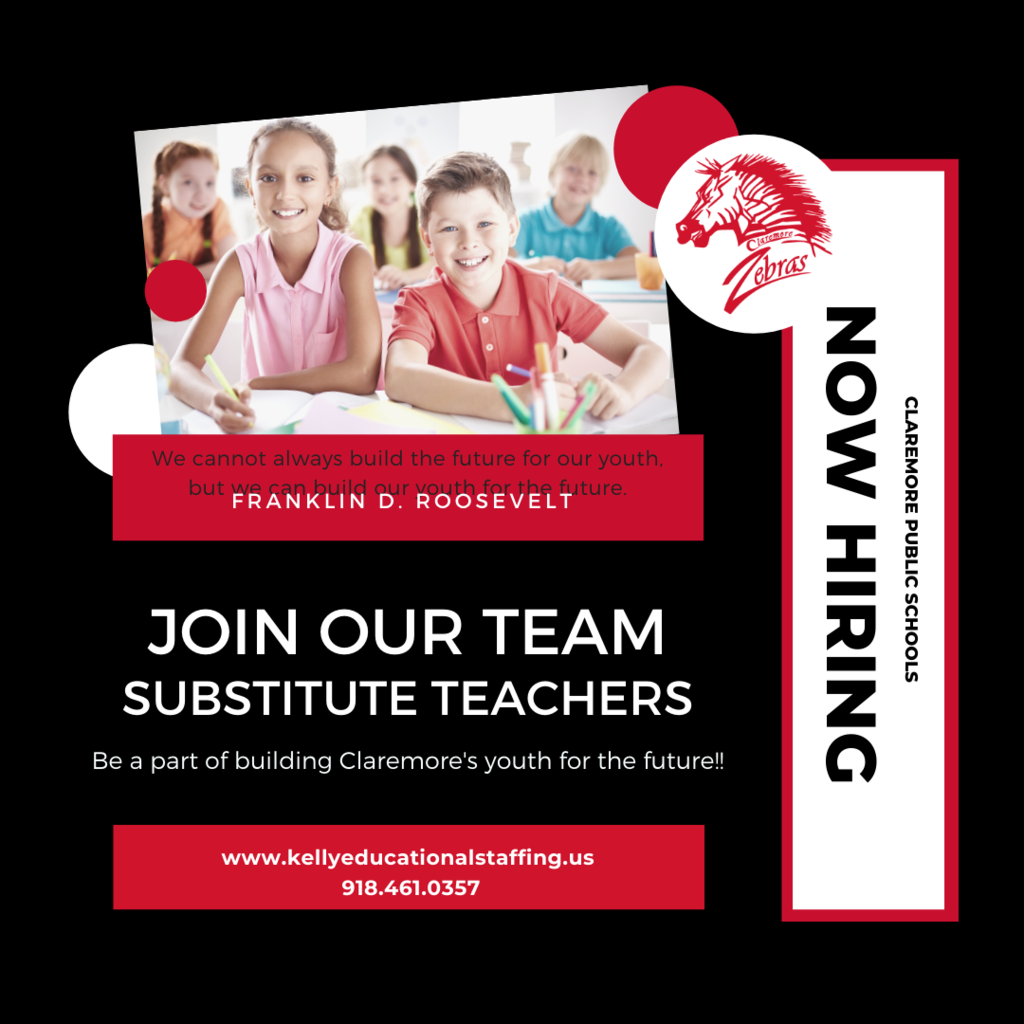 The arrival of November means several things: Pumpkin spice season is in full swing, holiday menus are being planned, guzzling hot chocolate is more than socially acceptable, there's a pie (or two!) in the oven, and—perhaps most importantly—it's ELECTION DAY! Exercise your right - your privilege - your duty - GO VOTE! #CPSZEBRAPRIDE

🍽 Virtual/Quarantined/Distance Learning Meals Program Virtual/Hybrid Meals we will provide meals for all seven (7) days in a week (excluding Federal Holidays). Pick up schedules will change to 2 days a week to manage product quality and help relieve storage issues for our families with multiple students. Virtual/Hybrid Meals pick up schedule: 🍽 Mondays (receive meals for Mon/Tues/Wed) 🍽 Thursdays (receive meals for Thurs/Fri/Sat/Sun) Order here:
https://forms.gle/T7CVurXBwmMGfAxG7
Distance Learning Families can pick up meals on Fridays (receive three (3) meals for Fri/Sat/Sun. Order here:
https://forms.gle/MtQwr6Rm4ePAh13V6
Temporarily Quarantined - If you are quarantined unexpectedly after the order deadline, please contact the Child Nutrition office to make arrangements for meals. We will make sure to accommodate these situations. 🗹 ORDER DEADLINE: Wednesday 🗹 PICK UP LOCATION: up all meals at the Enrollment Center (101 W. 11th Street) 🗹 P/U TIME: 10:30 AM and 12:30 PM REMINDER - these meals are available to ALL children 18 years of age and younger including siblings of school age children. Read more on our website:
https://www.claremore.k12.ok.us/page/child-nutrition
Contact:
jragland@claremore.k12.ok.us
or 918-923-4243

Sometimes we need permission to fail in pursuit of being successful in new procedures, new skills, new thought processes, etc. What new skills, hobbies, theories, knowledge are you pursuing? #CPSZEBRAPRIDE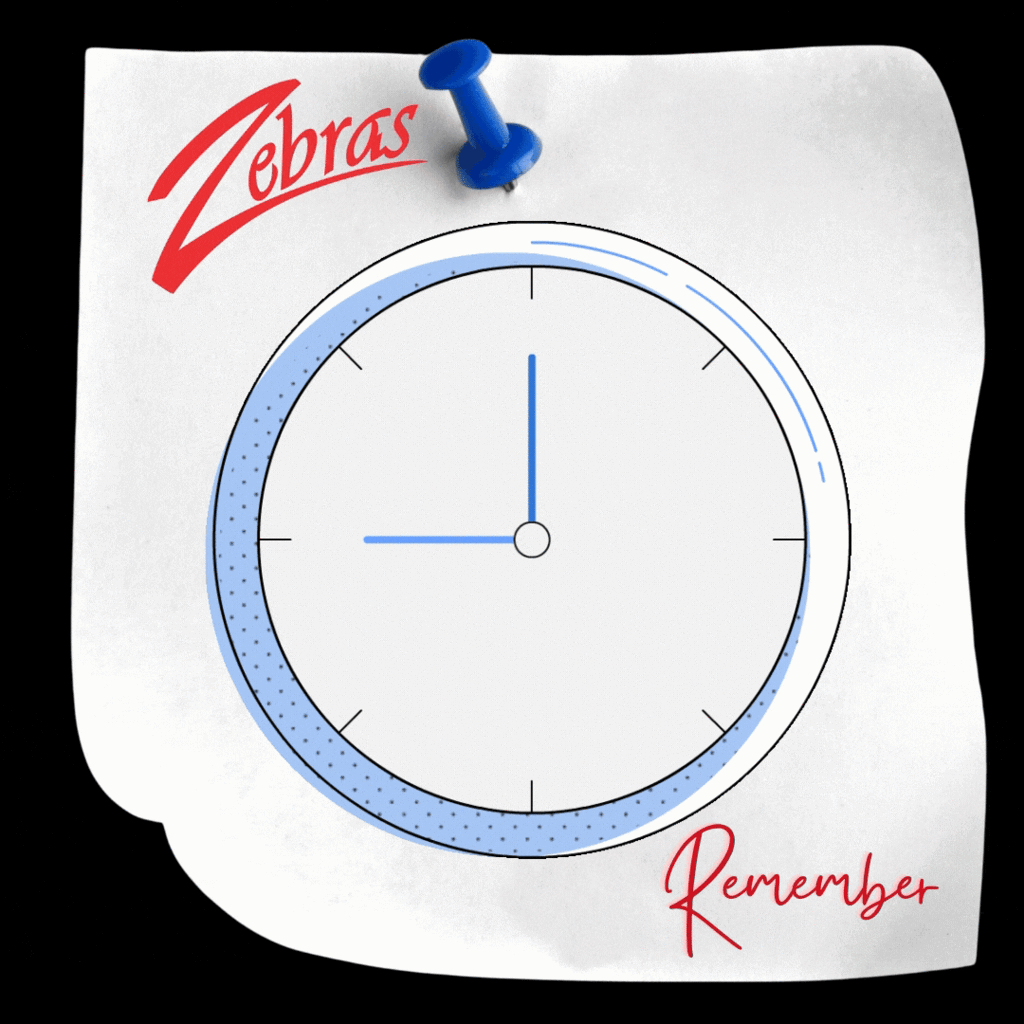 Happy Halloween! We'd love to see you in your costume. Head over to the CPS Facebook page and post a photo, Bitmoji, or Avatar in the comments.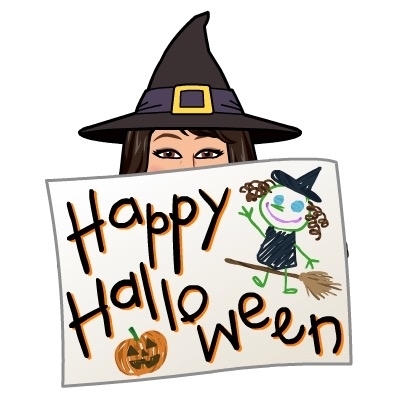 𝐂𝐏𝐒 𝐰𝐢𝐥𝐥 𝐡𝐨𝐬𝐭 𝐚 𝐜𝐮𝐫𝐛𝐬𝐢𝐝𝐞 𝐅𝐚𝐦𝐢𝐥𝐲 𝐅𝐥𝐮 𝐂𝐥𝐢𝐧𝐢𝐜 𝐢𝐧 𝐍𝐨𝐯𝐞𝐦𝐛𝐞𝐫 𝐟𝐨𝐫 𝐚𝐥𝐥 𝐂𝐏𝐒 𝐟𝐚𝐦𝐢𝐥𝐢𝐞𝐬 𝐚𝐧𝐝 𝐬𝐭𝐮𝐝𝐞𝐧𝐭𝐬. 𝙍𝙚𝙜𝙞𝙨𝙩𝙧𝙖𝙩𝙞𝙤𝙣 𝙞𝙨 𝙧𝙚𝙦𝙪𝙞𝙧𝙚𝙙 𝙗𝙪𝙩 𝙚𝙖𝙨𝙮! No charge with your health insurance card including SoonerCare. Uninsured STUDENTS will also be at no cost. 11/02/20 - Westside Elementary from 3:30p - 6:30p (register by 5pm 10/30) 11/04/20 - Will Rogers Junior High from 4p - 7p (register by 5pm 11/02) For more information: 🞧 Family Flu Clinic Flyer
https://5il.co/metf
🞧 Insurance Accepted
https://5il.co/metd
🞧 Consent for Treatment
https://5il.co/mete
#CPSZEBRAPRIDE

There is nothing like homemade cinnamon rolls to give a person that feeling of soothing comfort - a big, warm, gooey, frosting dripping down, center of the cinnamon roll. None of the out-of-a-can or plain powdered sugar on top type but a fresh, warm, dough rolled by hand cinnamon roll to wrap you up and communicate appreciation from the sender to the receiver. Well, that is just what the Claremore CCTA did for ALL the teachers and staff, district-wide. A small but warm gesture to say, "We see you and all you are doing. We support you. We appreciate you." Our teachers' tummies and hearts were fuller this week. Thank you! #CPSZEBRAPRIDE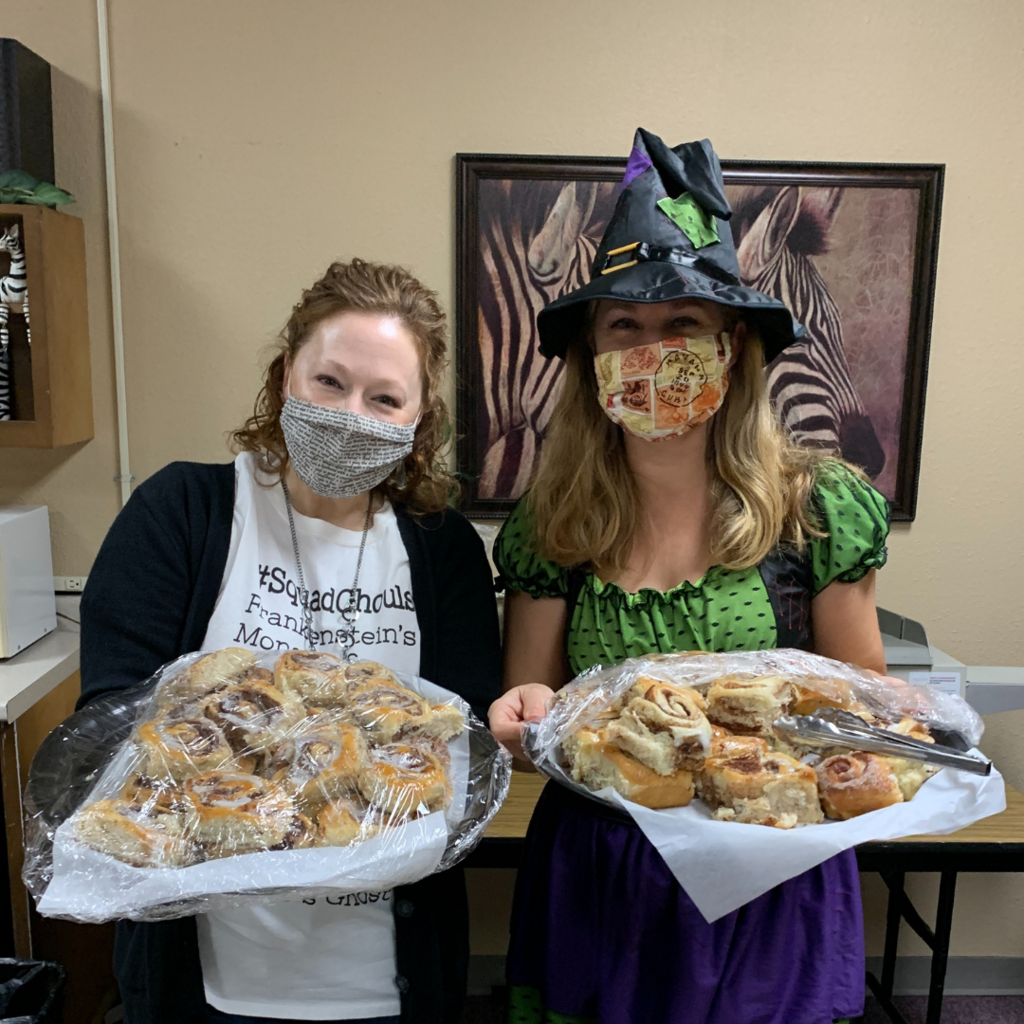 🦇 Sometimes our ZAP Advisors go a little "batty" over ZAP. Mrs. Brace's ZAP group never knows what to expect when they show up for their ZAP meetings. Lesson: GOAL SETTING complete with an obstacle course. Why? Because when we set goals, we also have to navigate the obstacles that get in our way, we have to find credible resources to support us, we have to listen to others, we have to plan, we have to start over sometimes, and we can have fun while learning about these life principles that will contribute to a successful future. 🦇 Once we reach our goals, we get to celebrate. This time it was with "batty" brownies.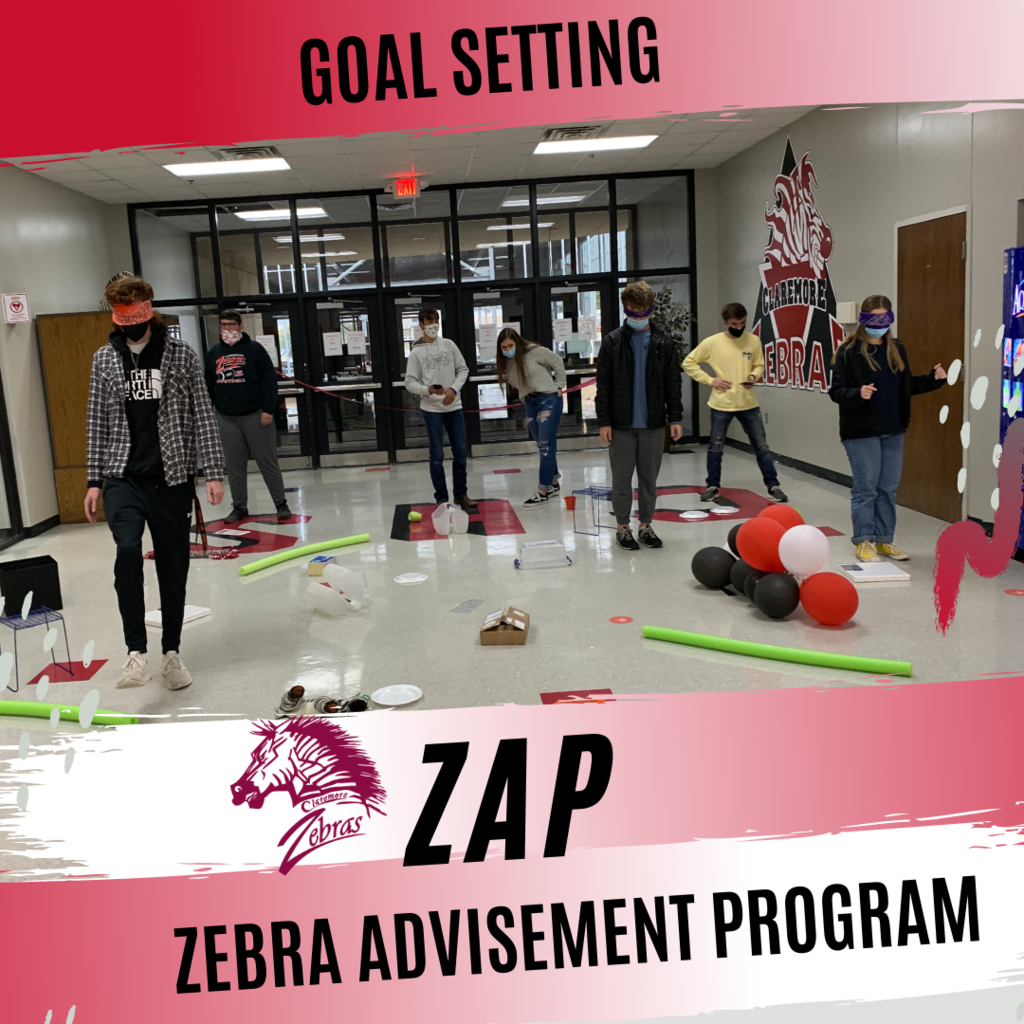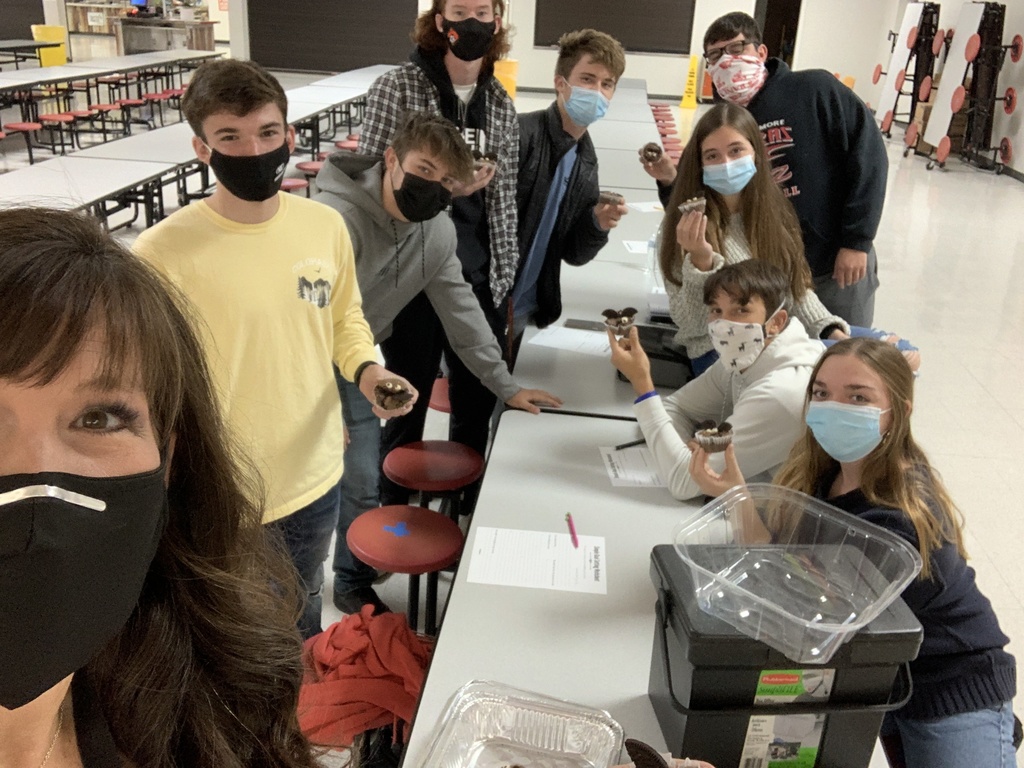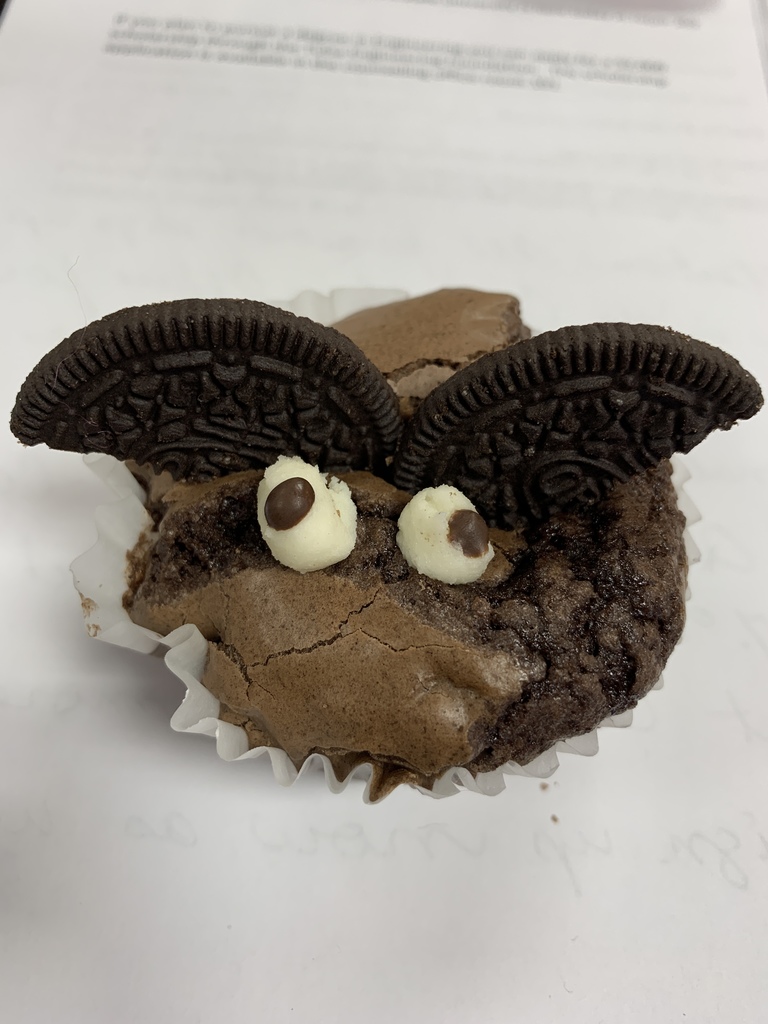 We want all students to learn, and the best way to make that happen is to protect their electronic devices. Here are some reminders on how to protect your device. If you have any issues with your device, contact your school of record immediately to begin the repair claim process. #CPSZEBRAPRIDE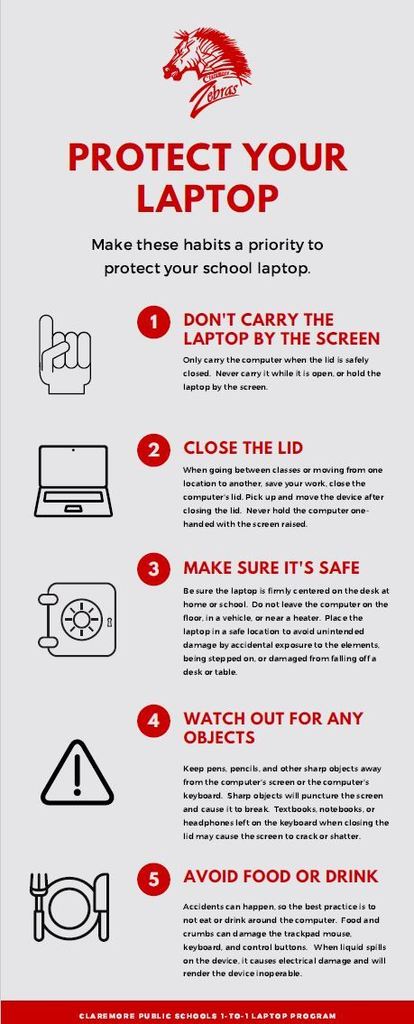 It's Halloween week, and today's #MotivationMonday is about conquering our fears. What is your favorite quote when facing adversity or fear? #CPSZEBRAPRIDE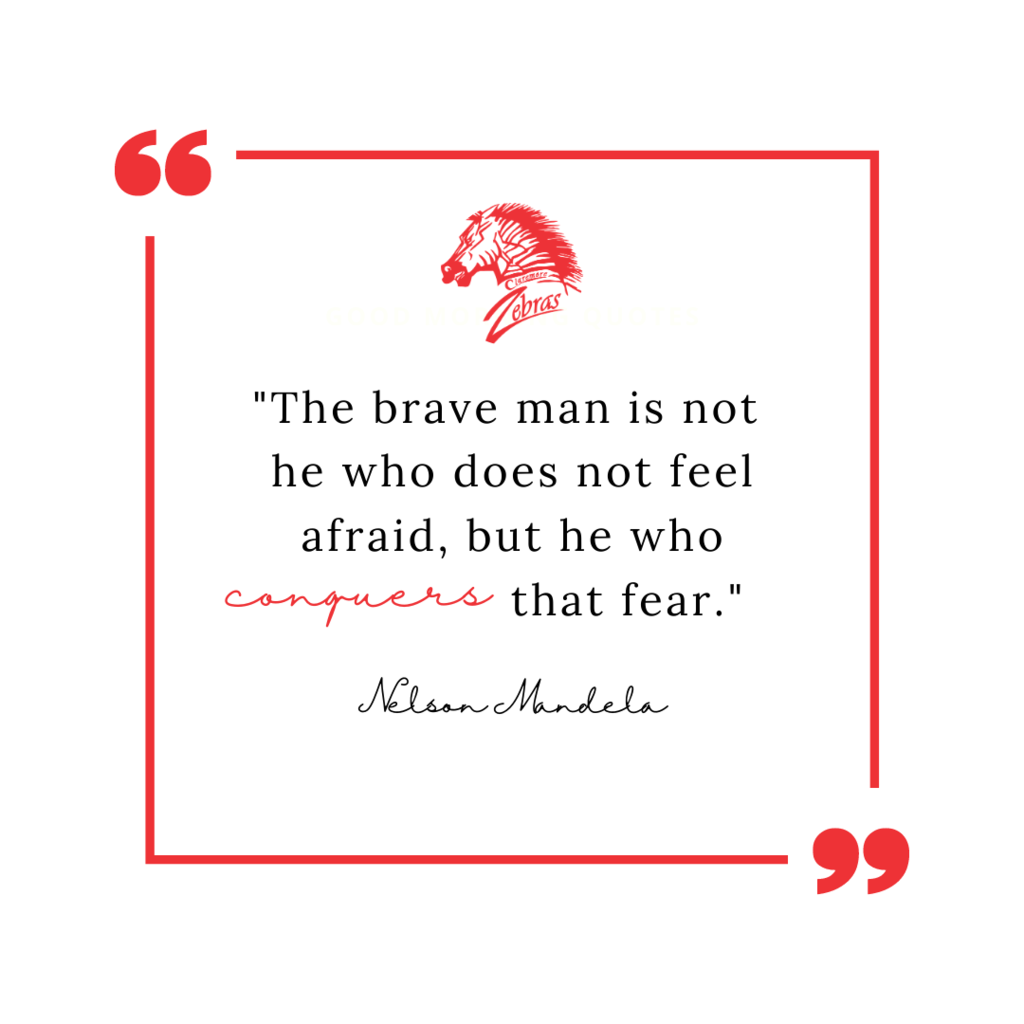 Red Ribbon Week is a call to action to speak out in support of healthy choices.  A reminder that by staying drug-free, we are sending a message to ourselves and others about how much we value ourselves, our overall health, our community, and our future. #CPSZEBRAPRIDE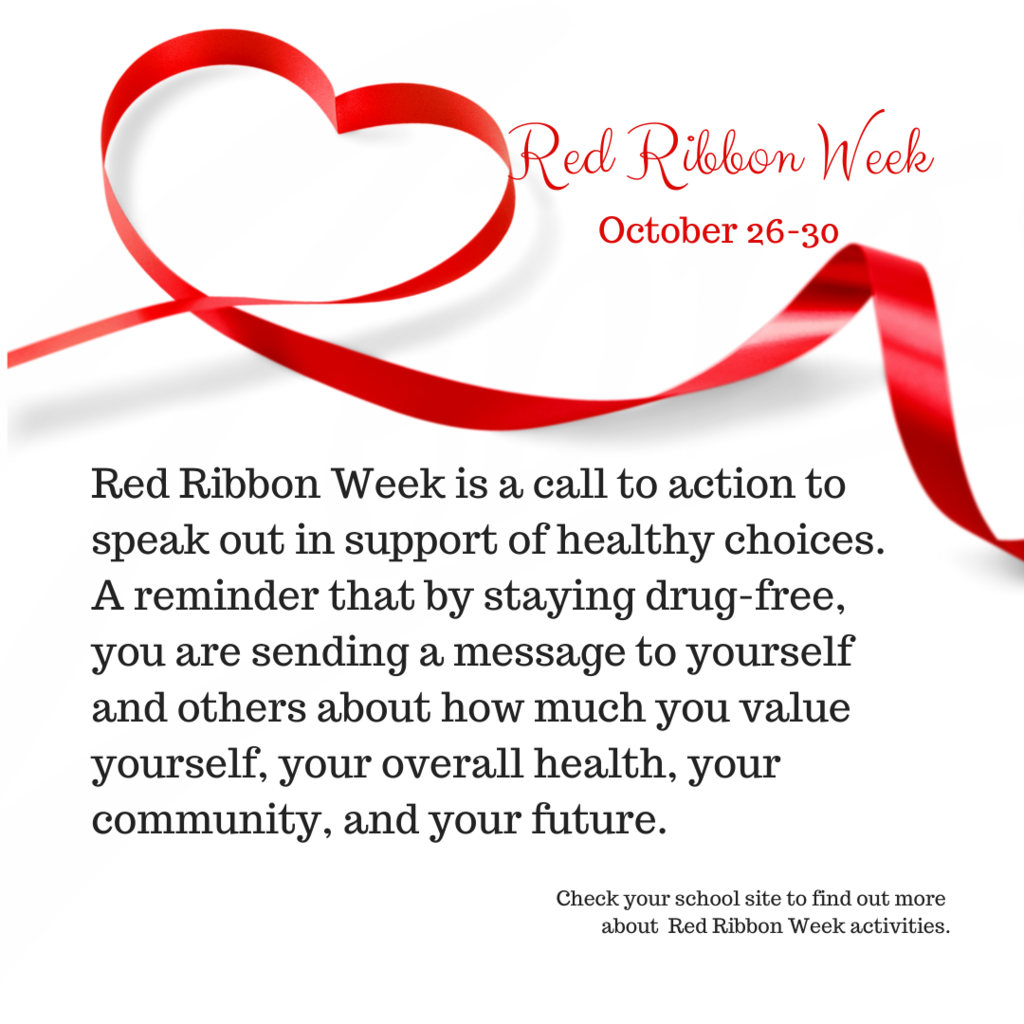 2020 CHS Homecoming King Brooks Sherl and Queen Faith Stone.

"We don't remember days; we remember moments." — Unknown. Tonight is one moment these royal Zebras will remember for years to come. The seniors have spoken and chosen 8 King and 8 Queen candidates for this year's royal court. Tonight they will reveal the 2020 Homecoming King and Queen, the entire student body has selected. Coronation will take place at 6:30 PM on Lantow Field. In all honesty, you don't need to be in the running for king or queen to look forward to homecoming. It's your last high school homecoming hoorah with your crew. Whether you are a freshman, sophomore, junior or senior, this moment will always have its memories. Homecoming Court 👑 Sydney Arthur - FCCLA 👑 Jen Boydston - STUCO 👑 Kate Bustamante - Cross Country 👑 Kesley Caldwell - Soccer 👑 Abby Jones - National Honor Society 👑 Erin Kuykendall - Tennis 👑 Faith Stone - Volleyball 👑 Zoe Ward - FCA 👑 Blake Hammer - Band 👑 Caison Harloff - Basketball 👑 Chet Jenkins - STUCO 👑 River Lantow - Native American Student Association 👑 Jamil Matin - TSA 👑 Beau Parsons - Tennis 👑 Brooks Sherl - Football 👑 Colton Smith - ZTV